You all know I love shopping second hand finds at yardsales, estate sales, and even in real life auctions. I've been to a few of those over the years and they are always entertaining.
Online auctions have been around for a long time now and probably most of us have tried it out once or twice.  The internet has opened up the world to us and now we can shop from the comfort of home and look at items all across the country that we'd never see otherwise.  I am sharing with you today an online auction site that I'm partnering with for this post called Everything But the House.  It's sort of an estate sale online.  I love estate sales!  Walking into a house that has everything for sale is always an adventure, when an estate sale comes about.  It's a sad time for the family, but it's a great way to shop for those unusual things that we might want to take home.
An online auction is sort of the same thing. You never know what you'll spot that you just have to have.  A long looked for piece of furniture or a painting that you've been wishing for or a piece of jewelry that catches your eye.  It's just like shopping 2nd hand.  You never know what will come up next and that's the thrill of the hunt.
So, that is what Everything But the House is all about.  They have estate sales from several cities across the country set up and you can browse them online and see if there is anything you want to follow.  You can add your bid and wait to see if your bid is the winner at the end of the auction time.  To see what's coming up, you can check out their calendar.
Everything But the House  connects people to unique pieces from estate sales across the country.  It's an auction site, so it's a great way to snag awesome vintage or modern pieces at a great price, with less hassle than searching flea markets or resale shops. With 30-35 sales a month, and items always starting at just $1, there's always something new to discover.
They were founded in Cincinnati and have expanded into five other markets including Nashville, Columbus, Lexington, Louisville and Indianapolis. They are entering eight new markets in 2015, so you might want to keep an eye on their site for lots more merchandise in the future.   You can also click on Archived items to see how much things have sold for.  I like to see that.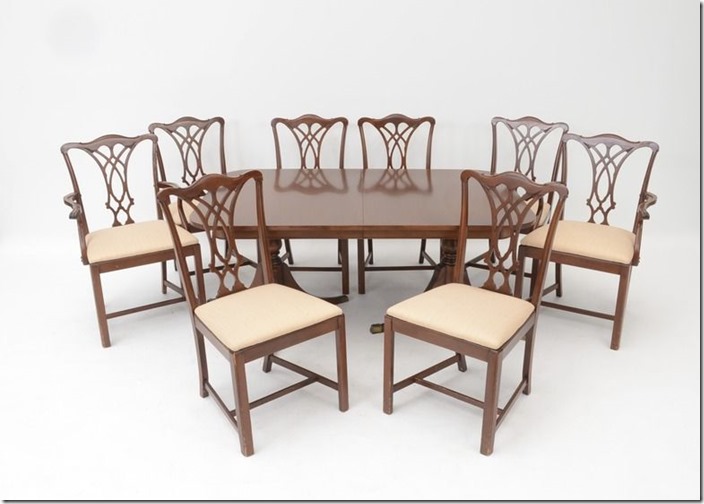 Here are a few fun items that caught my eye.  Vintage and well made traditional furniture is always something that I like to look at and this beautiful table and chairs is gorgeous.
These lanterns are also unique and very fun.
This leather chair and ottoman is just my style too with distressed leather and looks to be in great condition.  It would be gorgeous in a cozy den space.
An antique armoire looks like it is probably from France and wow, is it a beauty.  This reminds me of my French antiques that I treasure.  Of course, shipping might be a little costly.
I browsed through the site to see some other items that might be fun to buy and all of these things caught my eye.  Estate sales are generally really fun to shop, because a lot of older folks were collectors and have some nice things that they have acquired over the years.  You can snag some great things from an auction like this.
So, one of my readers will have the chance to shop at Everything But the House with a $100 gift certificate that will get you started.  All you have to do is go over to the site and tell me something that catches your eye.  What would you love to win if you had $100 to spend?   Check out all the categories and see what catches your eye!
Leave a comment here and I'll choose a winner.  You can enter through the Rafflecopter widget and have an extra chance to win by following the prompts on there and heading to Everything But the House Facebook page too.   You can also follow them on Instagram and Pinterest.
Note:  This post is sponsored by Everything But the House, but all ideas and inspiration are my own.  
Don't Miss a Post, join my list!