Even though it's officially Fall season now that September is here, it sure doesn't feel like Fall in Atlanta. We have had temps in the 90's for the last week and no end in sight this week either. I'm SO ready for a cooling off of the weather, allowing us to enjoy the outdoors a little more than we have lately. But we have to take what we get and get ourselves mentally in the mood for Fall by bringing in a few things indoors to create that cozy autumn feeling.
I'm part of Marty with A Stroll Thru Life Fall home tour again this year and I'm happy to join these talented ladies in sharing our Fall decor with all of you. If you're coming over from sweet Laura with Decor to Adore, welcome to you!
My favorite spots to decorate for the seasons is my foyer and dining room, so come with me an I'll show you what I've done this year. If you've been following me for a few years, you know that I tend to just use what I have and don't go out and buy all new stuff for Fall. I like a more subtle approach anyway and enjoy putting a few things out in the foyer and dining room and bring in that Fall feel to our home. Pillow accent is from Pillow Candy, you can check them out at the link.
Our living room is the first room you see when you come in our front door and it opens right up to our dining room, so having both spaces coordinate was important to me. I added a pretty blue grasscloth by Thibaut to the dining room and one wall in the living room in case you're wondering.
Let's look at the foyer table next. I just pulled out a few of my tried and true Fall decorations and mixed them up in a new way for the Fall season. Sunflowers were a new addition when I found them at my local grocery store. They definitely scream Fall, don't they?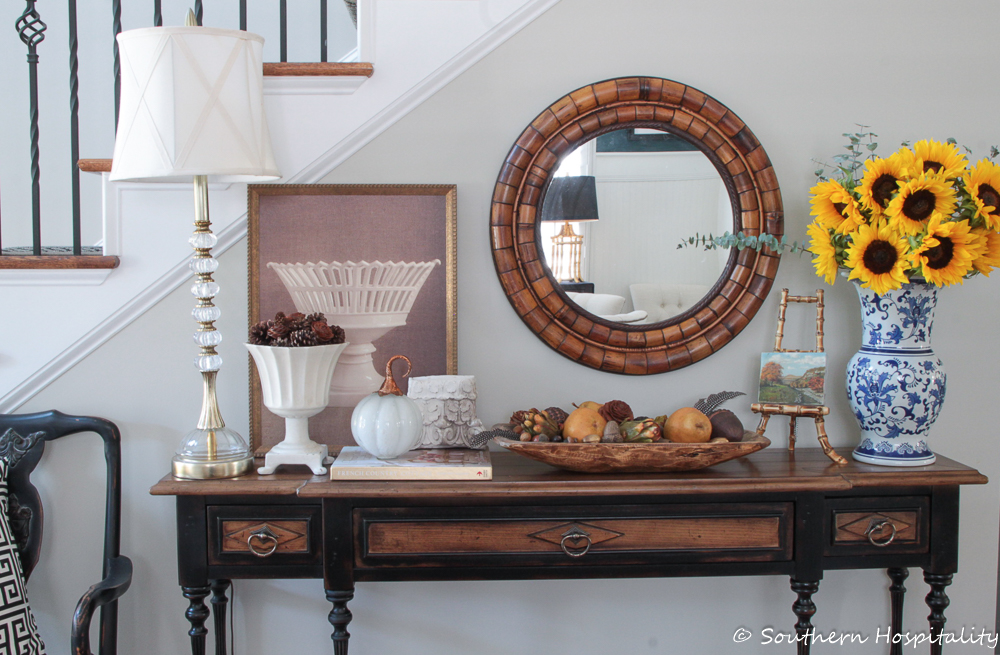 I love the subtle hues of browns, golds and green for Fall. Adding small touches is my favorite way to decorate this table.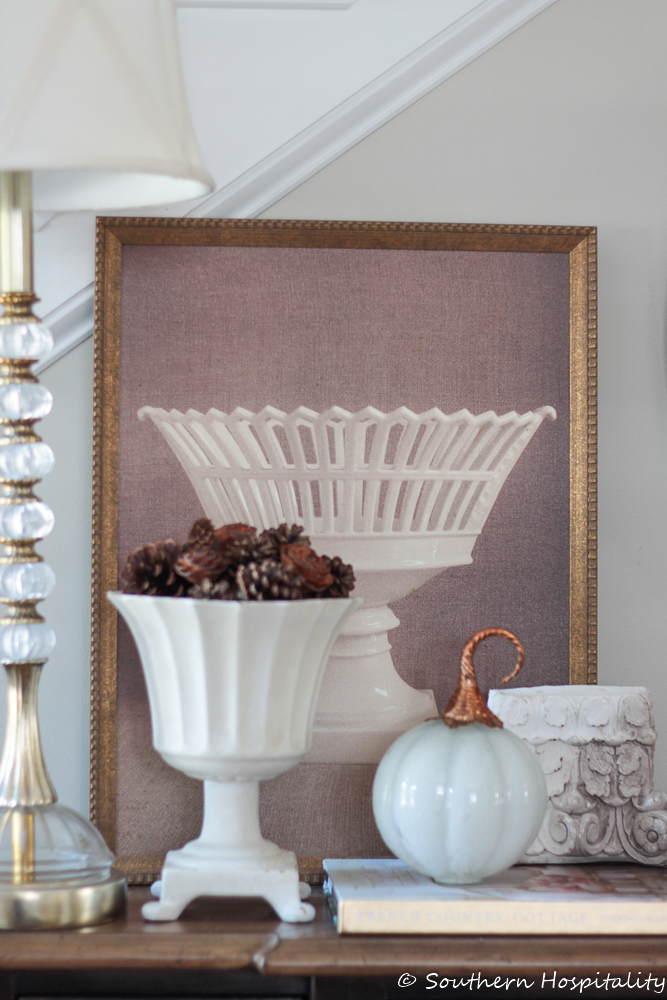 A framed print accents this vignette of white and brown shades. The glass pumpkin is a find from Homegoods a few years ago. Many of my pieces are yardsale and vintage store finds, like that architectural piece and the white vase holding pinecones. I love adding pinecones for Fall!
This wood dough bowl I picked up at a local store to me and have enjoyed filling it with seasonal pretties, like faux pears, acorns, artichokes, pinecones and a couple of feathers.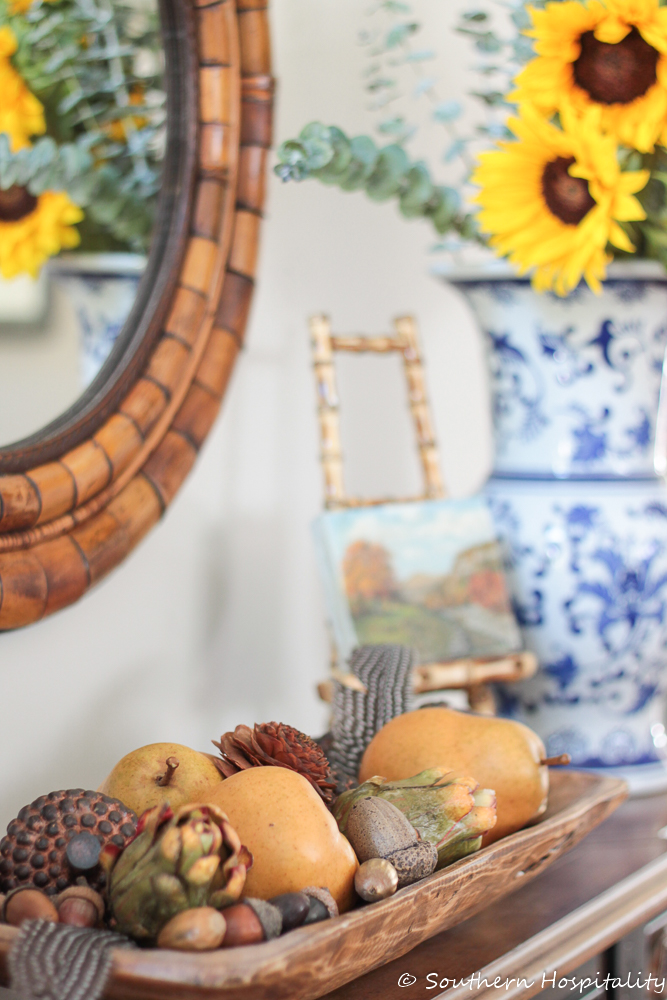 I don't think you have to go out and buy a lot of stuff to celebrate the season. A few little touches will do the trick.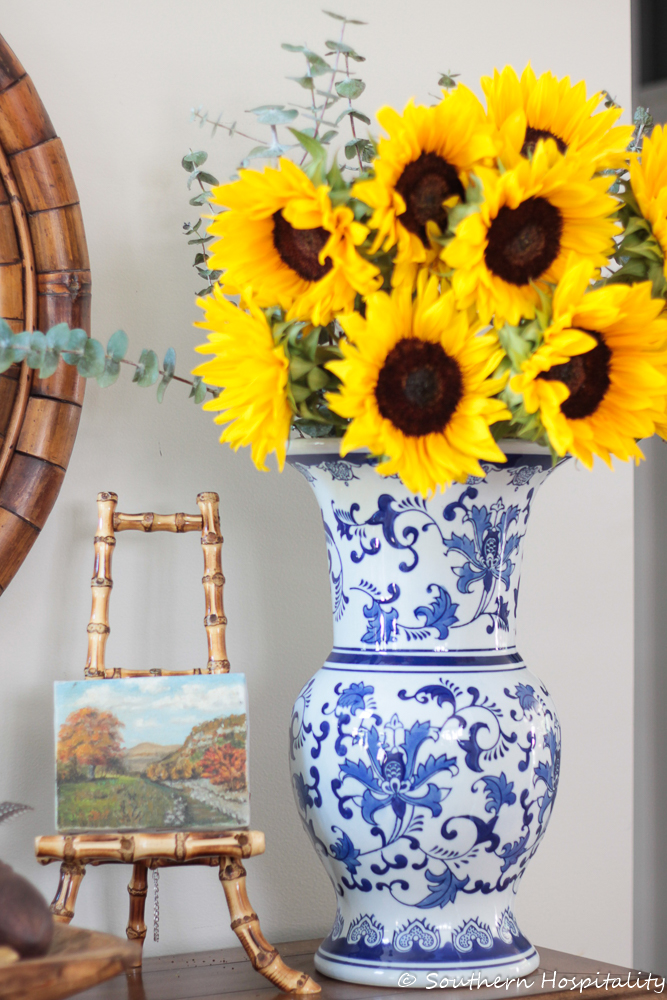 I love this little vintage painting that I picked up in Round Top a few years ago and those sunflowers just pop in my blue and white vase, also from Homegoods.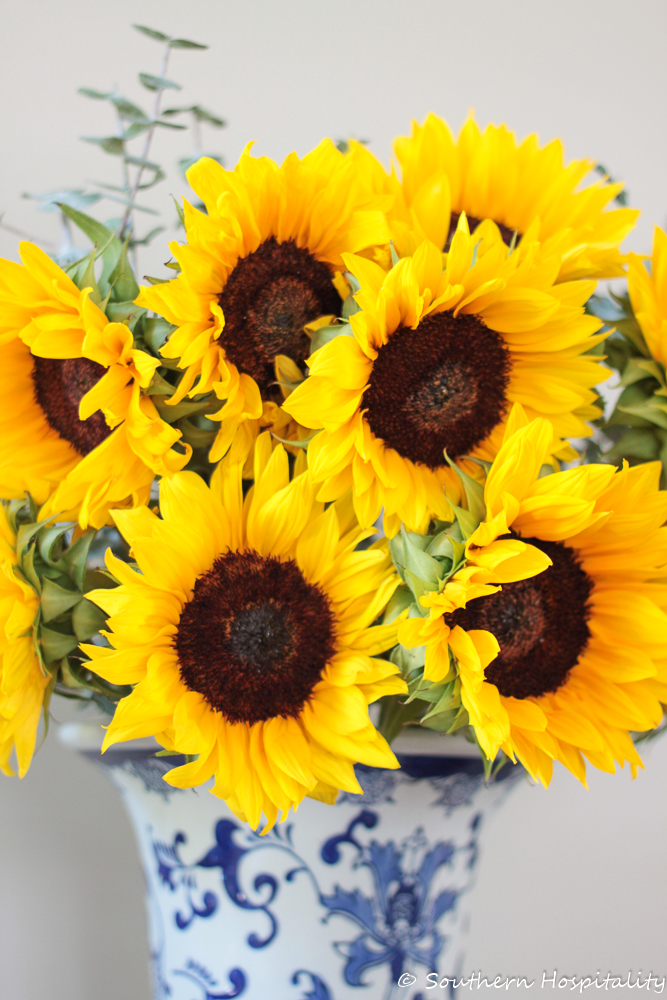 Their happy faces were a fun addition to my foyer table.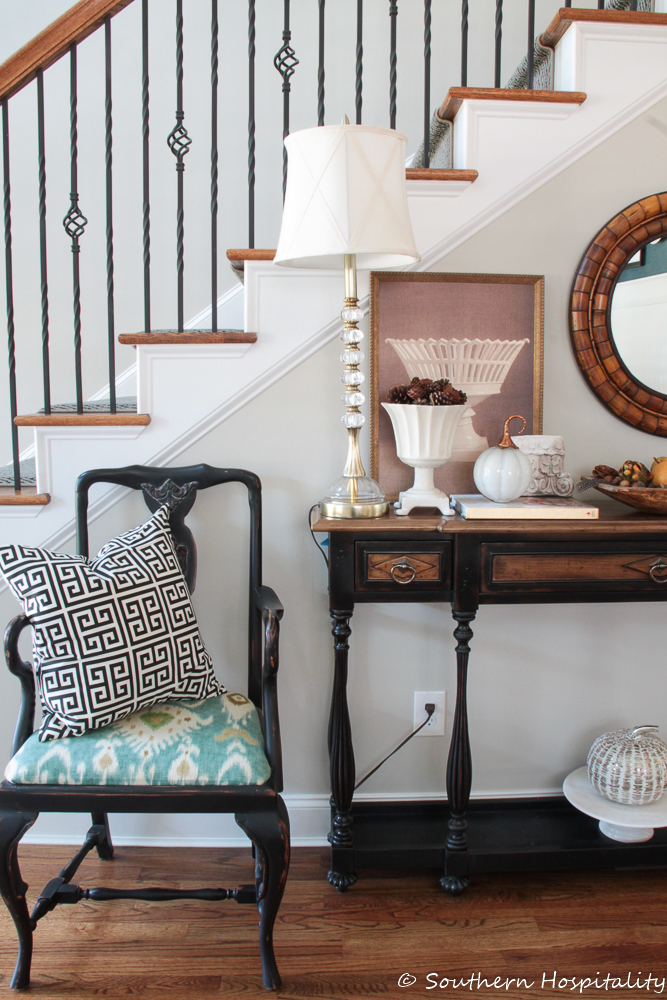 Simple and easy.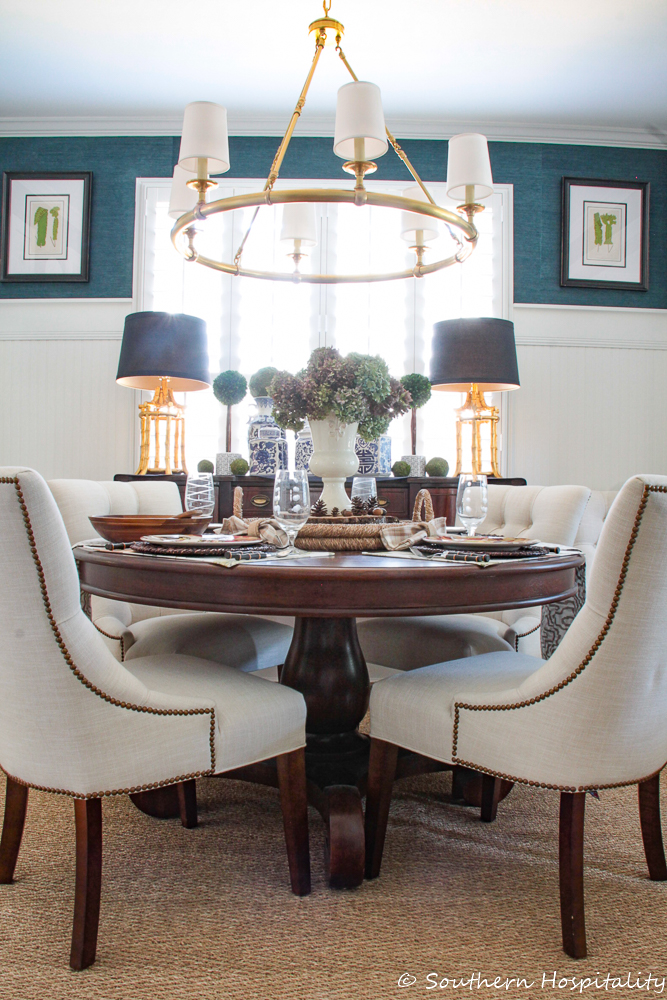 Moving to the dining room, I set the table in some of my favorite dishes.
The round basket was a TJ Maxx find and I love how big it is. I set a simple centerpiece using dried hydrangeas from my mom's bushes, adding a few small pinecones and acorns around the base.
Dried hydrangeas have such pretty colors for this time of year, don't they?
I keep a collection of my blue and white jars on the buffet of the dining room and love having them displayed there. Blue and white makes me happy too!
These pieces were collected from all over and you can find them pretty inexpensively at Ross, Homegoods, and TJ Maxx. Some of mine are from the old Bombay stores if you remember those. I love mixing in green moss and topiaries with them.
These bird plates I've had for many years and they are Royal Stafford. Found them at Homegoods or TJ Maxx. They have such a Fall feel with those gorgeous rich autumn colors.
So that's a look at my Fall table setting and how I put it all together.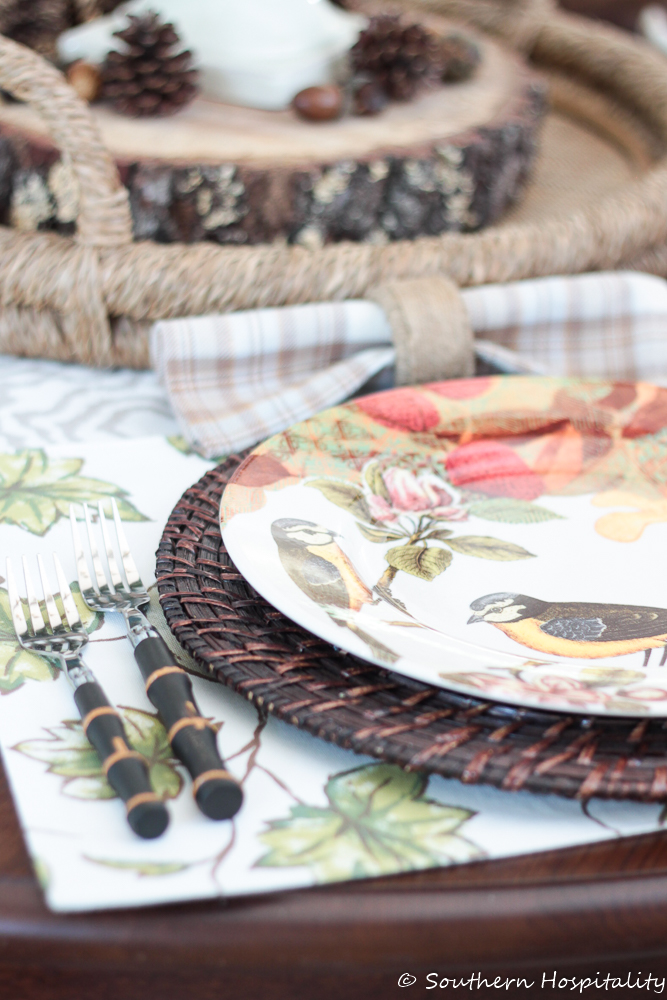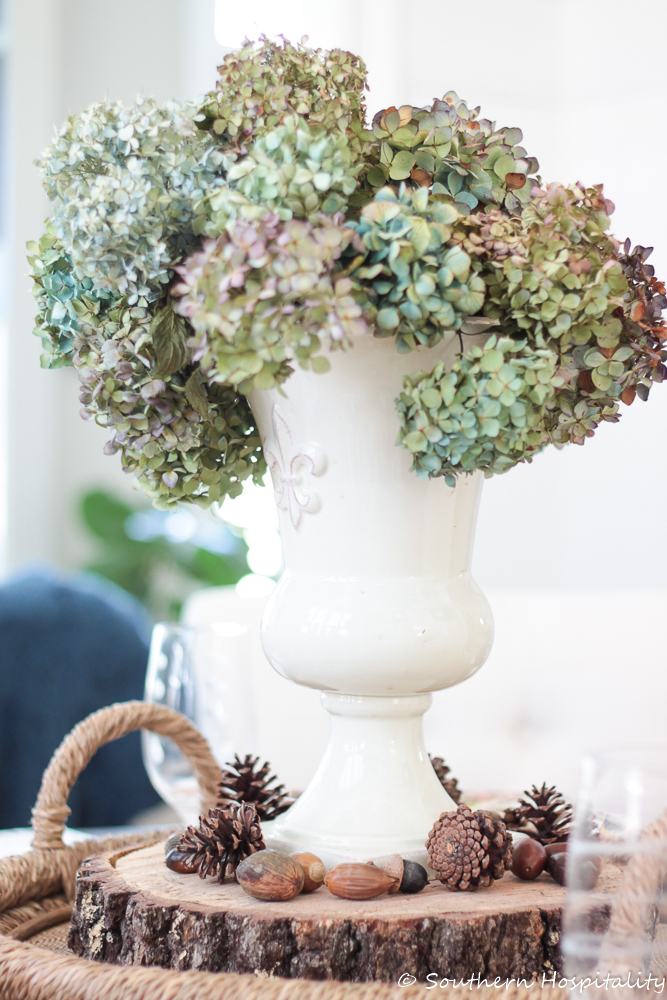 You just can't go wrong with dried hydrangeas.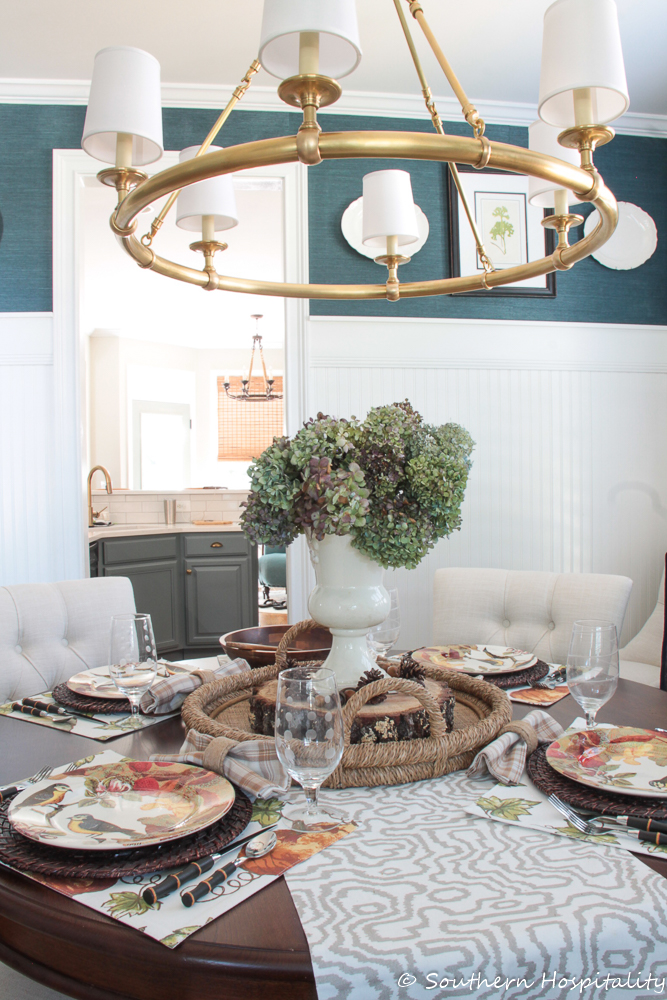 Can't get enough of these colors.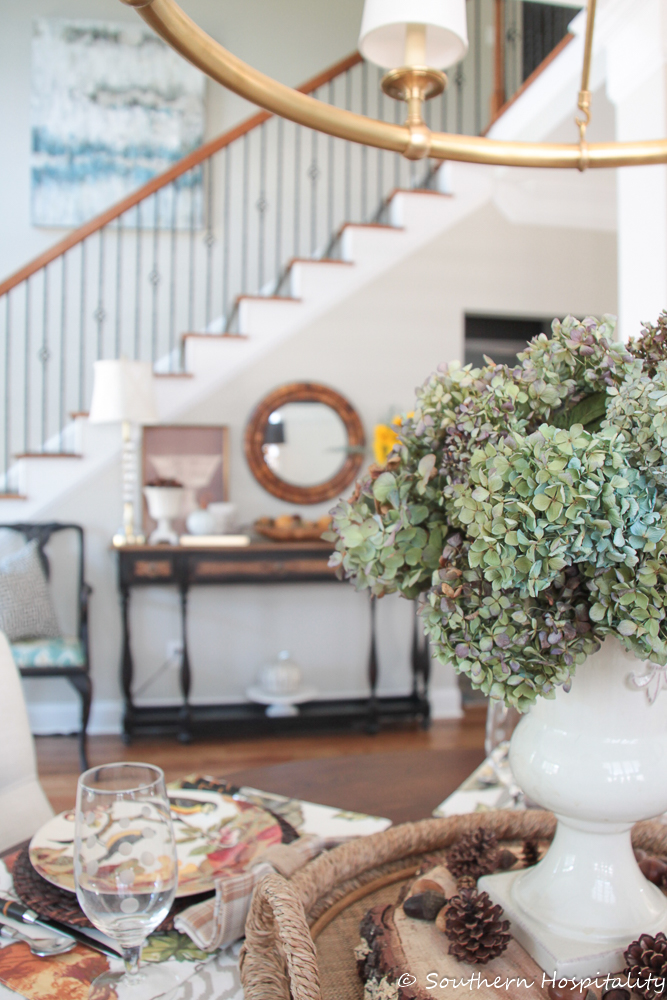 So that's a look at Fall at our house! Simple and easy is how I like to do things, so I hope you enjoyed the tour this year. Don't miss the next stop tomorrow with Follow the Yellow Brick Home. These tours are meant to inspire you for your own Fall decorating, so I hope that you are, even if the weather is not quite cooperating in your state too!
Shop the Post/Same or Similar Items (affiliate links used):
2019 Fall Home Tour Monday Lineup
2019 Fall Home Tour Tuesday Lineup
Don't Miss a Post, join my list!