It's definitely early in the month to be decorating for Fall, but you know in blogland everyone gets an early start. I decided to go and and plug along and get some Fall decorating done this month so I can share with you later on. And it stay this way until Christmas decor comes out in November, so I'll enjoy it for more than 2 months. It's so hot here still but it's sort of nice to pretend it's really Fall and bring out some Fallish colors.
My urns on the front porch were in dire need of a change out. I had evergreen fir bushes in there all summer and they did fine as long as I watered them.
Unfortunately I didn't stay consistent with the watering and the heat and sun finally got them so it was time to pull them out. I found these Eugenia topiaries at Home Depot for $14.99 and had a burst of excitement to try them out in the urns this time, as they will look good all the way through the Holidays. I found out they can't make it below 30° and almost took them back but I decided I'm going to give them a try and see how long I can make them last. My Plan B for these urns is to get faux topiariaries which I've seen a lot of bloggers use. More money up front but it has to be better than wasting money like I've been doing with these urns.
So the topiaries got planted along with some Creeping Jenny (which I love!). It has done great for me in the ground and in pots and comes back after Winter. We will see what happens with these urns but I'm giving it a good try to keep them watered and happy.
I added Spanish moss to the dirt and these cute bows from Michael's and I'm ready for Fall now.
They look so happy on the front porch and this added Fall color is so nice.
Next I'll update you on my Fall wreath. I embellished it this year with a couple of things from Michael's picked up on their 40% off sale. I bought 3 of these bows, 2 for the topiaries and one for my wreath. I also picked up 2 of these berry picks.
Here's the plain wreath from last year and here it is now! I ordered this wreath last year from Crate & Barrel, but it's no longer available.
Doesn't it look so much better by adding a few thing to it? All I did was pull the berry pick apart in 3 pieces (making 6 total pieces) and I spaced it around the wreath, just tucking it into the grapevine wreath and pulling the berries out.
The bow really makes a statement and has just the right Fall colors.
I already one one Fall pick and I added that above the bow for a little more texture and color. It has some rusty pods and wispy things on it and I love how it looks too. I had it already and didn't have to buy it. The mix of rusty red, green and gold is perfect for Fall and looks so good on our front porch!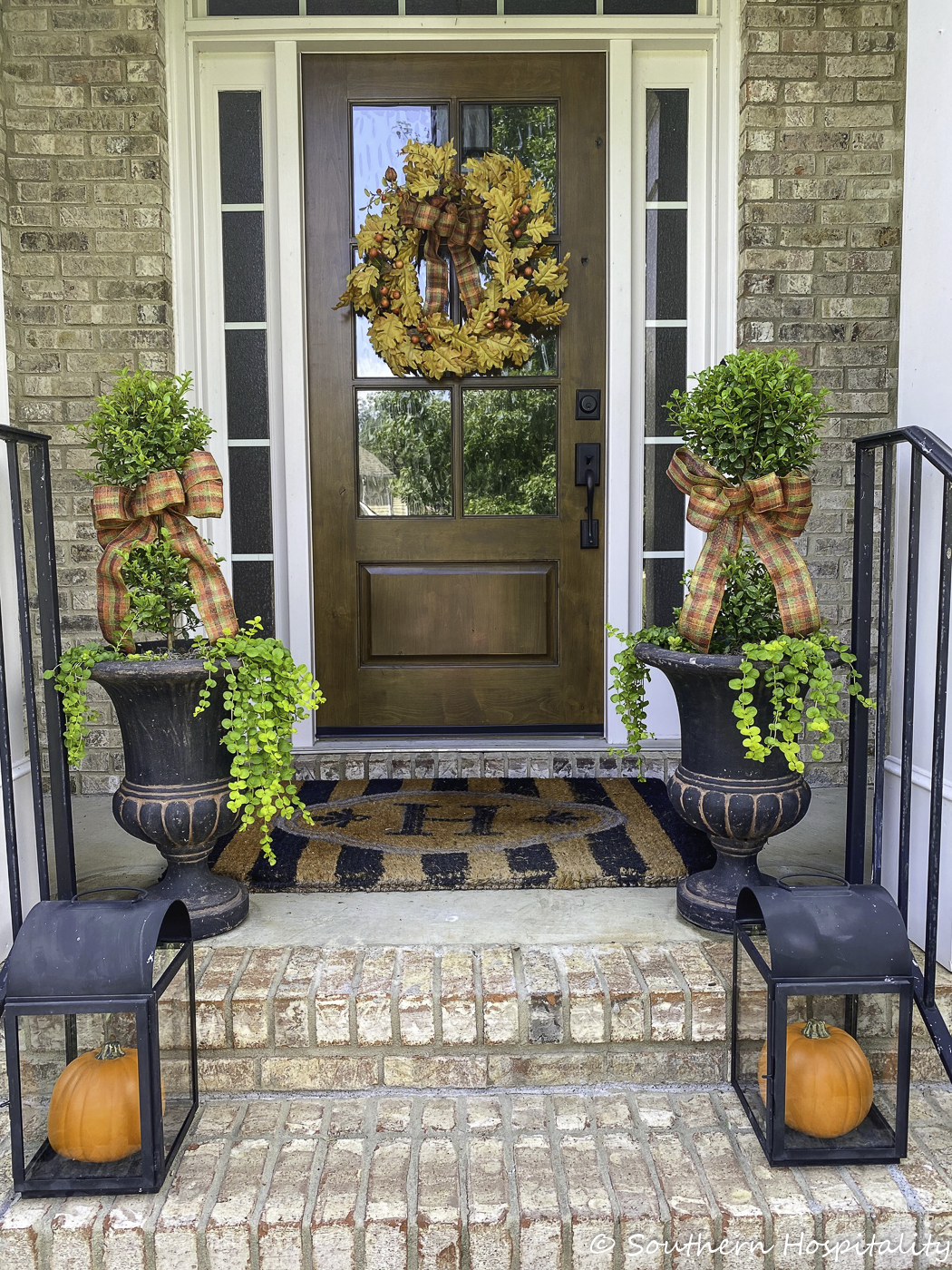 I'm not one to buy a lot of Fall decor, but this year I decided to buy a few faux stems and leaves to use inside the house. Then I can reuse them every year. I've never been a huge Fall decorator but these things will be nice to have next season.
I added faux orange pumpkins from Michael's and everything was on sale, so that was a win. I'll link all the things I can below.
I just love all of this together and how simplistic it is, but very Fall feeling.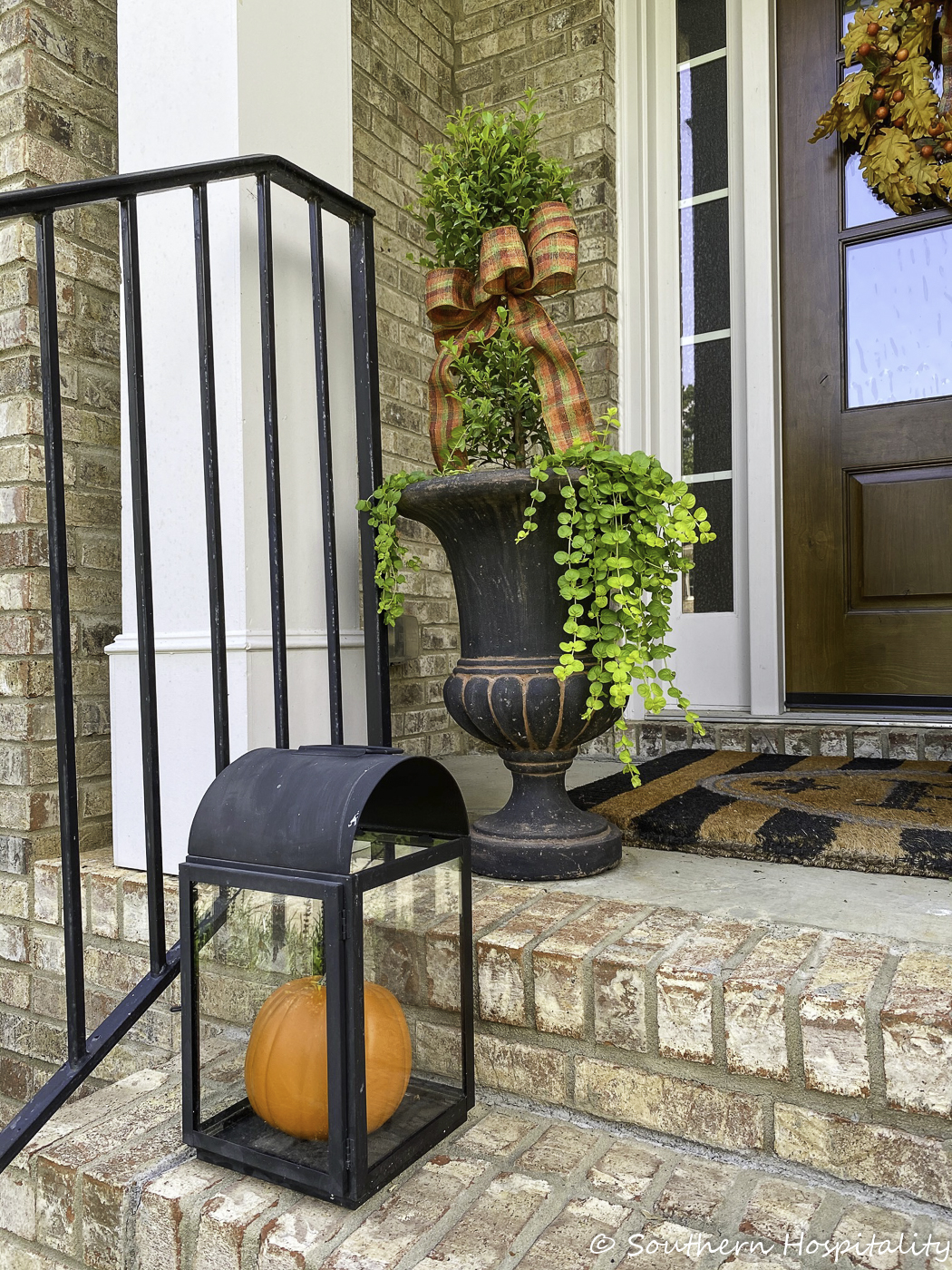 These lanterns were a steal at Target last year, but they are also gone this year. I love adding the orange pumpkins instead of a candle for now and I can add something else at Christmas.
This definitely says bring on Fall now, doesn't it? I'm ready for the cooler temps that go with it and I'm sure you are too if your state has high heat still. This is just the right touch for me, not too much or too little but just right!
Have you started decorating for Fall? Blogland explodes with Fall decor so I'm sure you are seeing it all over if you're reading blogs or on Instagram.
I've added links to some of the same stems I have from Michaels and a few wreaths that are similar in case you're interested. Affiliate links used below!

Don't Miss a Post, join my list!