Sharing the rest of my fall tour with you today in the family room and kitchen nook. I don't go all out for fall, but enjoy adding a few things around the house. So many people do all the real pumpkins stacked inside and out and it's a big to-do, but I just enjoy a simpler approach around here. Then I save up all my energy for Christmas! I do go all out for that holiday.
I'm still loving our new wool rug that I added in here a few months ago. It is very soothing and elegant. Again, I didn't move all of Daisy's things out of the room, or Daisy either. She's my constant companion and sidekick around here.
This pretty print that I've had a long while has a bit of a fall feel with the turning leaves. I added some faux orange red leaves and a few candles and lanterns.
The Hello Fall sign is a fun addition with the bamboo easel.
I like simple and these candle holders are rustic and pretty too.
I didn't even straighten up the pillows. As you can see, most are on the floor per my pillow hating hubby.
Miss Daisy is such good company. We love this girl!
She's ended up in quite a few photoshoots lately, I think she likes to pose. My kitchen nook where I sit in the morning with my cup of coffee is a great reading chair.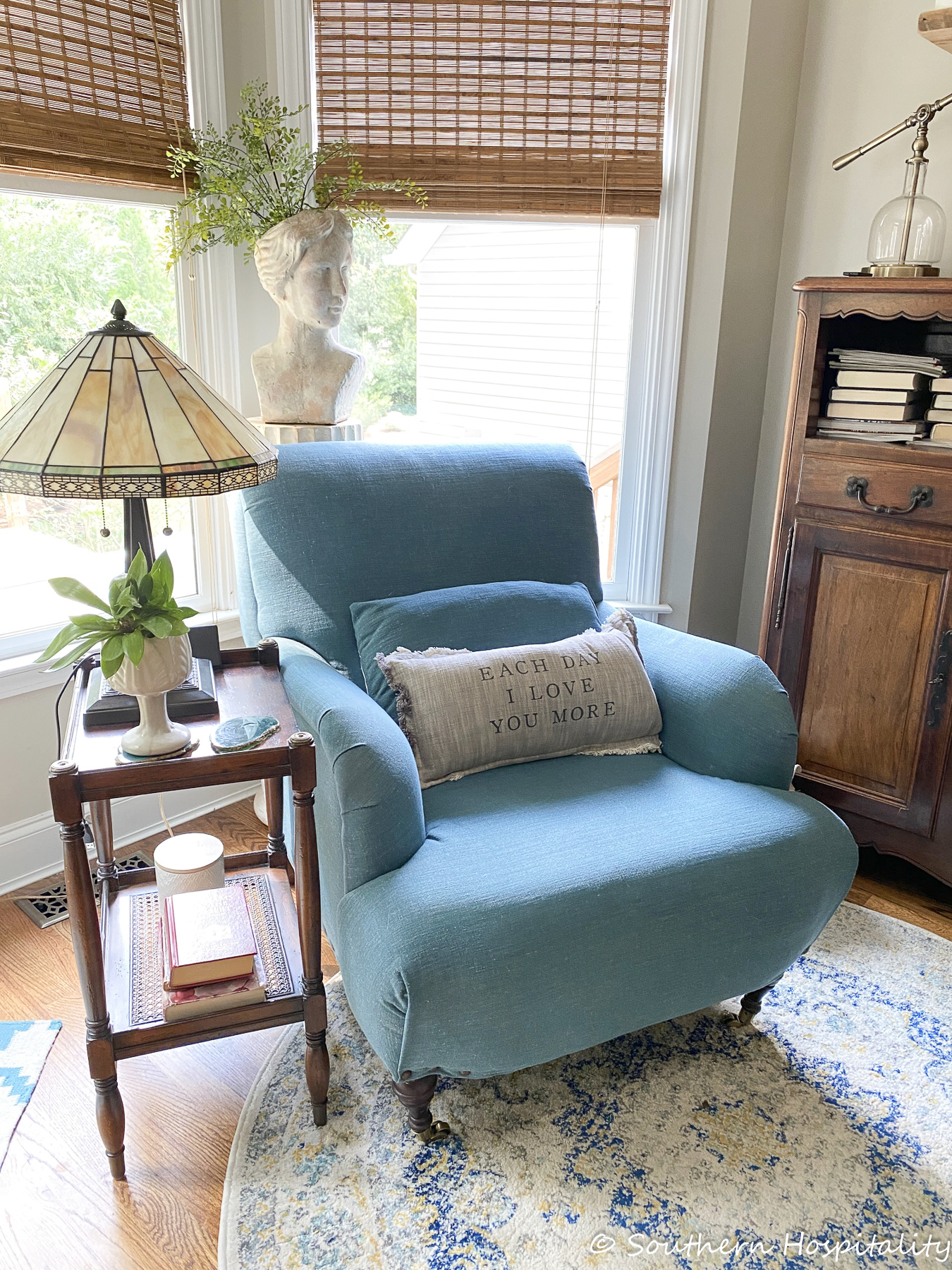 Mark gave me that pillow in the front last year.
I change out a few things on these shelves for the seasons and keep it pretty simple too.
A couple of glass pumpkins and fall feeling accessories is enough to add some fall to the space.
Books and a faux pear on top.
I love this little thrifted oil painting I found years ago.
And a look at our smallish kitchen that's mostly cleaned up. I don't take pics of the kitchen that much, because it's used all the time and there is usually clutter around.
That's it for my fall tour this year. I hope you all enjoy fall this year and all that it brings with cooler weather. We'll all be getting out sweaters and boots soon. I look forward to that! We are going up to New England in just 2 weeks so I know we'll be packing some fall clothes for that trip.
Don't Miss a Post, join my list!