Hi, all!  I am heading home from San Francisco Tuesday from my amazing days with Kate, the Centsational Girl herself.  We had such a great time and you can read a little recap over at Kate's. ! I'm going to be on cloud nine for a few days from spending several days with her and her family.  I'll tell you much more about my trip later, you can count on that.
But, first we have a mantel party to enjoy this week.  Since I don't have a mantel of my own at the moment, I borrowed Kate's.  I did her outdoor mantel and she decorated her indoor one and we had a ball.
Here's a little peek at Kate working her magic on her living room mantel.  I had so much fun watching her work behind the scenes, creating those beautiful vignettes that she is famous for.  We took pics, edited photos and shared ideas and notes about blogging.  You can imagine how fun it was, 2 bloggers hanging out together for a few days!
Don't forget, for the next 2 weeks, the four of us will be hosting linky Fall parties, so don't miss out on the fun.  First up is Layla and mantels!
Kate has the most gorgeous and HUGE hydrangeas outside her front door and these big balls of beauty were all ready for drying.   I love drying hydrangeas and the colors of these are superb.
Got out the clippers and started cutting some of these beauties for the outdoor mantel.
Here's what we came up with after buying some mums and pumpkins from Lowes.  Simple and pretty!
With the hydrangeas taking center stage.
Up on the mantel, we added some simple and petite mums in small glass planters, curly willow and pinecones.
Don't these colors look great together?
A beautiful Fall outdoor fireplace.
Those hydrangeas are the scene stealer for sure.
Mums are a great way to bring in some pretty colors for Fall.
Outdoor entertaining.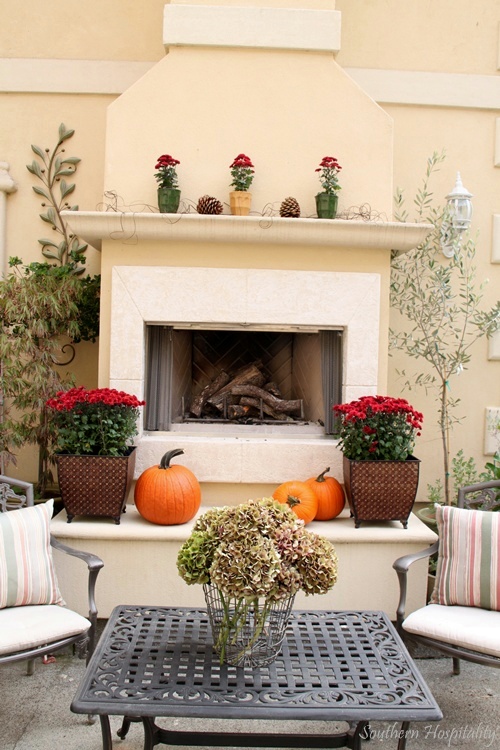 Lovely, simple and elegant.
Feel free to hop over to Layla's today to link up your mantel for the season.  Enjoy all the fun!  Next up, I'll be hosting the Door Decor party, so I hope you'll join me on Thursday! 
Don't Miss a Post, join my list!