As Fall is approaching very fast, today I'm joining a very fun group of bloggers, sponsored by Homegoods to share our Fall inspiration with all of you.  I decided to concentrate on my dining room and kitchen and add a few Fallish things in there to add a nice seasonal touch to my home.  I don't typically do a lot of Fall decorating, but when I get the opportunity to set a pretty table, I take it.  My dining room doesn't get a lot of sit down formal dinners, but sometimes eating there is nice and with this beautiful table set just so, I'm going to use it during this upcoming season.
If you are stopping by from Jessica at Four Generations One Roof, welcome! I'm so glad you stopped by! I hope you enjoy the tour and check out my blog if you are new here.  I live in Metro Atlanta, GA and love making my house a home.
Before I go on, you may notice something about my dining room.  Yes, the chairs are missing!  I've got something very exciting happening really soon and I sold my old chairs to a dear friend's daughter.  I'll be telling you all about this in the next couple of weeks.
It's always fun for me to shop at Homegoods and it is without a doubt, one of my top favorite stores to shop for home accessories.  You can't beat their prices and selection and it's always changing.  If you see something, you have to grab it, because more than likely it won't be there the next time.  Inventory comes and goes fast at Homegoods.
I decided to add a few things to my tabletop collection, since I really don't have a lot of tablecloths, placemats and such.  I started with this pretty tan and white plaid tablecloth.  It feels like an old flannel shirt, so how much cozier could that be?  Plaid and Fall just go together! These 4 bowls were also a starting point.  Made in Italy (I just love Italian pottery, it's THE best stuff!), I couldn't resist these pasta bowls, each sporting a different vegetable.
I paired them with my every day china, Italian Countryside by Mikasa and filled in with some other goodies too.  It was fun to pull a tablecloth, placemats and napkins from Homegoods, putting together a palette that was pleasing to my eye.  I love understated for Fall and those soft hues really speak to me, much more than the screaming reds and golds do.  Soft greens and tans with a little Fall color added in is tops in my decorating book.
The wooden square tray with silver detailed trim is a fun find at Homegoods and one of my favorite things on the table.
You can see the details of it here.  The natural wood adds such a nice rustic appeal to the table and that silver metal edging looks very elegant and pretty in a chain detail.  I used one of my old soup tureens and filled it with dried hydrangeas with my yard, since they are the prettiest shades of green and purple right now. The wood and white serving pieces I've had awhile too, also Mikasa.  That wood and silver tray though, it's so pretty! I will be using it for many occasions.
The placemats sport soft colors of Fall, with greens and terra-cotta pumpkins on a white background with tan vines. Those really pick up the colors in the pasta bowls too.   Those big acorns I've had for a few years and they are from the now defunct Biltmore Inspirations collection.
Peeking over the hydrangeas to the sideboard, I added some beautiful glass pumpkins from Homegoods and a couple of beautiful boxwood topiaries.  Topiaries have been a fave of mine for years.
The centerpiece of hydrangeas is perfect for this Fall occasion and it was so nice to have them in my  yard to cut and bring inside.
I scattered acorns and pinecones around the soup tureen for some added texture and Fall appeal.  I painted those acorns years ago with metallic spray paint of gold and silver and they so come in handy during the Fall season.  I store them in a cardboard box with a lid and they have held up great for years.
The rattan chargers I've had for a long time too and their dark brown tone adds a nice grounding effect with the white plates. Glasses are from Mikasa as well.
I just loved these tan dotted napkins from Homegoods and they have a linen feel. You can get linens so inexpensively from the store and they always have a great selection.
Flatware is a beautiful old pattern and I found a whole set of this silver-plate while I was living in Birmingham at an estate sale.  It's so gorgeous to set a table with. I love the eggplant pasta bowl from Homegoods and will be putting these bowls to good use.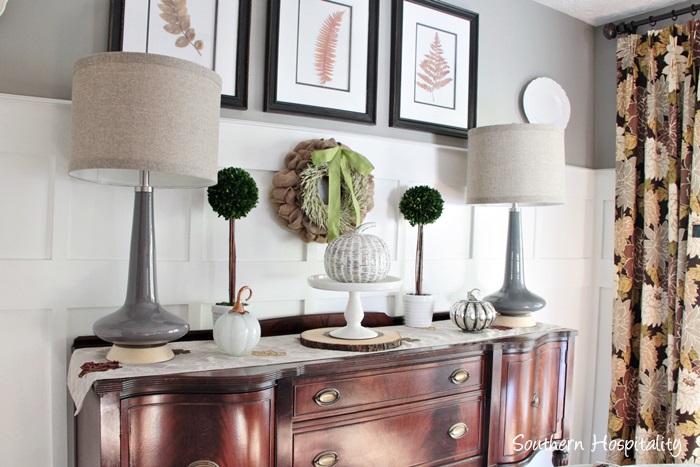 A view of the sideboard, with glass pumpkins and topiaries.
From the other side of the room.
My blog friend, Laura, made that pretty burlap wreath and it's been hanging here in the dining room since I moved in here.  I found a gorgeous soft sage natural wreath at Homegoods and hung it on top of the burlap and added a pretty green silky ribbon to complete the look.  The white pumpkin is so gorgeous and it sits on a cake stand from Homegoods, also made in Italy, along with that pretty rustic tree slice.  I just love white dishes and how versatile they are.
The runner from Homegoods on the sideboard is very Fallish with scattered leaves sprinkled all across the pretty neutral background.
Moving on to the kitchen, I had fun layering some pretty Fall colors on my rustic shelves.  It feels so festive now for the Fall season.
Adding these shelves to my kitchen was one of the smartest things I've done. Everyone loves them when they come in my kitchen for the first time.  Open shelves are a statement maker and a great way to display pretties!
Top shelf, I added a gorgeous vegetable platter (made in Italy) that goes with those pasta bowls on the table.  Also leaned a pretty rustic wood cutting board up there too. The whiteware I've had for years, all collected over the years of yardsaling.
The next shelf got Fall-ified too with these vibrant kitchen towels, with my perfect shades of green.  Stripes I adore!
See that gorgeous wood cake stand on the right, also from Homegoods. It has pretty golden acorns scattered around the sides.  I love adding wood pieces in with china and pottery, they seem to complement each other so well.  The giant pear I've had for years too, as well as the black fruit painting which came from a yardsale so long ago. It looks so Fallish too!
A mulled cider candle will smell so good when the season kicks in gear and I want it to smell savory in my kitchen.  I love the smells of Fall, don't you?  I also couldn't resist this pretty natural wood cheese cutting board. These come in so handy for get togethers and I love slicing cheese with these.
So, that is a look at how I added Fall pieces from Homegoods to make my dining room and kitchen feel so Fallish and pretty this year.  It was so fun to decorate and get my creative juices flowing and I can't wait to see what these other friends do as well.
Next on the tour is my dear friend, Karianne, from Thistlewood Farms.  I know she is going to knock it out of the park as she always does.  I hope you'll follow along with all these bloggers to lots of inspiration, they are all fantastic!
And some great news to share!   Homegoods is giving away $100 gift card to one of my readers as well, so that you can start shopping for Fall!  I'm so excited to share this with all of you.  Also, all 7 other bloggers will be giving away $100 gift cards on their blogs, so be sure and stop by and enter with each one.  Four today and 4 tomorrow!
All you have to do is leave a comment and answer this question:  How do you add Fall touches in your home?  
Fill out the Rafflecopter widget below and leave a comment and I'll choose a winner in a week!  Thank you all for stopping by today!
Note: This post sponsored by Homegoods, but all shopping ideas are my own! 
For all the blogger tours, don't miss these stops as well!
Don't Miss a Post, join my list!