For those of you still experiencing problems viewing my blog, with the skinny column to the left, we still haven't found out exactly what is going on. I have a tech guy that helps me with problems and it seems to be only happening on some versions of Firefox and on Chrome.  Have any of you tried clearing your browser cache to see if this helps? Sometimes that resets things back to the way they should be, but other than that, I'm not sure how to get this fixed.  I don't have control of how browsers work with plugins on blogs and that seems to be what started this glitch, but I need the plugin.  I know it might be a pain, but if you can switch to another browser, you should be able to see my blog just fine.
So, on to the post today…..
It's been over a week ago since Lauren came home for the week with her two girls.  It seems so strange that we now have 2 baby girls in the family and that fact has completely changed everything for a small family who for years only had adults around.  Bringing in a toddler and a new baby will definitely change the focus of a family unit and we wouldn't have it any other way.  It's really nice for our parents to get to spend time with these great grand babies and to have an impact on their little lives as long as possible.
We played the whole week by going to the Atlanta zoo (I'll share that in a later post, it was fun!), swimming in my sister's neighborhood pool and just enjoying lots of family time, spending time with those girls.
Parker is a very active 2 year old, with a growing vocabulary.  She cracks us up constantly with her inflections, words, gestures, eye rolls, and mannerisms.  She's a live wire and hardly slows down unless it's nap time or bedtime.  Baby Iris is just precious and a good baby.  She's nursing and taking a bottle, which helps Lauren when she is away from her for an extended period of time.  Mom kept the baby some while we were out doing things and other days, we took the baby with us.
I didn't get out my big camera, so these are all phone snaps.  Hard to pin down a 2 year old for photoshoots these days.
Sweet Baby Iris had her newborn pics taken at 3 weeks and they are just gorgeous.  She's now 7 weeks old and growing fast. The photographer is local to Louisiana in Covington and it's called The Art of Baby, if you're interested.

I think she looks so much like Parker when she was born, but everyone has different opinions.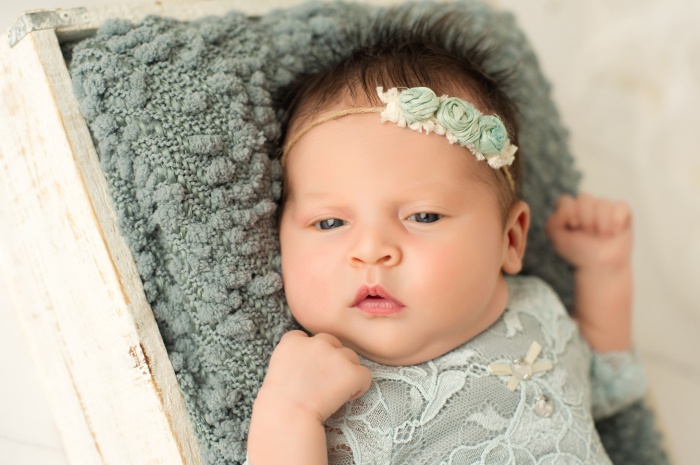 She has a headful of black hair, but it will probably lighten up as Parker's has.
She is beautiful and it will be fun to watch her grow just like Parker has grown.  Parker is adjusting to being a big sis.  As all of you with grandchildren know, they have to get used to having a baby around and not being the center of attention anymore, but she seems to be doing fine with it.
I caught Daddy in the garden, picking his squash.  Parker decided she wanted to check it out too.
She is definitely an active little thing and likes to stay busy.
I took Mark over there with me for a Sunday BBQ lunch and he and Parker are fast friends.  He raised 4 girls, so knows just how to talk to and interact with her.  She's only met him a couple of times, but seems to have a little crush on him, she smiles at him and bats her eyes.  I can't say I blame her! She was picking blooms from the oak leaf hydrangea and Mark helped her.  Parker likes him a lot!
Trying to smell the flowers.
She's so cute with him and they had fun together.
He helped her pick flowers to take in to her mama.
Snuggling with her great granddaddy for about 1/2 a second.  She doesn't stay on anything for long.
Mom got in plenty of baby snuggling time too, which suits her well.
That baby got held a lot and likes to snuggle up and sleep.  She definitely does a lot of sleeping. Lauren is trying to get her sleep adjusted to night time and not the day.
We had some pool time at their neighborhood pool one day. It's been nice and hot lately, so it feels pretty good in the baby pool.  Parker loves swimming in the pool and playing in the water.
Parker and my sister, playing in the pool. Anything she can dip and pour water with makes her happy.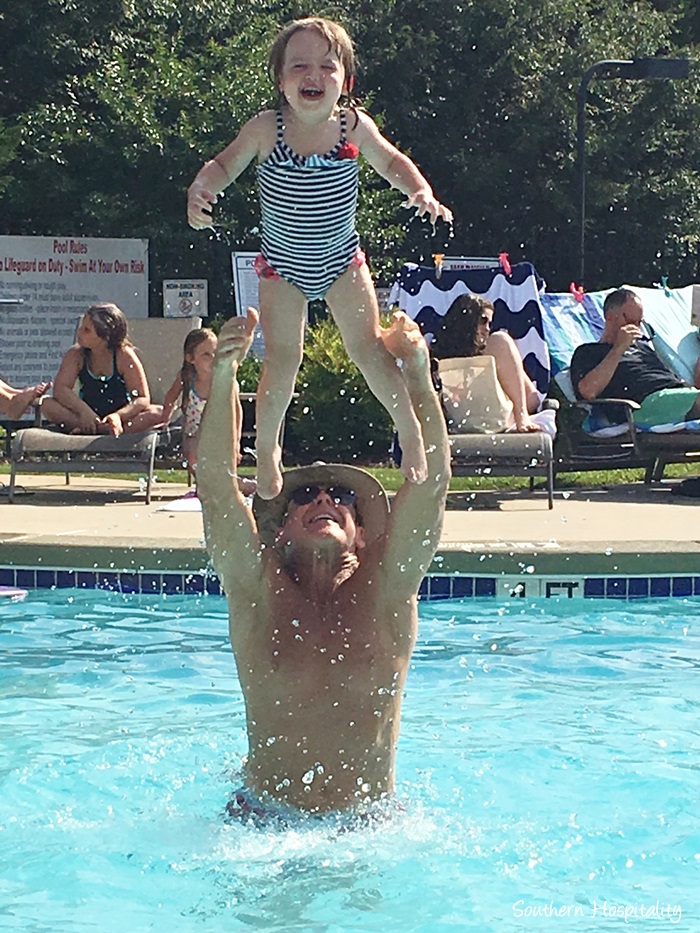 Being thrown in the air by Papa Bruce makes her happy too!  Look at that face!
A tired little girl at the end of pool time, heading back home in the pull cart.  She loves it in there.
It's always fun to see what's new with Parker.  This time, Parker has discovered her pockets and thought that was the best thing ever.  So fun to watch toddlers grow and learn.
Lauren and baby Iris enjoying some snuggle time.
We do a lot of porch sitting when they are here, just visiting and catching up and trying to keep Parker out of the cleaning supplies on the porch.
Picking hydrangeas with Nana is fun.
Riding the horse with Granddaddy is fun too.
We went out to eat a few times too.   Parker got bit by a mosquito on her face, so that is the red bump you see. They seem to love her sensitive skin.
As with most kids, she loves French fries.
Nana and Parker going in the restaurant.
Great Grandaddy holding baby Iris.
And my turn holding Baby Iris. We all got baby time with her. She won't stay this little for long.
Parker found a Braves pennant and was waving it around.
Proof that Parker thinks her baby sister is pretty cute and snuggly.  She wanted to hold her and give her kisses.  Parker can be a little rough, so they have to watch her patting and kissing.  The dogs run away from her for the most part, since she can get on their nerves.
It was a wonderful week of family time and we are so glad they got to come home last week for a whole week.  Time will fly and those babies will keep growing, so we want to see them as often as possible.  We cherish our family time and don't take it for granted, especially with Mom and Dad and their age.  They had such a positive impact on Lauren's life and she wants the same for her babies.
Don't Miss a Post, join my list!