It's been two years since I had been to New Orleans to visit Lauren and the family. Since Renee and Bruce moved down there a month ago, it was perfect timing to celebrate Iris's 5th birthday and to see the rental house Renee will be living in while they are building their new house hopefully soon. If you missed my sister's moving post, check that out. They sold their house in Marietta and have moved permanently to LA to retire down there and build their dream home.
I flew down and spent a few days with Lauren and my sister came over to stay too. We drove back to Covington, where they are living for a day also and to meet up with one of my readers on Instagram.
Just in from the airport, I snuggled with sweet baby Alex. She's the sweetest and best baby!
While I'm in LA, I always like to get my favorite foods and we are all about food down there, so we plan our meals accordingly. Muffalettas are one of my faves and I got one the first day from R & O's which is in Lauren's neighborhood.
We picked up the girls and took them to the playground. The weather was very nice while I was there. It was supposed to be more rainy, but it didn't turn out that way.
The girls love playing on the playground.
For dinner that night we went to Station 6, also in their neighborhood. It's a great place to go, delicious food and it was packed every single time we drove by there.
We ate outside on the patio and it was delightful.
Photo opps with the girls. They don't mind posing. Parker is getting her permanent teeth back in.
With my sister too. The girls are growing and are so much fun. They both have unique personalities and it's fun to watch them grow.
My sister and I split the garlic shrimp and that delicious chopped salad.
The baby was there too and she's getting bigger by the day at 8 months.
Dessert was in order and we all had a taste. We also got a bread pudding which was delicious.
The next day, Renee and I headed to Covington, LA such a cute town with lots of shops and restaurants. We didn't take time to shop this time, but met for lunch at del porto, a wonderful Italian restaurant. We met up with Gina, one of my readers on Instagram and she was so sweet and helpful. She had reached out to meet my sister once she moved down here and she will be so helpful to my sister in getting settled in her new town. It's so nice to meet my followers out there, always a treat!
I got this fried seafood special with shrimp and fish and fried veggies on a bed of aioli and it was SO good!
We stopped in one decor store while we were there and now I can't remember the name of it.
Out for dinner the next night, we went to a fave, The Blue Crab, also in the Bucktown area of Metarie. It's always good too.
I got the wedge salad with blackened shrimp a dish I've had several times and always love.
By the water with the girls.
Iris got a new multi-colored robe in the mail from her great grandma, Doris (Bruce's mom) She loved it so much and wanted to wear it all the time.
I always have to get beignets when I'm there, so we went to City Park and Cafe DuMonde. Always delicious!
The girls wanted to play in the park so we stayed for awhile and they climbed trees.
Such cute girls!
There was a singer in the big gazebo and it was fun to hear him singing.
These old live oaks are perfect for kids to climb.
I climbed up one limb for picture and told the girls I used to be a big climber myself.
Snoballs are another fave NOLA treat, so we got one that night.
Sunday was Iris's pool party and Lauren and Philip have been working SO hard in their backyard to get things ready. They are also having their stucco house painted and the painters had just really gotten started, so they had to clean up for the party and will be back to finish. The rain had slowed them down.
Lauren and Philip have been in their house for 8 years now and have worked a lot in the backyard and it's looking beautiful. I love their cabana and they've made it so nice. They added those planters which are so pretty.
Philip set up a tent for the adults to have some shade and to add the food tables. Lauren ordered some great Mexican food for the adults and pizza for the kids. It was such a beautiful picture perfect day.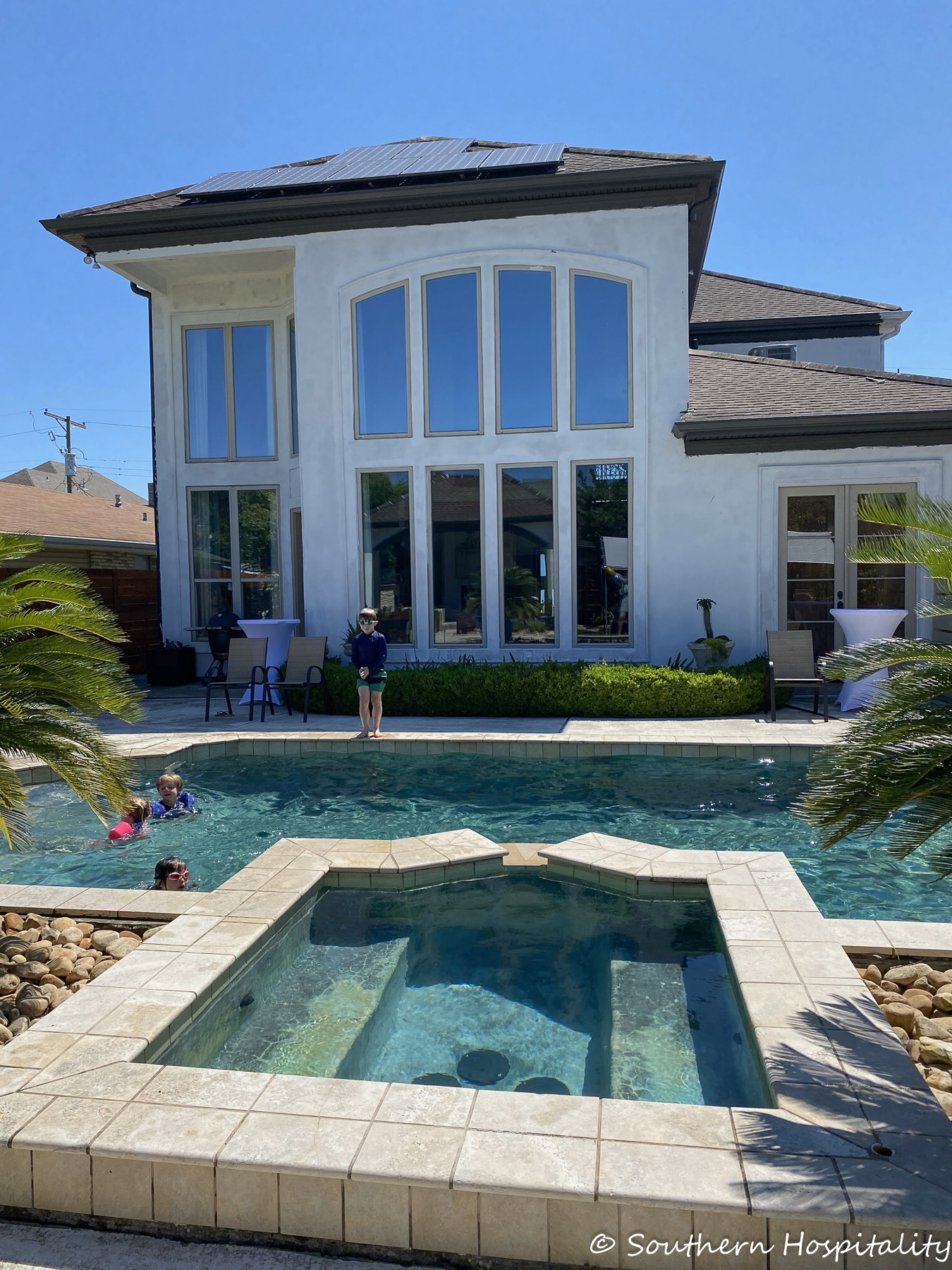 The house is being painted White Dove and trimmed in Urbane Bronze. Lauren has asked me for some paint color ideas and I gave her those. They tried them out and loved them. it's going to be so pretty when it's finished. They have so enjoyed having a pool in the backyard and the girls are swimming like fish now.
It's a great compact backyard.
The fountain is such a pretty addition and Philip has added these large rocks for easy maintenance in the landscaping.
Lauren got this swing when mom and dad sold the mountain house and it has a perfect spot in the cabana. I know she will cherish this swing for years to come.
Here's dad on that swing several years ago. He loved it dearly!
They've made the cabana a great place to hang out with a cooking area, with fridge, sectional sofa and a TV.
This is nice as well and Philip built that privacy screen behind. It has artificial greenery on it.
People were starting to arrive for the party and it was a big success. Lots of kids in the pool and Lauren had a lifeguard there to watch the kids.
TV over the fireplace for watching football. Lauren found those huge armoires on Craigslist and they are perfect for storage out here. They are painting the ceiling blue out there and it's going to be so pretty.
Lauren, Philip and Philip's cousin Amanda.
Lauren and family, such a great day for Iris's birthday party.
Lauren bought the cake at a local store and decorated it herself. I'll share a bit about how she did this in another post as I thought it was genius and a great way to save money.
Ready for cutting the cake.
Iris blowing out the candles.
Bruce and Lauren serving cake and ice cream.
Renee and Alex, love this pic.
Me and Alex.
Alex is the sweetest, she's such a good baby.
Lauren looking stylish in her coverup.
And the party in full swing.
It was such a fun trip for a few days at Lauren's house. We didn't do any typical touristy things. I've done much of that before so this time it was family fun and hanging out together. I'm so glad I had the chance to get down there again and it won't be too long I'm sure before I'm down there again. I'll be going more often after Renee and Bruce start their house build to help Renee with sourcing and choosing things. That will be fun too! I want to take Mark down there too and take him to some of the places I've been and to see new sights too. It's a fun place to visit!
Don't Miss a Post, join my list!