It was a beautiful Fall day just over a week ago and my sister and I drove up to the mountains to spend the afternoon with our parents, a family friend, and my mom's brother, sister-in-law and their 3 daughters.  As time passes, I'm continually reminded of how grateful I am for this family of mine.  Time keeps marching by and as we have these family gatherings, we all remark on how much longer it will be like this.  We know that one by one, these parents of ours will no longer be with us and it is sad and sobering.  How does time fly SO fast?  I heard it said growing up that each decade seems to fly by faster and faster and I'm convinced of it now.  It really does.  It was wonderful to sit with our 3 girl cousins and reminisce about the good old days that our families have experienced.  But, it's bittersweet too as we know that those times are in the past and we are all growing older.
We looked at each other and said, how did we get to be middle-aged women?  It just doesn't seem possible.
I walked around and took a few pics of the house and property of the mountain house my parents have owned for over 30 years. This place holds some dear memories for our family.  I've shared it with you before, but it's always worth another visit.
The house is nothing fancy, just a rustic mountain house that my dad built with a little help all those years ago.  He built the bridge that goes over the stream down to the garden that he loves so much.  His hands have touched every bit of the house and land they own here in Western NC.
A meandering mountain stream flows softly in the front yard, a mesmerizing sound for us every time we are up there.
Lauren grew up playing in this stream and her baby, Parker, got to experience that back in August when my sister took her up for the day.  She loved it as much as her mama did.
Is there anything better than wading in a cool stream during summer?  I used to love this too.  The culvert pipe under their driveway is a fun place to play.
Little miss having a great time in that stream.
When the stairs became slick with algae, dad nailed shingles to them to keep people from falling down.  He's always got a solution to a problem, even if it's practical and not particularly pretty!
The leaves were beginning to change colors and we noticed it more and more the further north we went that day.  There's nothing like Fall in the NC mountains, it's truly beautiful.
In the distance is Dad's pride and joy, his mountain garden, which is even bigger than the Marietta one.  Mom has given him orders that this was the last year planting a garden here.  It's just too much for them to do both.  We will see if that order sticks next year.  We love that he wants to garden, we just think he should slow down a bit and not try to grow for the whole community.  His Georgia garden is sufficient for all their needs, but he sure loves this brown dirt that grows things so well in his beloved mountain home.
Walking up the driveway, I'm reminded of all the times we have gathered here as a family and enjoyed the coolness of the mountains.  Sitting on the porch is always a highlight for all who visit this place.   It's always about 10 degrees cooler up here than it is in Atlanta during the summer months and it's a refreshing place to be.
Nothing fancy, yet it holds so much love and sweet memories.  Fish fries and endless meals of vegetables fresh out of the garden.
A sweet family homestead that we all grew to love.  It hasn't been decided what will happen with the house.  My parents are definitely hearing the call that it may be time to sell this place.  We've all been talking about it for a few years now, but no one really wants to face it.  Dad sure doesn't.  It is likely to break his heart when he drives away for the last time.  He would love for us to keep it in the family, but none of us have embraced the idea of being caretaker for this special place.  We will see what the future holds, we don't have it all figured out right now.
The porch that we all love beckons for some sitting.  This is where we always gather during our visits and this time, it was the cousins that went out on the porch, while our parents stay huddled around the table.
I've taken many naps in that lounge chair with the navy cover.  So relaxing!
The mountain laurel grows just outside the porch and during spring, it's a beautiful sight to see it all blooming.  Many hummingbirds hang out at the feeder that mom keeps filled for them.
Dad's tractor stays housed in the garage he built for it and this is his prize machine that helps him with his gardening.
The moss and acorns are plentiful and the memories are deep.
On the front porch, this long ago etched wood sign welcomes and states just who lives here.  In case there is any doubt, Lauren has always been a part of this house.  She spent much of her growing up years here with her Nana and Grandaddy, during long summer visits and I have no doubt that the memories are sweet and run deep for her as a result of that upbringing.
As always, Mom is in the kitchen.  Any of our visits here revolve around a meal and she is still churning them out.  Fried speckled perch was the catch of the day with all the fixings to go with a fish fry. She is amazing that she still can do all of this.  A family friend was there with them this visit, Miss Sue, from Phoenix City, AL, so she is such a help to mom with prepping meal time.  I've got a video of the fish frying that I'm trying to get uploaded to share with you all.
Fried fish, baked beans, cole slaw, potato salad, and hush puppies, that was our feast of the day.
Oh my goodness, was it delicious.  We all enjoyed every bite.
Mom's kitchen in the mountains is well worn and used regularly.  Like her Georgia kitchen, it is nothing fancy, but she can churn out some of the best meals from her kitchens.  It's homey in this kitchen and takes me back to my youth, where mom has always taken care of her family and cooked for us so lovingly.
As we usually do, we took a few photos of the family.  Mom with her brother, Edward.  Uncle Edward is a retired pastor and mom is a retired pastor's wife.  They are both such loving people and don't they look so much alike?  No doubt these two are related.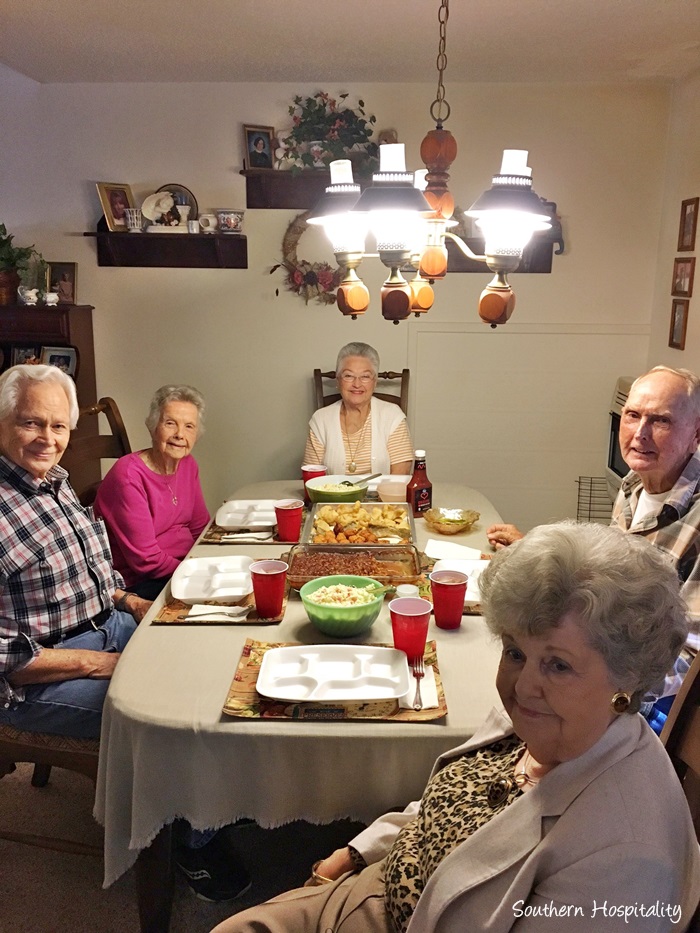 So many family members have gathered around this table over the years and we don't take it for granted.  We have lost a few in recent years and that saddens us every time we think about it.  Those that aren't with us anymore.  We know that we can't take these times for granted.  Another year could bring more change.
Mom and Uncle Edward on the left, Miss Sue on the far end, dad on the right (of course you know that!) and Aunt Frances closest to the camera.  They all have ailments now and we just hope to keep them around for many more years, but we don't have that promise.  We just trust the Lord for His timing in all things.
We girls sat at the kitchen table and really enjoyed catching up. We have 2 girls in our family and there are 3 daughters in that family, Joy, Jacque, and Jan and we all had fun together growing up.  There were several times that we went on vacation with them and I love them dearly.
We all don't get to see each other nearly often enough, but we sure had a nice visit this day, sitting on the porch and catching up.  L to R:  Me, my sister, Renee, Jan, Jacque, and Joy, my beautiful cousins.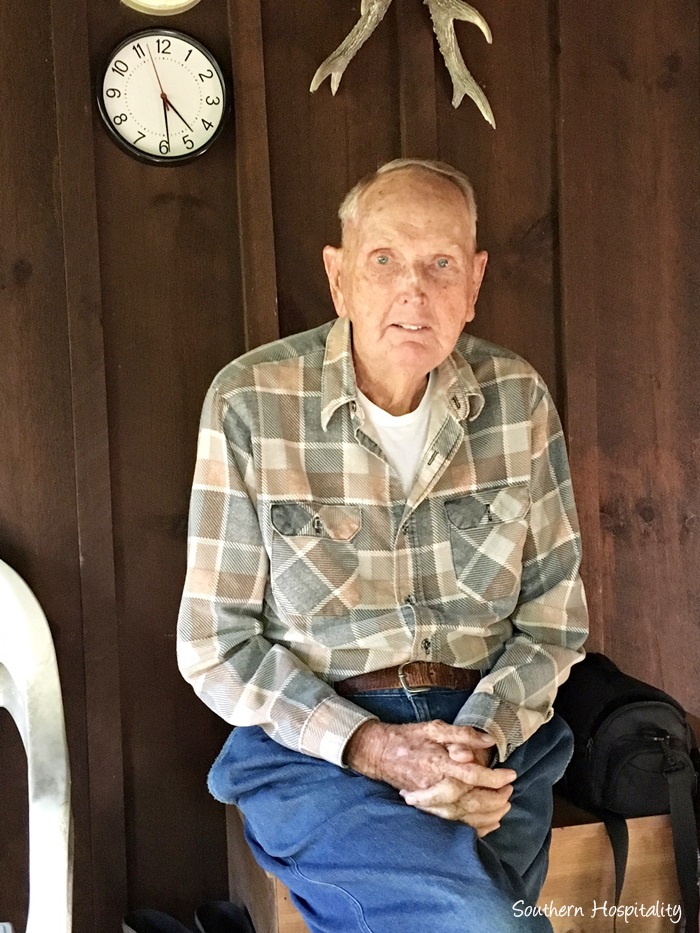 Dad came outside to check on us and I snapped this pic of him, in his element.
We took time to get one more family photo, can never have too many of those.
Me and my sis.
It was a one day visit, up there and back, but we are so glad we all came together for a little family time.  It's not nearly often enough, they all live in SC and are not that far away, but you know how schedules are and they all have big families too. Those girls had a bunch of kids between them (9 if I'm counting correctly) and now there are grandkids and great grandkids, so they multiplied like crazy.  It's always fun to get their Christmas cards and see new babies in there.
Since you all love my family stories, I wanted to share this special day in the mountains with all of you.  We do treasure our family times so much and as time passes by, cannot miss the opportunities to get together with each other.  Families are a treasure and I hope that you all have that too.  I know that not everyone has a wonderful family like mine and if you don't, I really feel badly for you.  Family for us is too important not to nurture and spending time together is part of that.
Thank you for stopping by and sharing in my family time today!
Don't Miss a Post, join my list!