I get comments when I share my family with y'all, that you enjoy seeing the folks that mean the most to me, so I appreciate that and since this blog is inspirational as well as a way to document my life, sharing family is part of that.  Once again, those memories are what we hold on to, year after year.  This year was no exception, my extended family gathered in Duluth, GA at my cousin, Brenda's house for a feast and it was a memorable day as always.  There were 22 of us this year.
Brenda's parents, my aunt and uncle, who we just stayed with in Florida for our family reunion, came up to share in the festivities, along with Brenda's brother, Dennis and his 2 daughters.
I hope you enjoy seeing how we celebrate Thanksgiving and I know that all of you enjoyed the day as well.
My cousin's pretty front door.
Dining room sideboard decked out for Fall.
Dessert table.  My Aunt Mary made these delish chocolate candies.  We got the recipe, so I just might have to share it with all of you too.  Loved them!
Check out Brenda's Fall corn display, I loved this idea too.
We did not lack for sweets.
We did not lack for anything.  Squash casserole and pineapple casserole.  Our family puts out a spread of food every holiday.
I've shared this before, but here it is again:
Pineapple Cheese Casserole
2 sticks butter or margarine
2 large cans chunk pineapple
2 cups shredded cheddar cheese
1 cup each, sugar and flour, mixed together
Crushed Ritz crackers
Layer 1 can pineapple on bottom of round baking dish. Top with 1 cup cheese, 1/2 of the sugar and flour, 1 stick melted butter.  Add another layer of pineapple, sugar and flour and melted butter.  Top with crushed crackers. Bake @ 350* until brown, around 1 hour.  Eat and enjoy!
Deviled eggs, cranberry congealed salad, potato salad, cream corn.
Greens, beans and gravy.
Mashed potatoes and dressing.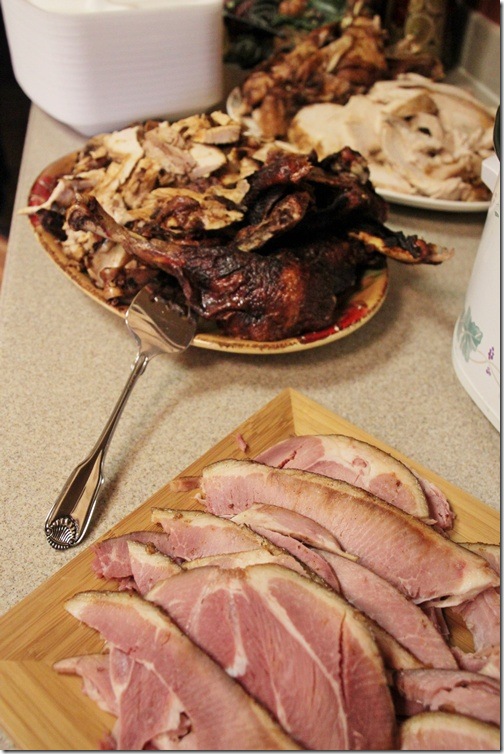 Ham and fried turkey.
Sweet potatoes and dressing.
My plate.  Ugggg, I was miserable after eating all of this, but it sure was good.
Table centerpiece.
My cousin, Brenda and her mom, Aunt Mary. These 2 can cook up a storm too.
Lauren and Renee.
Cousins, Hailey, Denise, Layna.
Newlyweds Philip and Lauren
We managed to get a family pic just before we left to go home.  So glad we did!
(left to right:  BIL Bruce, me, Mom, Dad, Renee, Lauren, Philip)
Brenda's family lives in a pretty John Wieland neighborhood in Gwinnett County and their house sits up on a bluff overlooking the Chattahoochee River.  It was an outstandingly beautiful day, so after lunch we hiked down to the river, down 80-something steps.
It's so pretty down there.
Cousins hanging out together.  Lauren and Philip brought their new puppy, Stickers (a girl).  She had fun playing outside in the leaves.  We are all crazy about Stickers.  Lauren named her that because she has always loved playing with stickers.  🙂
Cousins, Layna, Dennis (their dad) Hailey
Philip, Lauren and Stickers, the grandpuppy.
Isn't she cute?  They adopted Stickers in New Orleans about a month ago from a shelter and she is about 6 mos. old.  They were told that she is a mix of Chihuahua and Boxer.  I know.  Think about that one for a minute.  Yeah, it's a crazy thought.  But, she's a really cute puppy.  She's so sweet and cuddly, loves to sit in laps.
She got some exercise playing with sticks.
We had fun playing with her.
And Stickers loves her Aunt Rhodie!
Enjoy your weekend! 
Don't Miss a Post, join my list!