Today I'm sharing a fun project I just completed and I hope you'll jump in on this one with me, because this is a competition.  Yes!  A friendly little fun competition!  I'm competing with another blog friend, Chelsea with Two-Twenty One, who also did a stencil project and we will be going head to head for votes.
So, I hope I can count on all of YOU to vote for me.  PLEASE take the time to vote for me.  The competition will end on October 30 and you can vote every day.  If you vote, you will be eligible to win a FLEX pressure washer (and one attachment) for yourself as well.  The winner of the competition between myself and Chelsea, will win a $1,000 Lowes gift card, so I'd love to win that!! (with your help!)
When you vote on that Troybilt Facebook page, once you click Submit, it will pop up a message that says "voting period has ended".  Not to worry, that just means you have voted that day and can't vote again until the next day (once a day).  Please vote as often as you can! I'll be reminding you too! 
Let's take a look and see how this all came about. Troybilt contacted me awhile ago and asked if I'd like to join this competition and use their new Troybilt FLEX pressure washer machine to complete this fun stencil project.  She sent me samples of what they were talking about with the stencils and I thought it looked really fun.
Besides, I have a really dirty sidewalk that could use some artwork on it, so why not?!
Here's that really dirty sidewalk now!  It definitely needs some love.  The sidewalk and my driveway are areas I haven't gotten to yet, but pressure washing was always on the list.  I'm glad I didn't clean my sidewalk yet, because this stencil project is pretty cool and I love how it turned out.
Troybilt delivered this fancy red FLEX pressure washing system, which is a gas powered base unit and the pressure washer attachments connects with a snap.  This machine also has other attachments, like a mower, leaf blower, snow thrower, and chipper/shredder.  I'll definitely share more about the FLEX in another post.
For this project, I got to pick out several stencils, so I chose these leaves to play around with.
The main stencil I wanted to use on my sidewalk is the cobblestone pattern. These stencils are heavy plastic and perfect for a project like this.
Here's a little video I did showing how easy it is to do this.
I did a couple of test runs with the stencil and decided to leave a border on each side, since the stencil had to be moved side to side to make the pattern work.  This was moving it once from right to left and since the pattern doesn't completely match up, you can see a line, but when it was all done, it looks really cool!
I moved back and forth on the sidewalk, lining up the stencil as best as I could and then shooting it with the pressure washer.  The FLEX works great and is really fast.  I'll do another post later and tell you more about the machine, but it definitely does the cleaning job well.  I can't wait to tackle the whole driveway with it.
I placed my feet on either side of the stencil to keep it from moving and moved the wand back and forth and watched the dirt fly.  You can see by my legs that I have dirty water all over me.  This is definitely a messy job!
Once completed, I have a cobblestone effect on my sidewalk.  I decided to add some cute leaves to the end of the sidewalk too.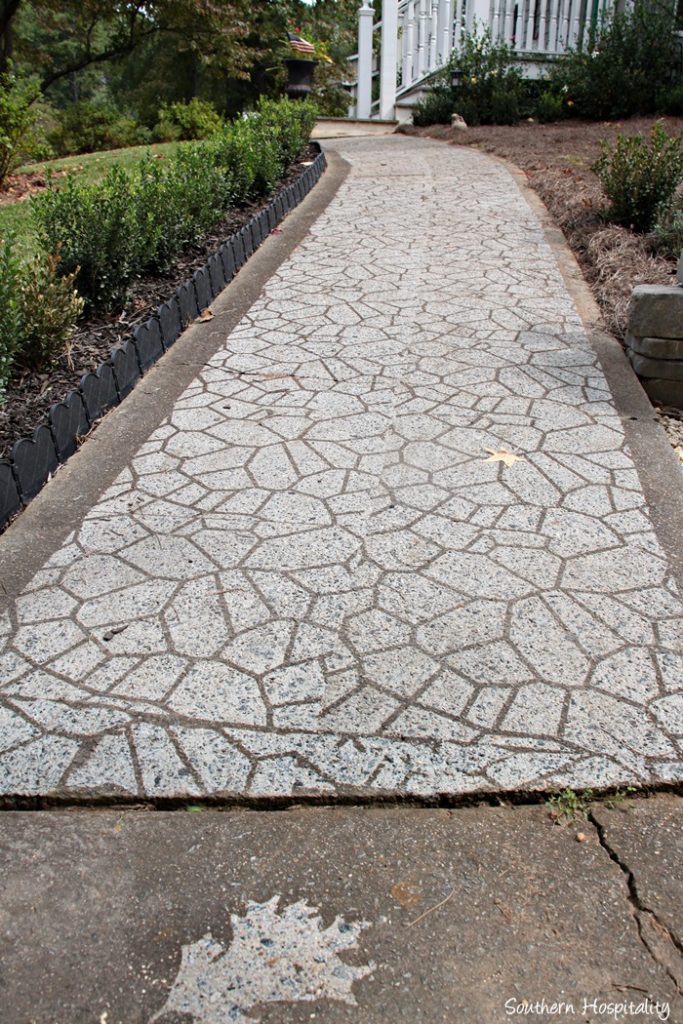 And tada, here's the whole sidewalk.  Done!  I think it looks very cute and cottage-like and I plan to keep it for awhile.  If I get tired of it down the road I'll just pressure wash the whole thing, but for now I think it's really cute and a conversation starter.
Amazing how dirty that sidewalk was!
Once I finished and looked at the whole thing, I was very pleased with the results.
My sidewalk is not in perfect shape as you can see, but this at least gives it a little character.
I tried out the more leafs outside the garage door and this took no time at all.
It really was fun making these shapes on my sidewalk, but I'll be pressure washing all of this to make it nice and white again soon!
In the meantime, I hope you'll help me out and vote for my project on the Troybilt page!  This is just a friendly little competition and whoever gets the most votes will win, so I hope you'll help a girl out. I'll be posting reminders the rest of this month and it would be nice to win that $1,000 gift card from Lowes!
You can click this Troybilt link to vote for me!! 
Thanks so much for your vote!! 
Note: This post is sponsored by Troybilt.  I've been compensated and sent a free FLEX pressure washer to use at my home, but all ideas and creativity is my own.
Don't Miss a Post, join my list!