I've got a couple of new things to share with you today. I've shared these links before, but I didn't get the clothes in until this week, so you get to see me try them on. I like both of these pieces and am glad I found them. I enjoy dresses during summer months and it's fun to dress them up or down. We have another wedding to go to this weekend, so I'll be wearing this red dress to the casual morning wedding with some neutral shoes.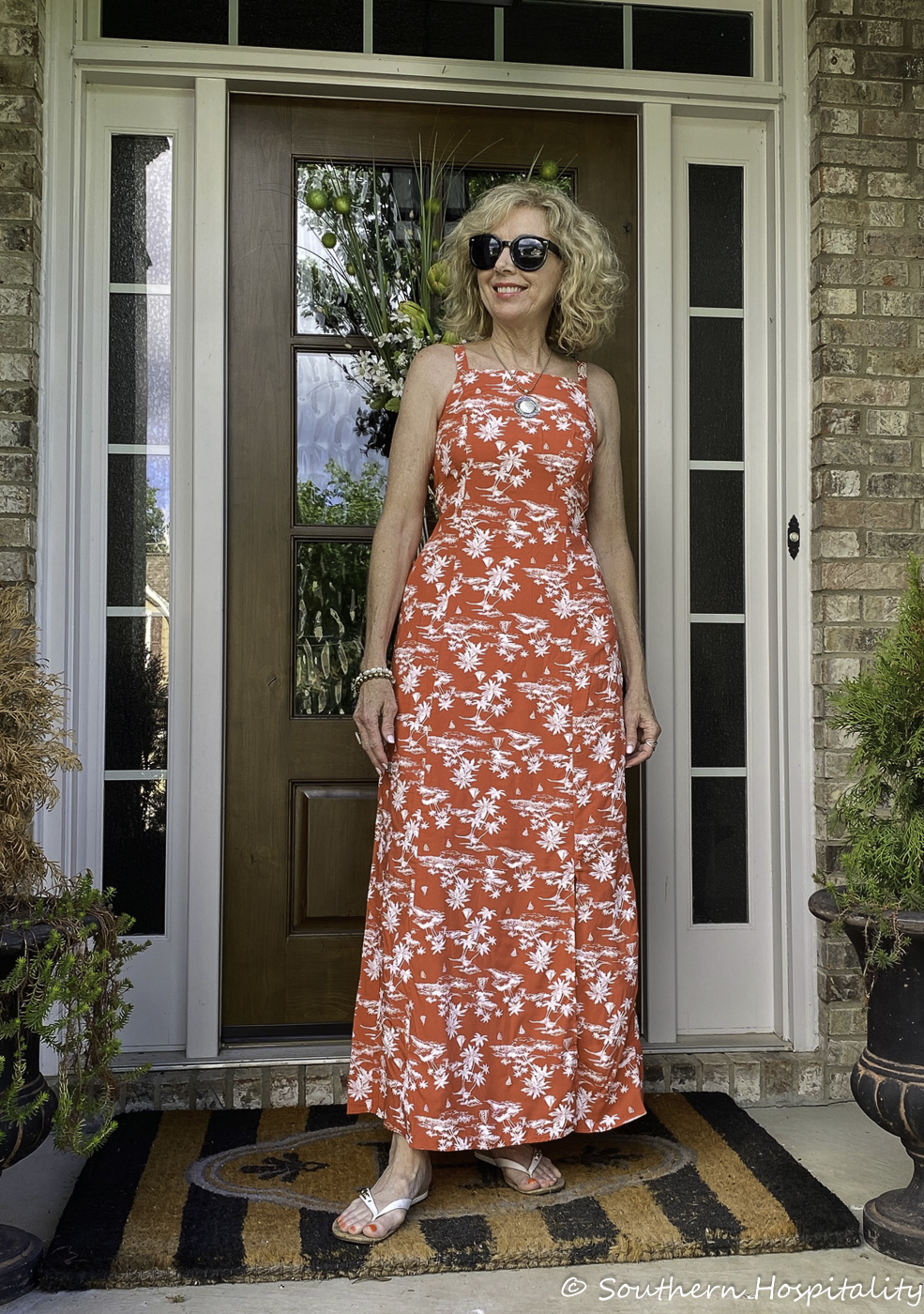 This maxi dress was an Old Navy find and I happened to score it on a day when it was $17. I did have to pay shipping because it wasn't available for pickup in my area, but it was still a great deal. I know I'll enjoy this one for a few seasons.This dress is also lined which is a plus.
The red is more of an orange red which is good for my skin tone and I love that it's cut high at the neck. There's a slit at the bottom which makes it easy to walk in. I keep forgetting to turn around so you can see the back of my dresses, but the straps are nice and wide and  it's cut straight across the back with smocked elastic to keep it in place. You can see that on the website view.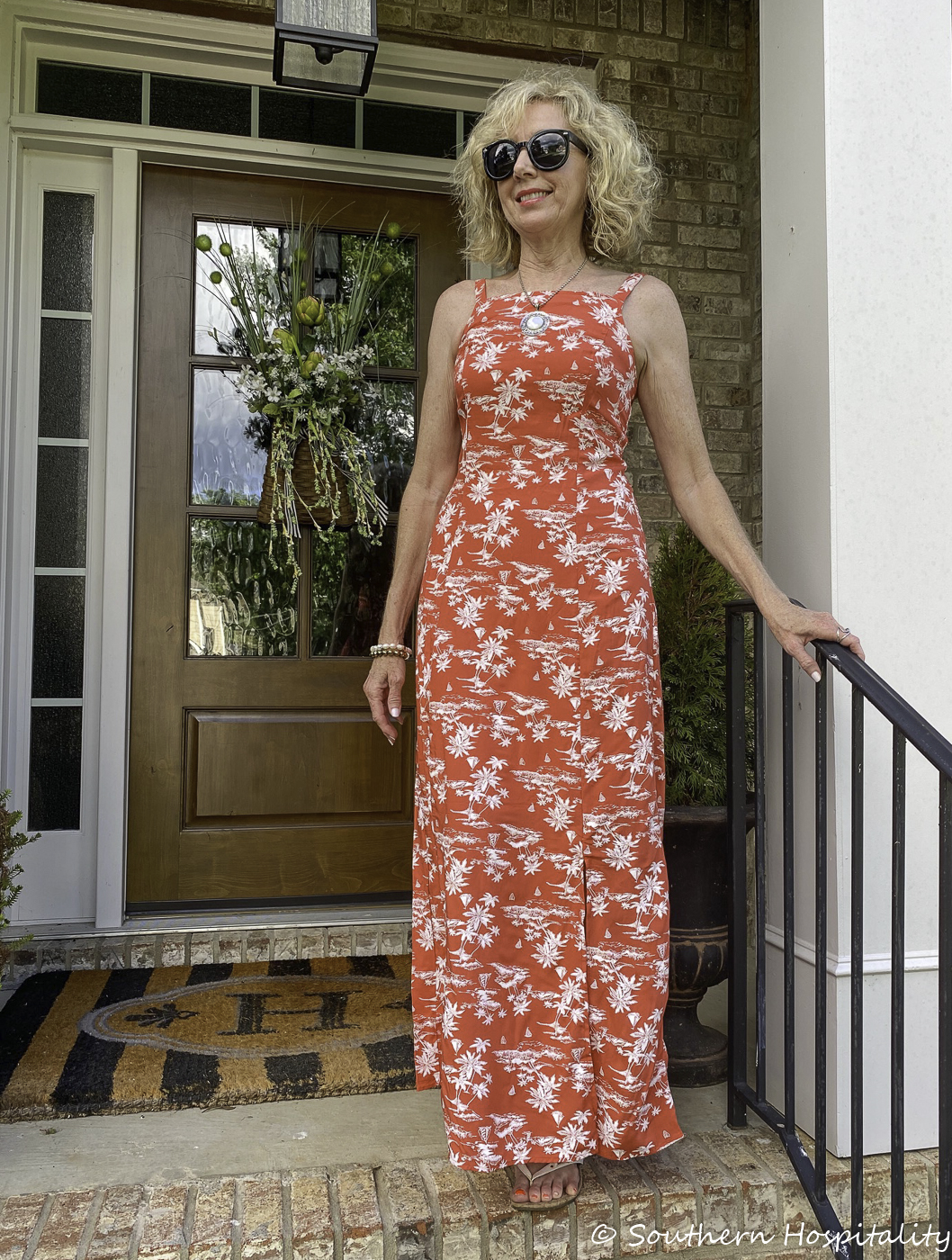 It's fitted through the bodice and is called a fit and flare, but it's not all that flared. It's more fitted through the hips. I got my regular Small size, but believe me I am wearing some shapewear spandex underneath to smooth things out. The top fits fine with my small bust and I'm wearing a strapless bra. I could have probably gone up to a Medium size from reading comments online, some said it runs small so keep that in mind if you order. I didn't want to go through the hassle of sending back and reordering, so I can't gain any weight!
I added some of my Grace & Heart jewelry and love the simplicity of these pearl pieces. If you're interested in any of these, check out my Grace & Heart page for the catalog.
Next up is this cute striped cut in halter top from Ann Taylor. I ordered this first in Small, but it was way too big. Sometimes sizing is off with different brands and I had to send it back and reorder an XS, which fits perfect.
It's cut in at the shoulders with a ruffle neckline and I think it's so cute. The jeans are Banana Republic which I shared with you already, but the link is below too.
Now, I wouldn't normally wear these giant heels with this outfit, I'd be way more comfortable and casual in a pair of slip on flip flops, but I thought I'd share these shoes from Ann Taylor too. They were a great deal on clearance for $25 and I just couldn't resist. The problem is, they are non-returnable at this price and the heel height online said they were 3 1/4″ which is manageable for me, but these ended up being 4″ which is way taller than I normally get. but I think they are cute so I will keep them to wear for special occasions and with longer dresses. The chunky heel makes them easier to walk in at least.
The top is a winner and is a silky type fabric that should wear well.
The mother of pearl pendant and necklace from Grace & Heart is so pretty with these summer outfits. It has mother of pearl earrings to match, but you can't see them here, but here's a pic below. I love mother of pearl.
So that's it for today, I thought you might like to see what's new for summer in my closet. I love both of these pieces and will get lots of enjoyment out of them.
Here are links to the dress, top, white jeans, sunglasses and shoes if you're interested in checking them out. Just click the picture links below (affiliate links):
Ann Taylor has some great summer clearance sales going on right now,so here are a few more things from there that caught my eye. Most of these are from the Last Chance category which has the best deals at an extra 70% off! But read the fine print, some of them are not returnable (like my shoes above). I've linked another similar pair of shoes below that are lower heel than mine. I bought the long gray cardigan and the black ruffle sweater and love them both. (affiliate links):
Don't Miss a Post, join my list!