Happy Wednesday, y'all!
Today's Fashion over 50 is a couple of casual outfits I've worn lately.  I do not get really dressed up that much anymore and as summer arrives, I love casual but cute, summer clothes. I'll be wearing shorts again soon, but for a couple of outings lately, I wore casual pants/jeans and comfortable tops.
I spotted this cute asymmetrical turquoise and navy top at Marshalls recently for like $15.  The brand is Tryst by Matthew.  I found the brand online at several spots, including Poshmark and Ebay and they are known for their tie-dyed fabrics.  I loved the colors in this, as usual and knew it would be a fun summer addition to my casual wardrobe.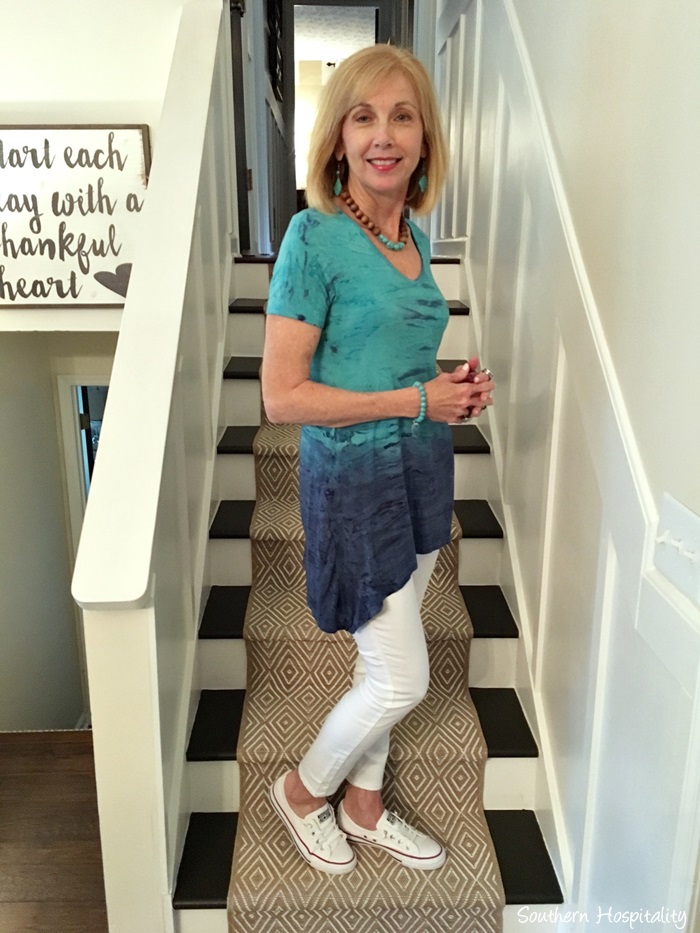 These white skinny jeans are new too.  They are from Old Navy and are called Rockstar jeans.  I love them! They are cut a bit higher than some of my other skinnies and have spandex in them so are comfortable to wear, but very form fitting too.  I saw a friend wearing them and loved them, so bought myself a pair.  Old Navy has online sales often and I got a great deal on these.  Look for their sales and add the code for extra % off.
Old Navy Rockstar jeans (affiliate link). 
Our spring weather has been so nice so in the daytime I don't need sleeves, but sometimes do at night.  I added my old Gap jeans jacket on top.  Did you notice my Converse Chucks white sneakers?  I've been wanting a pair of these for awhile too, so finally ordered them online.  They are so popular with the young set and I think they are great for us older gals too.  So cute, chic and comfortable too!
These are the Shoreline Converse with stretchy backs and the laces don't really tie. You just slip them on.  My niece had these on recently and I decided on the same style for myself.
Converse Chuck Taylor Shoreline sneakers (affiliate link).  
Perfect for a casual day out.  I wore them to a spring home tour here in Marietta that I'll share with you later.  My sweetie and I did the tour and there was a lot of walking involved, so these worked for me all day.
This is an Anthropologie top that I got at the end of summer last year.  It's a deep orange/coral and tan stripe and I like these flowy tops over skinny pants. The pants are another pair of my C Wonder khaki pants that I found on the going out of business sale.  They have zippers on the legs.  Looks like the top is no longer available on Anthropologie now.  I like the slits on the side of the top.
Mark has bought some colorful Polo shirts for summer, so we sort of match, which I don't mind. 🙂  We had a great day out looking at old historic houses.
I've shared my friend, Lucy's jewelry before, but I just got a new piece from her, so wanted to share again. She makes handmade jewelry from old vintage metal parts and chandelier prisms. Her signature is the key attached and her things are so unique and fun.  I have several pieces from her that I love.  Wooden watch is from Jord (affiliate link).  I have really enjoyed this unique watch too.
I love the latest one with the golden chain and brass key with prism.  You can find Lucy at Lucy's Inspired!   Her website is being updated right now, but I'll share it again later.  The leather cuff is from her shop too.  Earrings from the Country Living fair last year.
Linking to The Pleated Poppy What I Wore.
Reminder, the Homemaking Ultimate Bundle sale is live today, so check it out if you are interested in getting all these fabulous ebooks for one low price!  Limited time, my affiliate link on this: 
Don't Miss a Post, join my list!