Today, I've only got one outfit to share and I've share the top before, but it's always nice to have another look at styling an outfit. This time I paired this top from Steinmart with black skinny pants that I found at Costco, by Calvin Klein.  This long tunic is perfect for skimming over the black pants and I added those black wedge shoes from Target as an accent.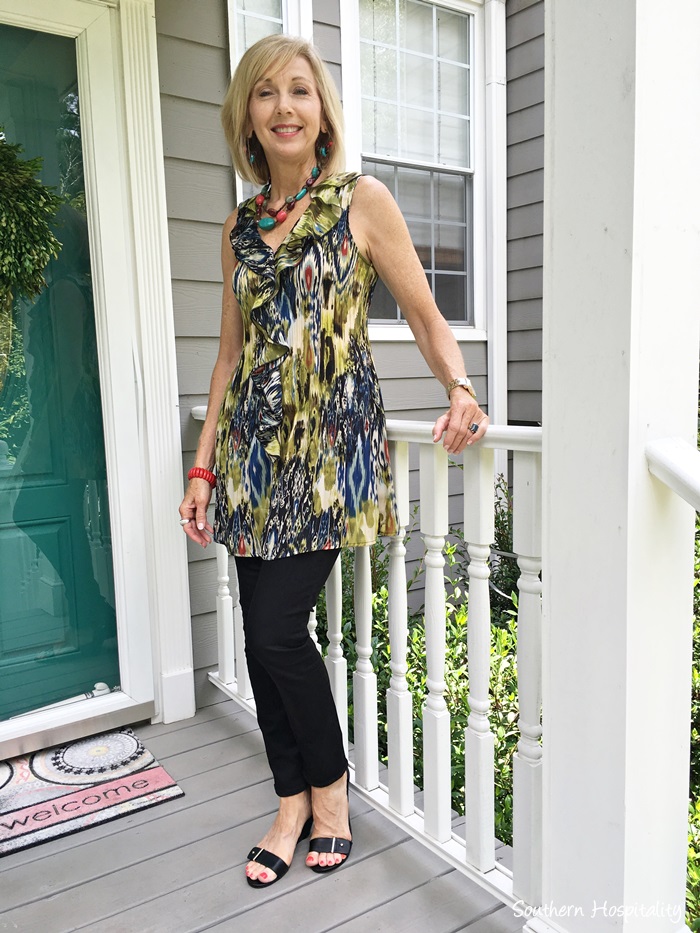 The top is gauzy material and so comfortable. This type material washes up so well and I love the Bohemian print with all those colors.
Black wedge Indra shoes from Target (affiliate link)
I added some chunky jewelry and that brings out the rusty red tones.
It makes for a great little outdoor for so many things.  I wore it to church last Sunday.
On Saturday, I had a fun surprise.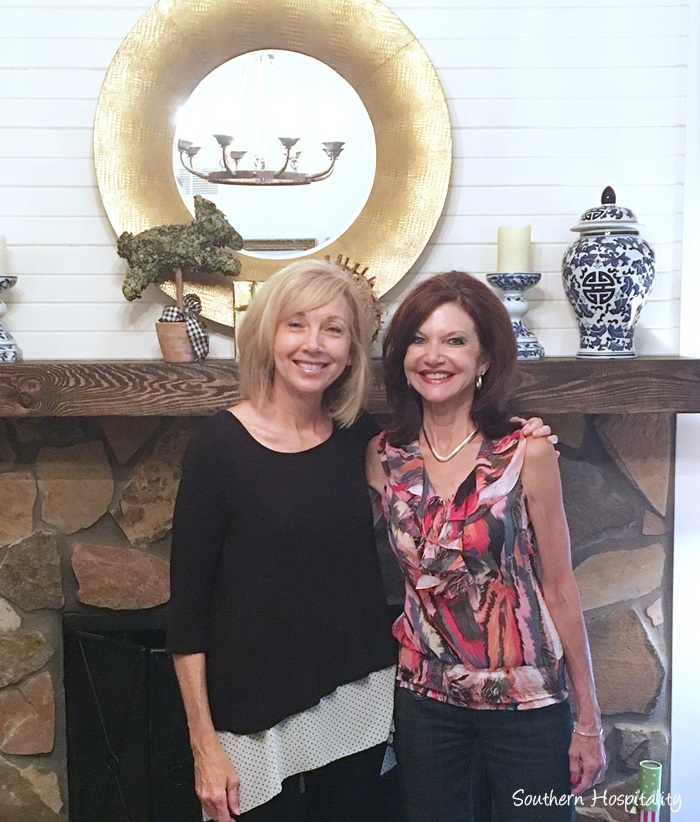 I love hearing from my readers and this sweet lady, Mary Ann, has been reading my blog for several years.  She lives in Texas and has emailed me a number of times over the years. She and 2 of her girlfriends planned a trip around some of my travel ideas I've shared on the blog.   She wrote me and told me they were coming to Marietta and I hoped that they wouldn't be disappointed after they got here. Since they would be in town for one night, I told her to come over and meet me so they did! It was such fun to get to meet a some of my readers in person and we chatted like old friends.  I told her when she came in that she knows everything about my life, but I didn't know anything about hers. We had a nice visit and then they were on their way to Madison, GA, then on to the coastal areas.  So, Mary Ann, it was great to meet you and your friends!  It made my weekend to have them stop by to see me. She is such a pretty lady!
In other news, from what I hear in blogland, the Nordstrom Anniversary sale is gearing up this week and goes from July 22 through August 7 and Nordstrom cardholders can shop the Early Bird sale first.  I found some cute things that are on sale, so thought I'd share my picks with you. (affiliate links used)
Below are some clothes I thought were really cute and I can see myself wearing any of these. The shorter dresses, I would wear with skinny pants or leggings for a fun look.

And a few shoes caught my eye too! These are similar to a few pair that I have and enjoy, so thought I'd pass these along. The sale is a great way to get some early Fall things and also summer items.

Don't Miss a Post, join my list!