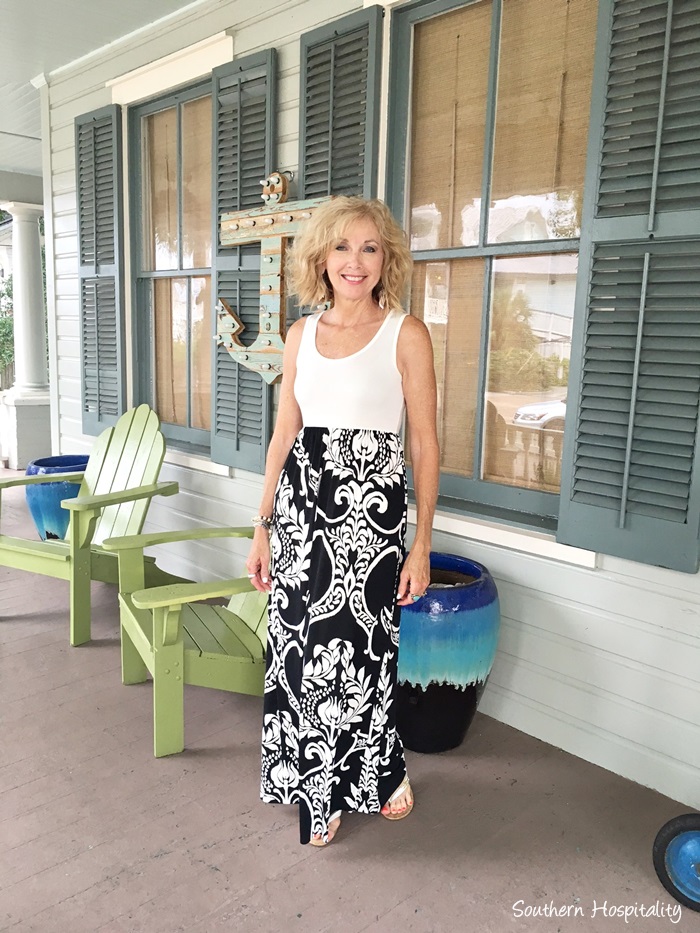 I took the opportunity to have pics taken on the porch at the Air B&B I stayed in, The Hays House.  It makes a great backdrop for fashion.  I just love the black and white damask print in this long maxi dress and it's perfect for a beach vacation.  It's almost an empire style dress, the waistline is not true waist, but slightly above, but I think it's very flattering.
The fabric on the bottom is sort of a jersey knit feel (rayon and spandex), very soft and flowy and the top fabric is like a stretchy soft cotton.  I felt so good in this dress!  This Hollis Tank maxi dress is available in a few other colors, so check it out if you like this one.  I love the fit, I got this one in Small.
This dress could be worn for Fall and beyond with a cute jacket on top.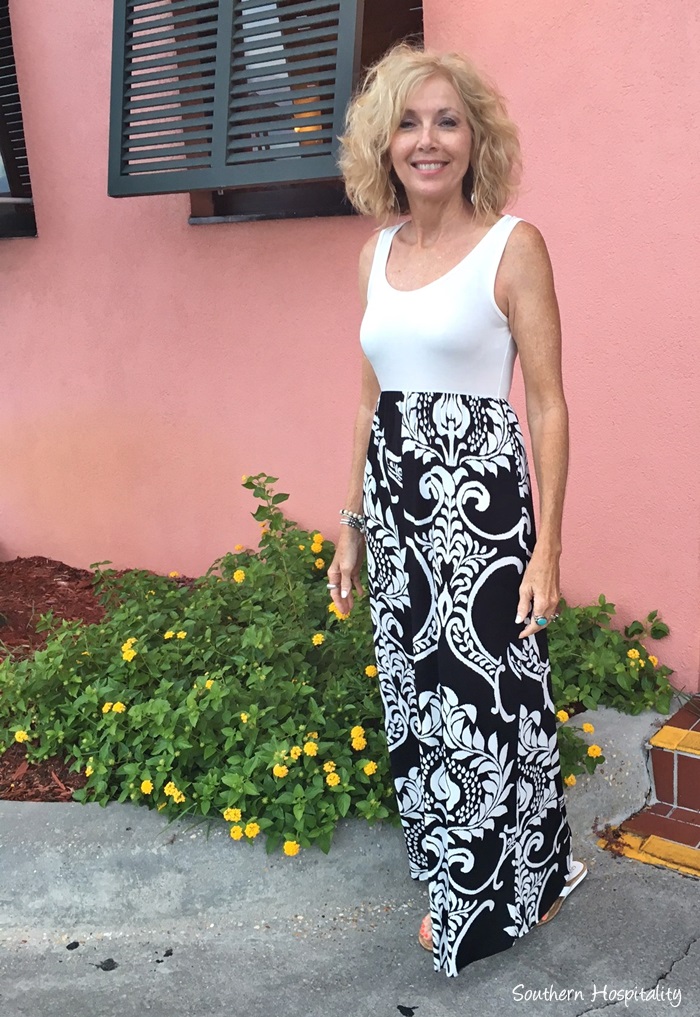 The good news is that that ones that are left are marked down on sale!  But, you can't use my coupon code on the sale items, sorry.
We went to Capt. Anderson's that night for dinner and I took more pics by the docks.  Great to get outside in a new location to take my fashion pics.  You can barely see my shoes here, but I took shot of them for you.
They are flat slip on sandals in white and gold by Guess (Juliann style) with a cork sole. I picked them up earlier this summer from DSW, but it looks like they are sold out online now.
I got a pedicure before Haven and for the beach and loved this bright orange/coral shade that I picked out, called Sunset by Savina. Liked it so much I ordered it for myself, from this site.  It sort of glows out on the beach, but a perfect summer shade.
My handsome man, Mark, looked equally good in his black and white shorts and linen shirt.  I just love this picture!  We have a few similar colors that we wear and it's fun to color coordinate, although we didn't plan this one in advance, it just happened.  His linen shirt is from Ocean & Coast line at Belk, if you're interested.  He has bought several of these linen shirts for summer and they look so good on. He gets lots of compliments on them too.
The Indigo wash Kennesaw top is still available in case you missed it when I posted earlier.  I love this top and am honored that she had it made for me.
I really enjoy working with Glamour Farms and having them at Haven this  year was extra  fun.  They get in new clothes all the time, so be sure and check back often for more items.  This dress will be a favorite of mine for sure!
If you want to shop at Glamour Farms, use code RHODA645 for $10 off any over $20 purchase (regular prices only, not sale!).  Discount code can only be used once per person. 
Don't Miss a Post, join my list!