Hey, it's June 1st and we are definitely in summer mode around here!
This week, I'm sharing a couple of date night outfits I've worn recently.  As it gets hotter, I get more casual with my clothing for going out and usually we are just heading to dinner or a night out at the Square.
I went really casual this night, with cropped white pants from Banana Republic and a striped navy sleeveless top from Cabi that I found in a consignment shop.  I don't see these pants on Banana Republic website any longer, as I bought these a couple years ago.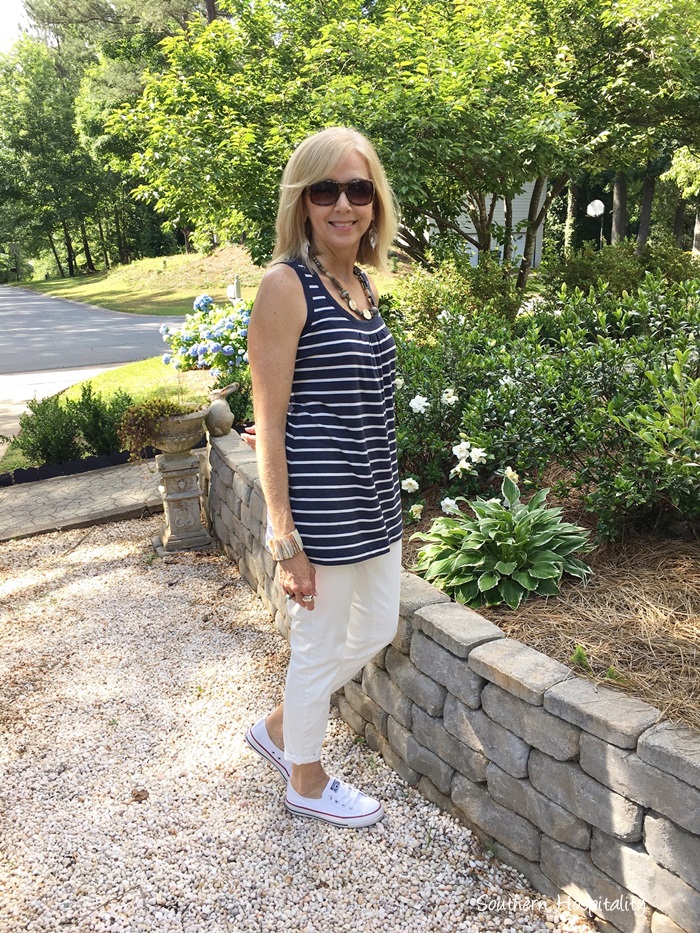 Still loving my Chucks from Converse for casual jeans.
Converse Chuck Shoreline shoes (affiliate link)
Easy breezy date night out at the Square in Marietta.
We love going here, since there are so many restaurants to choose from and once a month Friday concerts on the Square are great.  I took along a jeans jacket just in case it got too cool in the air conditioning.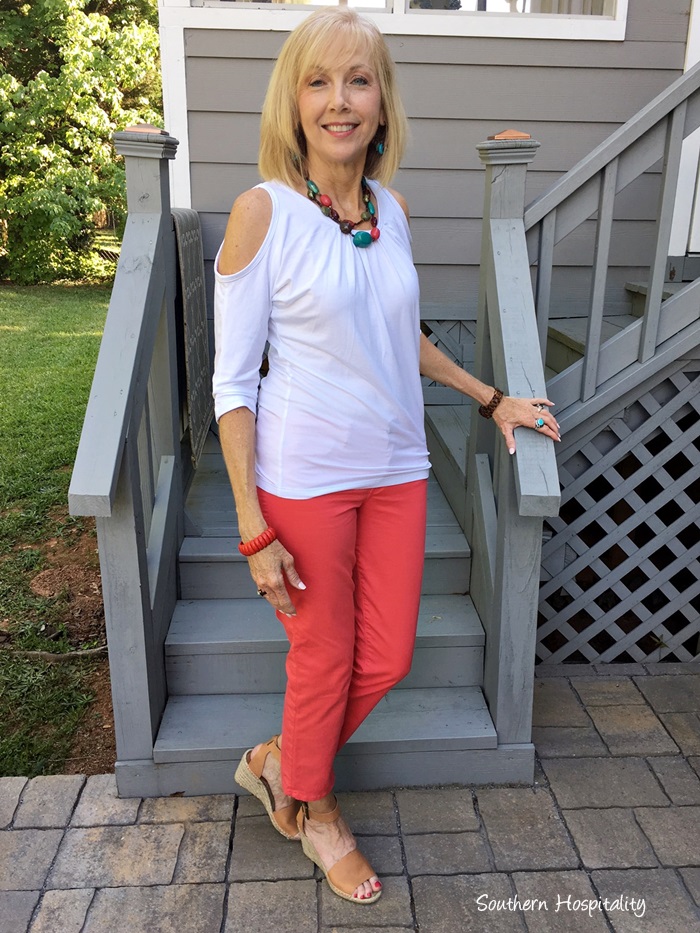 Another date night out, I wore these cropped coral pants from Calvin Klein that I found at the end of summer last year at Goodwill for around $5.  I paired them with a new Covered Perfectly cold shouldered top in white.  I love white for summer when I have a bit of tan and I've already started using my tanning towelettes from Loreal Sublime.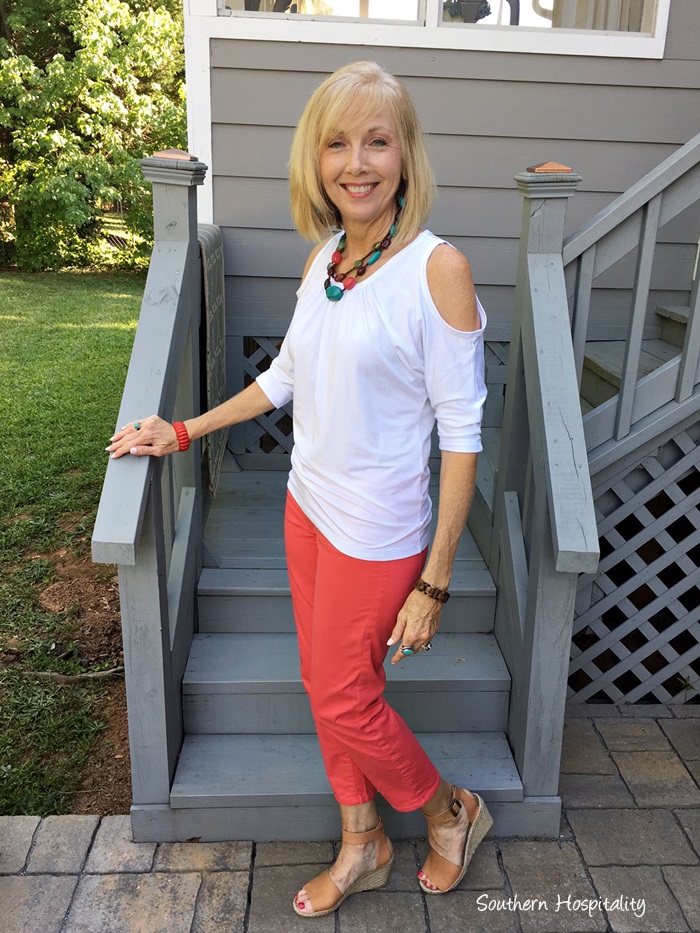 Paired with my casual shoes that I've shared before, it's a fun little outfit.  I got the shoes at TJ Maxx, so can't find these exact ones online.
Similar pair of Vince Camuto shoes (affiliate link)
The Dana Cold Shoulder top from Covered Perfectly in White.  It also comes in purple and black.  I've really enjoyed my black one too, which I featured recently.
If you buy from Covered Perfectly (affiliate link), use my code SH20 for a 20% discount on up to 2 items.  If you purchase more than 2 items, take advantage of their Buy 2, get 1 free option.  Only one discount per transaction.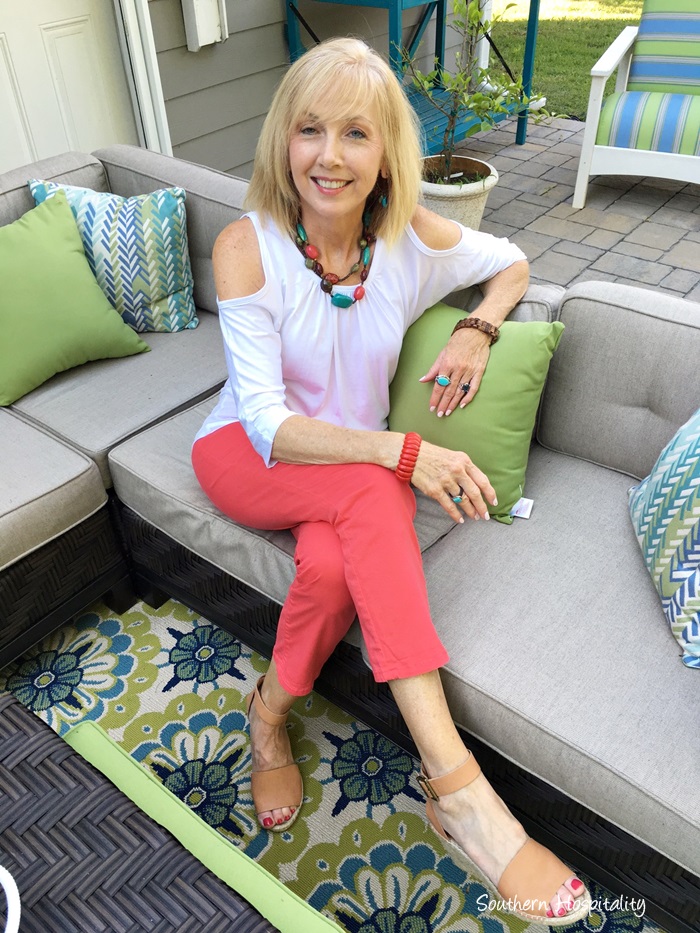 I love brighter colors like coral and turquoise for summer months, great way to wake up a white top!
Thanks as always for stopping by and visiting with me on Fashion over 50 today!
Don't Miss a Post, join my list!