Hi, friends!  Summer is heating up around these parts and that means I really look for ways to dress cool and casual.  You won't find me with heavy clothes on anymore and sometimes when I know I'll be outside for a few hours, that means shorts are in order.  I don't love wearing a lot of shorts anymore, but they are a necessary thing in the summer months and so I have a few pair that I like that are longer and cover things up.  That's important these days and I'm sure if you're close to my age, you get that part.
I don't like showing off too much leg anymore, especially my upper thighs, so that means long shorts to the knee.  When I'm home just chilling out, I will wear whatever is comfortable, but when I go out in public, I make sure that my shorts cover lots of leg. Who's with me on that if you are ahem….an older lady?
I've shared this outfit before, but it's worth sharing again.  I do like some cooler tops like this during the summer and this one has a built in padded bra, which I like.  I got it from Kohl's a couple of summers ago and it's black with a crewel type embroidery on it.  The straps are adjustable and it feels good on, so it's a nice summer top that's cool and casual to wear out in the heat.  I can't stand a lot of sleeves when it's hot and this one is definitely cool, but isn't too bare.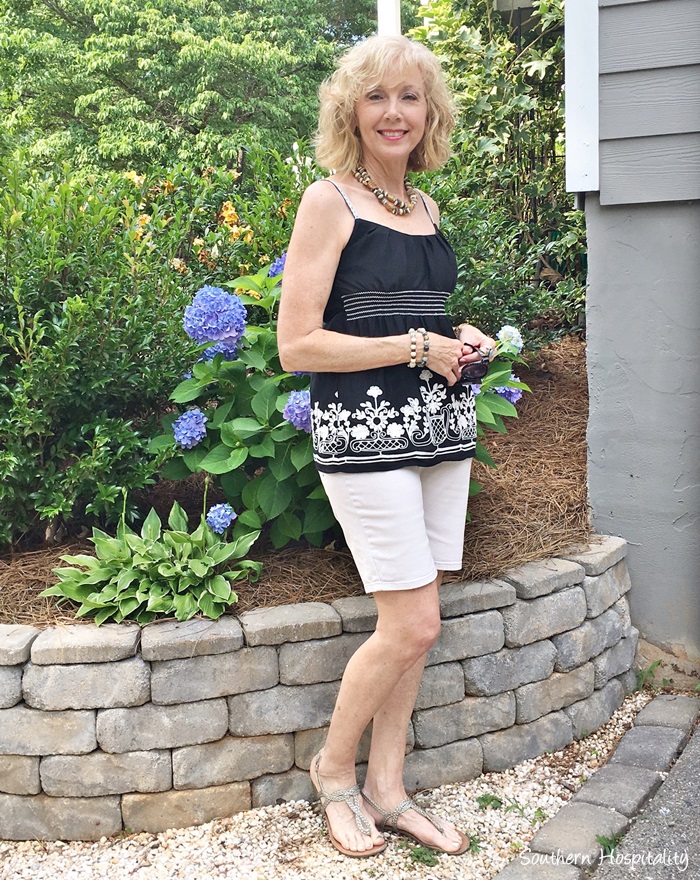 It has a little tie at the back to cinch in the waist a bit.  I know this type of top might not be for everyone my ag, but I still feel fine in it and don't mind the spaghetti straps and it's cut straight across in the back so not too low either.  It probably helps that I'm not very well endowed up top too. I can get away with a top like this.
Shorts are a few years old too, probably from Kohl's and they are Lee brand. Necklace was from a long ago yardsale.
Metallic sandals (in pewter) are from Target and I just picked up a new pair, so they still have them there.  They have been great sandals.  I got a black pair and another color just like these since these are showing some wear.
Jana sandals from Target (affiliate link), several colors in these. Mine are pewter and black. 
Mark and I were headed to the Atlanta Food and Wine Festival, someone gave me tickets so we decided to go to the tasting tents.  It was hot when we left, so I was relaxed and comfy in this outfit.
Unfortunately, after we drove down there, a rain cloud came over and it was raining the whole time. We were there for less than an hour, when the authorities came through making everyone evacuate back to the parking deck in Piedmont Park because of lightening that was spotted.  We didn't see lightening, but I guess they can't take chances.  So that was the end of the Food and Wine festival for us.  We don't like big crowds anyway, so it was time to head out.
I'll be showing you my hydrangeas more soon, they are really doing well this year with all the rain we've gotten.
I made my guy, Mark, take a picture.  He hates to get his picture taken, although he does enjoy the pics after I take them it seems.  I love to document our times especially when we look cute and dressed up for a summer date like this.  I love Mark's look, don't you?  He is a good shopper himself and stalks sales all the time on his favorite clothing.  He shops mostly at Belk, in the store and online and finds some great things.  This shirt was one we spotted in the store last year, this ombre shirt for men by Ralph Lauren and it retailed for $125. He stalked it til the end of summer and ended up getting a blue and pink one for about $29 each. I love these shirts! Sadly, I don't see them online anymore, so maybe they didn't bring them back this year.  He's stocked up now and we both think they are very classy with his plaid shorts.to
That's it for this week!  Summer has arrived so it will be cool and comfortable for me from here on out.  I may not have a lot of new clothes to share, but I'll recycle what I have!
Here are a few Lee shorts that I found online that you might like! I've had good luck with Lee shorts.

Don't Miss a Post, join my list!