Hi, friends!  I don't have that much to share today on Fashion over 50.  I tell you, I don't know how the "real" fashion bloggers do it all the time, because once a week rolls around way too often some weeks.  I can't imagine putting together "new" outfits every other day or so, I'm happy that I opted to only share once a week. That's plenty for me!
Since my lifestyle these days is mostly casual, that's what I have in my closet and I don't have the need for a lot of fancy clothes, so most of what I share will be just that, casual wear and easy going fashion.  I figure that most of you are in the same boat too.  I have a few dressier things in my closet, but for every day, I'm a casual girl all the way and I love it after all those years of working in the Corporate world and having to dress up for a living.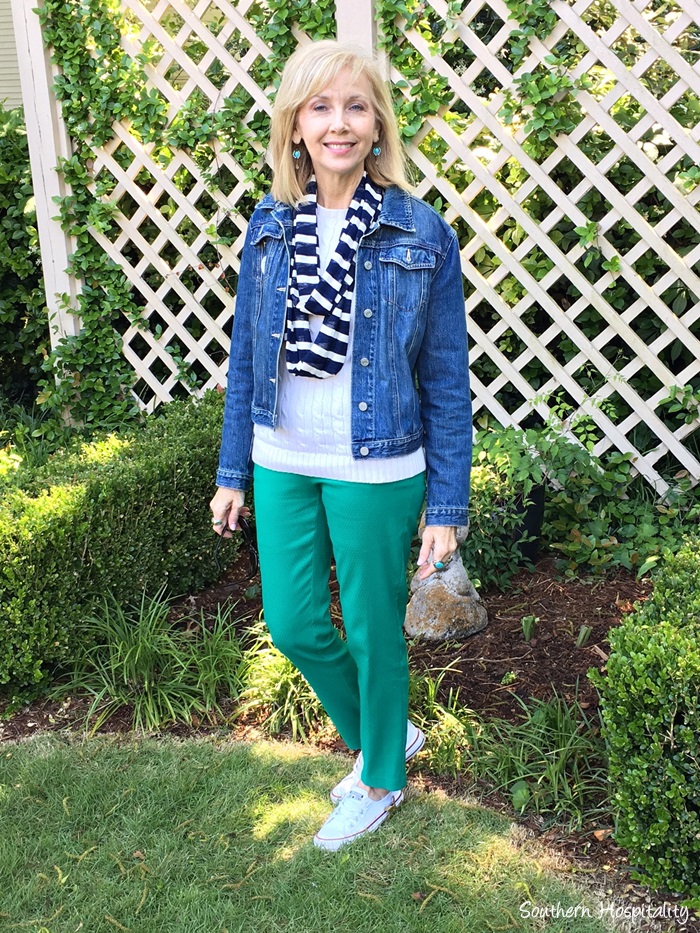 Over the weekend on Saturday, Mark and I went to Madison, GA for their annual Spring tour of homes and wow, was that a treat!  I can't wait to share more with all of you.  We toured at least 6 historical homes and walked the streets and I snapped more pics of beautiful homes than you can imagine. That little town is a treasure trove of history and gorgeousness, so you're in for a treat as soon as I can get pics edited and get a post up. We also went in a great antiques shop there too, so I'll share that as well.  I had heard for years about Madison, GA and finally made it there and I'm so glad I did! What a fun spot to visit, so quaint and the streets are so walkable and the downtown has such a small town feel.  We loved it and enjoyed seeing all the houses, browsing the antiques market and having lunch before heading home. It was the most beautiful spring day with cooler temps than we've had in awhile, so that was welcome too.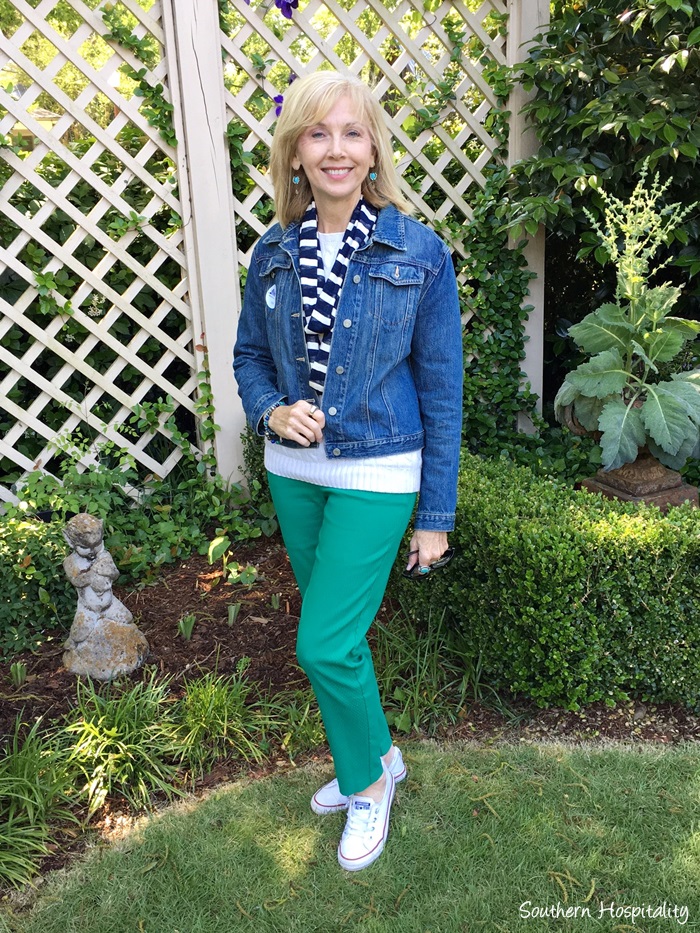 I wore those green pants I shared with you last week from Steinmart and as I had mentioned, thought they would be fun dressed down with sneakers and I really liked it a lot.  It was a chilly day for spring and I wore my cream Ralph Lauren sweater with the pants along with  my Gap jeans jacket and Chucks Shoreline sneakers for a comfy casual outfit.  The blue and white infinity scarf topped it off!
Excuse these pics, but sometimes I don't have anyone to take pics so I had to resort to a remote gadget on my phone to take these pics, but this is what I wore to church, white jeans and a casual top that I've shared before.  The brand of the top is Tribal and I got it in a little boutique a couple years ago, but I can't find much online with this brand.  I've enjoyed this top with its multi colors.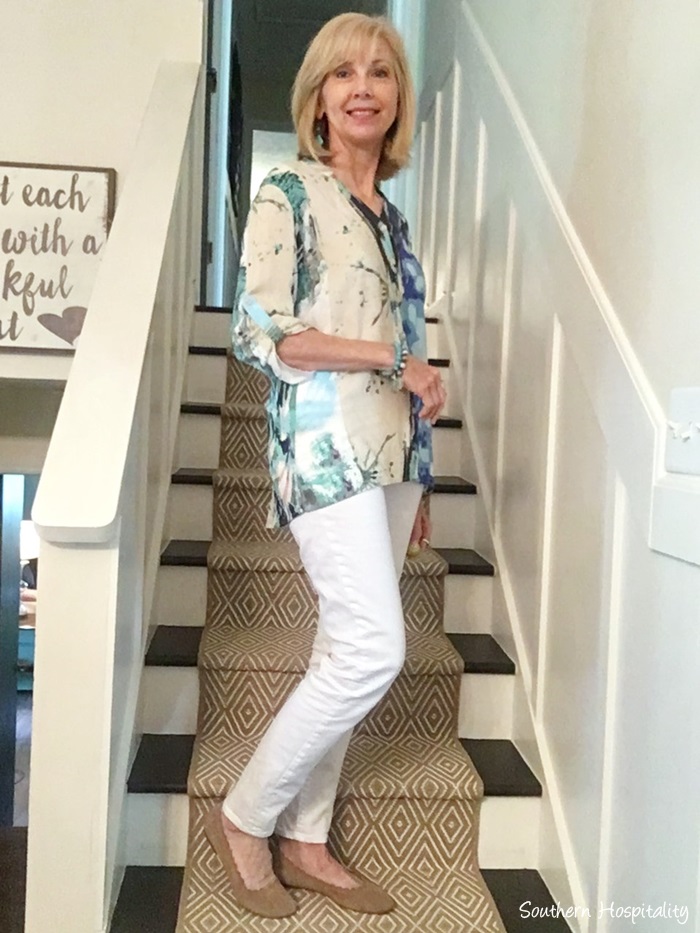 I went shopping for a new pair of flats and these suede ones came home with me.  They are really comfortable too and will be great for a neutral flat during the spring, summer and fall months.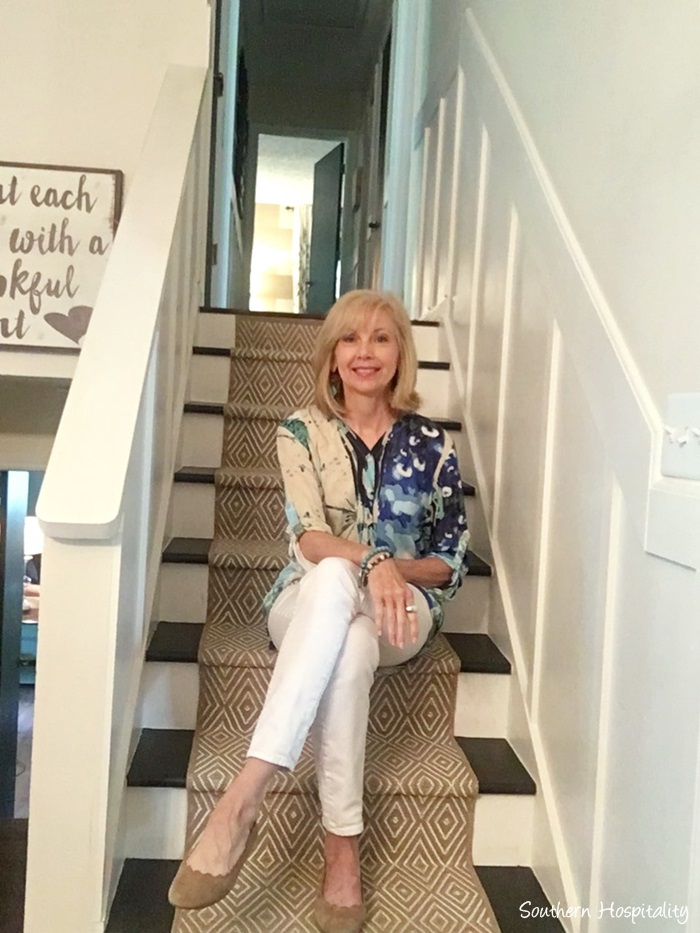 So that's a look at what I've been wearing lately.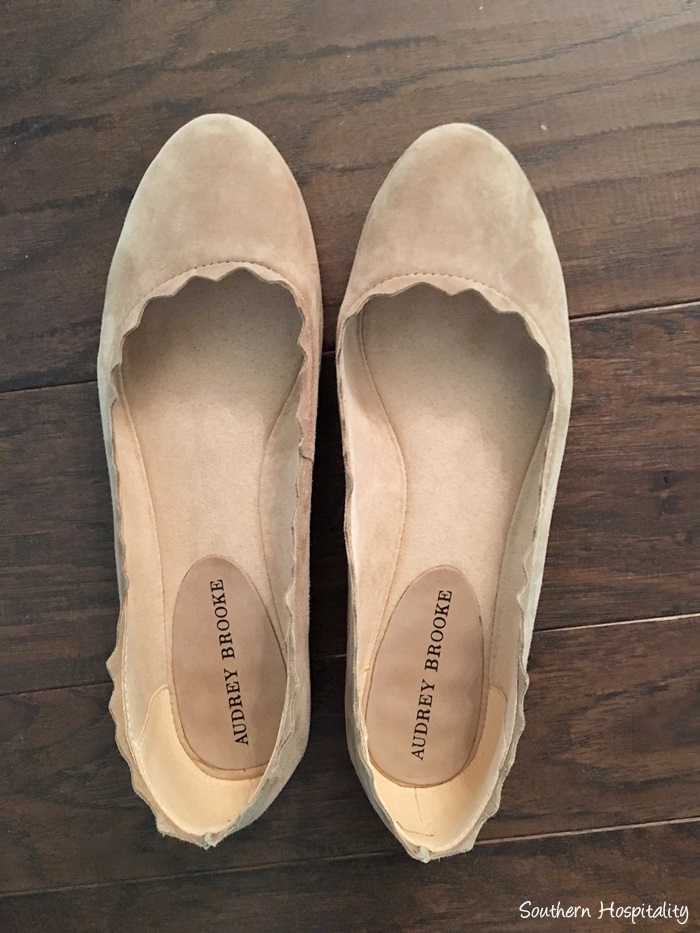 Audrey Brooke taupe suede flats, linked below.  I noticed they have a bunch of fun colors in these shoes too that I didn't see in the store when I was in there.  I think they would be great in a bright color too.
Here are a few things that you can shop if you'd like. I spotted a great sale on those charcoal Diana Kut from the Kloth jeans below, if you're in the market for this color. I've enjoyed my white jeans in this brand. The shoes are linked below too, affiliate links used:

Don't Miss a Post, join my list!