It's still not cooling off a lot here in Atlanta and that means I have barely worn a jacket yet this year.  It's been crazy weather, but beautiful.  There's not much to complain about, except the lack of rain. We desperately need that to happen!
As you've probably figured out by now, I'm a pretty casual girl when it comes to dressing most of the time.  I don't get all dressed up in fancy clothes all that often, but when I do it's fun.  Most of the time, I'm in really casual yoga pants and workout clothes at home and when I go out, it's also casual for the most part.  I'm still wearing my white jeans, they still feel good this time of year.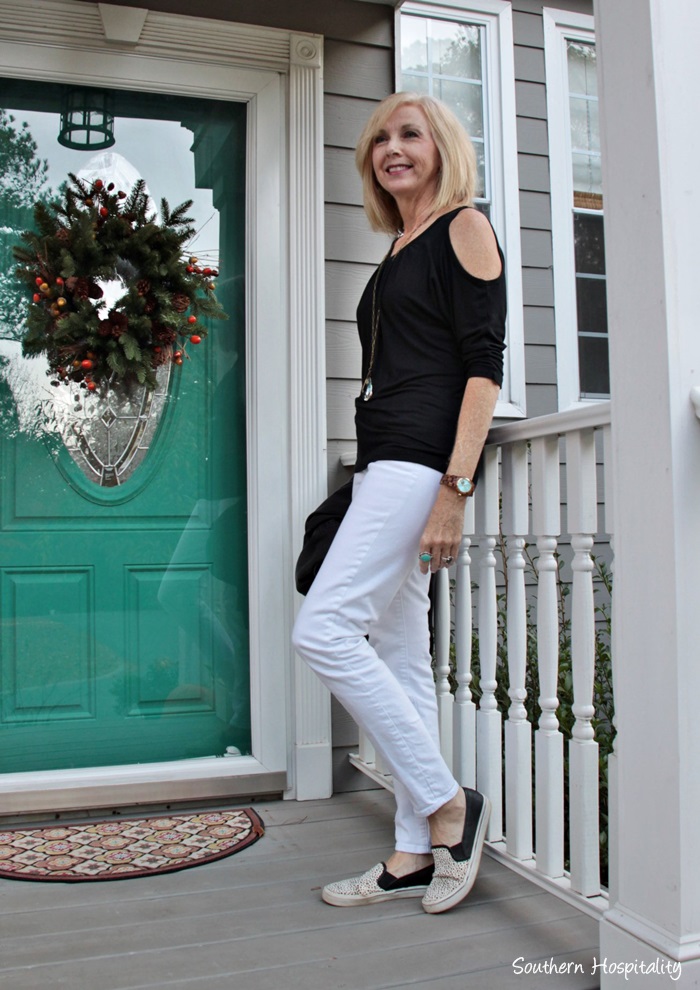 These are two real life outfits I wore out with my guy recently.  Most of what we do is casual also.  Comfortable shoes, jeans and a comfy top is all I need.  This black cold shouldered top is from Covered Perfectly and I've shown it before, but it's worth sharing again.  I love these tops!
Covered Perfectly black cold shouldered top (affiliate link)
Southern Hospitality followers can save 20% on up to two items! Use the discount code SH20 when you check out at Covered Perfectly. There are several styles to choose from and the discount will apply on up to two items, after that, you can take advantage of the buy 2 get 1 FREE special! Only one discount can be applied per order. Click over to browse! 
Jeans are Kut from the Kloth from Nordstrom, but they seem to be sold out now.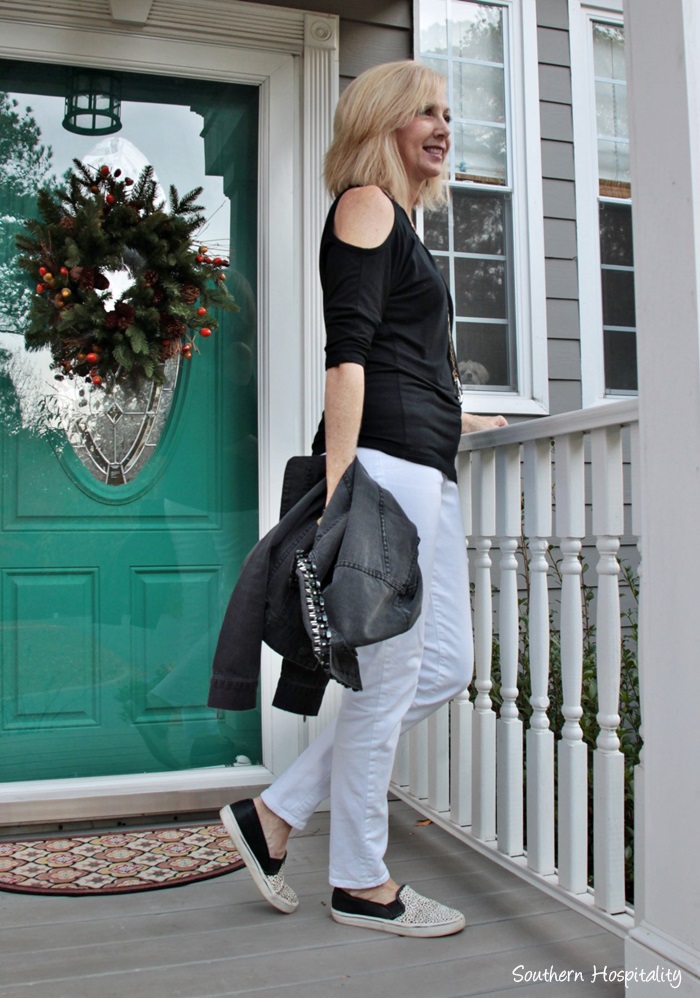 It was late afternoon and I thought I might need a jacket later, so this is a Cabi black jacket I picked up at a yardsale.  I found the shoes here if you're interested in them, by Dolce Vita. I've shared these before too.
Fun little casual outfit.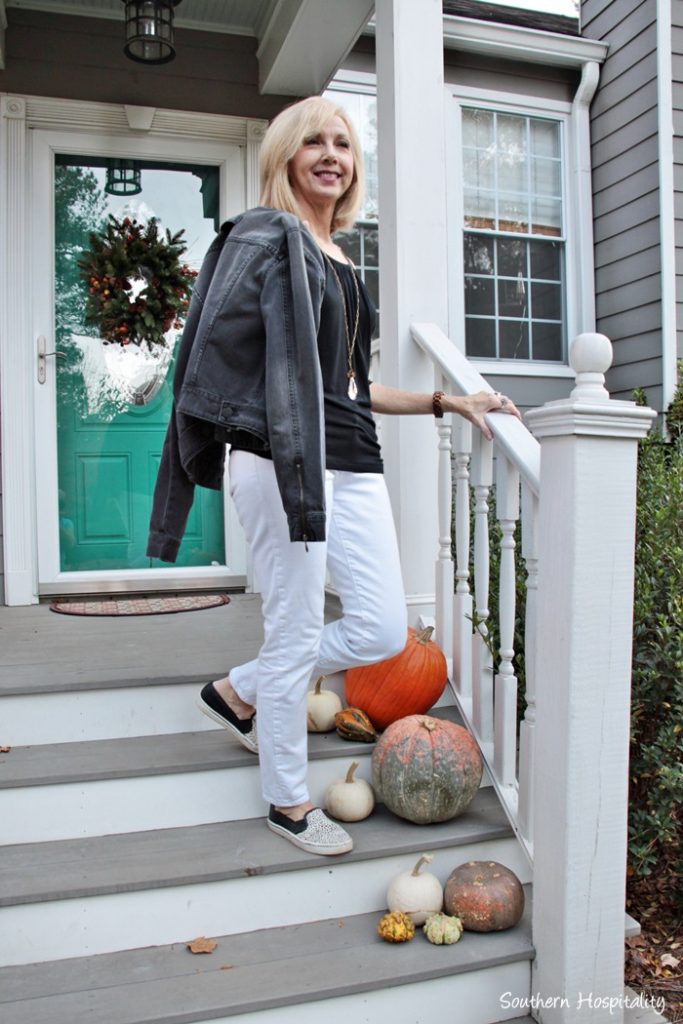 Throw on a jacket when it gets chilly and that's all you need.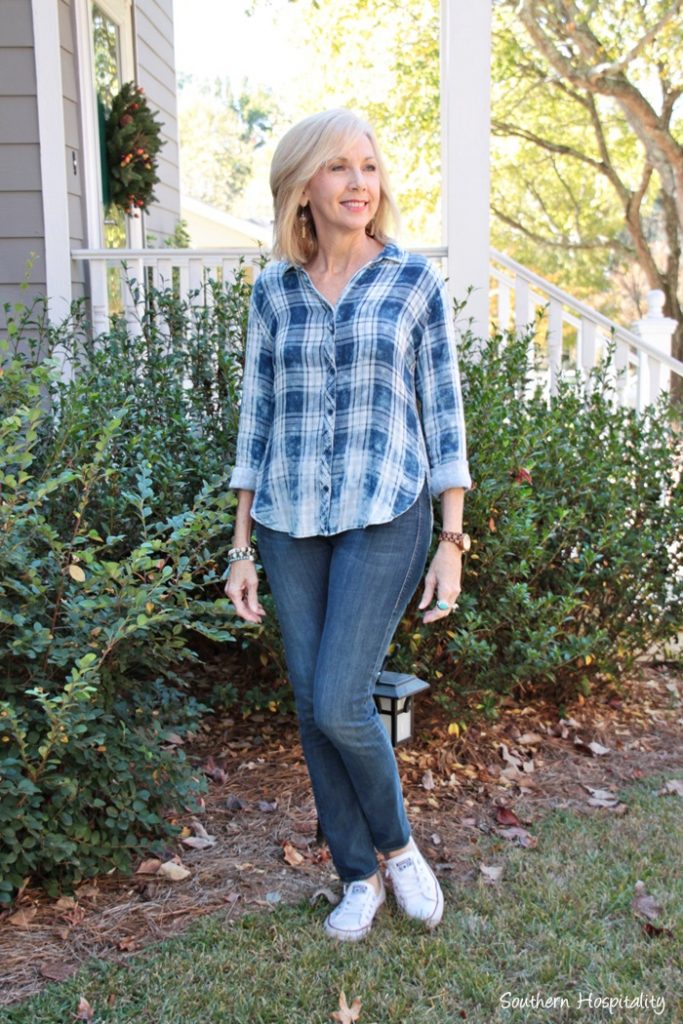 On another recent outing, I wore my skinny jeans, white Chucks (affiliate link) and a plaid blue top that I got from TJ Maxx (affiliate link).  Did you know TJ Maxx is online now?  And free shipping on 11/11 over $35.
It's soft and cozy too with a longer flap in the back.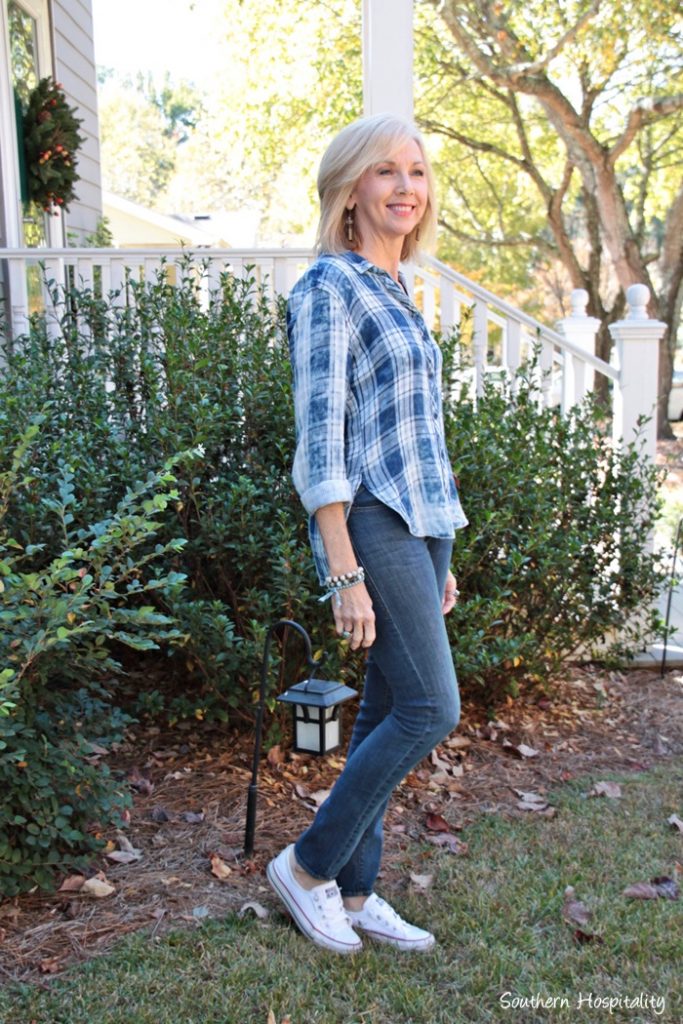 I rolled up the sleeves since it was still pretty warm out.  This is typical of how I dress when heading out for a casual day or evening out, going out to eat and strolling around.  So, that's what I'm wearing lately.
Thanks as always for stopping by today!
 I share affiliate links in case you're interested in something I'm sharing, for your convenience. I earn a small commission on purchases from my links. 
Don't Miss a Post, join my list!