Happy Wednesday!  I've shared this Dana cold shouldered top before from Covered Perfectly (affiliate link) but wore it again recently on a date with Mark (he loved it, by the way!).  So, I thought it was definitely worth sharing again!  Looks great with white jeans and I love that it is subtle, yet a little sexy.  Funny how just showing shoulders can create that appeal.
This top comes in Black, Purple and White.  Their micro modal fabrics feel so nice and wash up great too.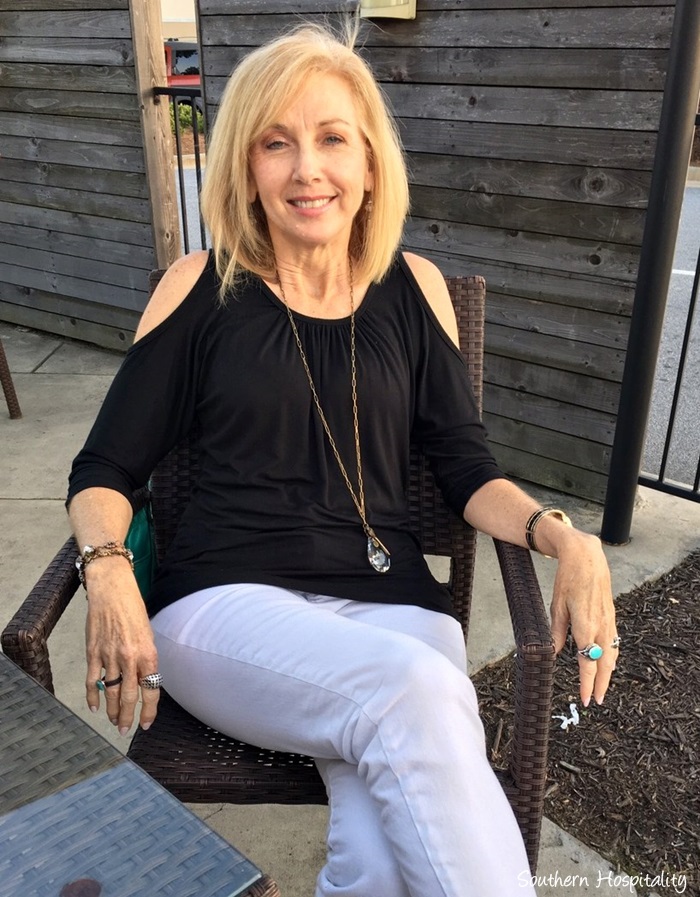 I paired it with my white jeans from Kut From The Kloth and some new sandals I recently got from DSW shoes.
Southern Hospitality followers can save 20% on up to two items! Use the discount code SH20 when you check out at Covered Perfectly. There are several styles to choose from and the discount will apply on up to two items, after that, you can take advantage of the buy 2 get 1 FREE special! Only one discount can be applied per order. Start Shopping!
Kut from the Kloth Diana skinny jeans (affiliate link).
Necklace from my friend, Lucy, at Lucy's Inspired.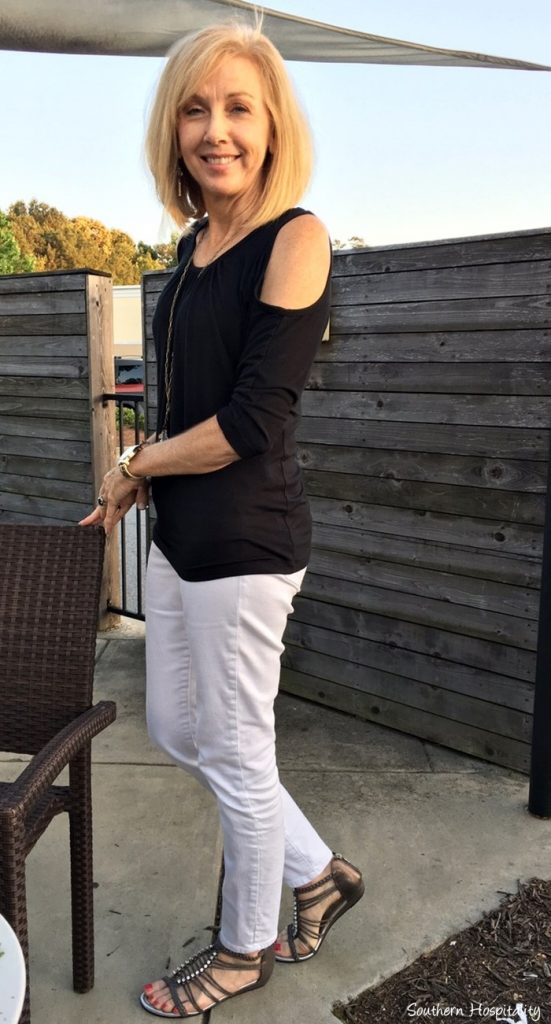 I love this top and it's very comfortable, yet casual.  In fact, I have enjoyed all my Covered Perfectly tops, made for women over 40 or 50, if you haven't tried them yet.
I recently found these shoes at DSW Shoes locally and you can find them online.  They have zippers on the back and are really comfortable.
Guess Janger gladiator sandals (not affiliate link) from DSW.
I read online that some people had problems with the rhinestones falling off, so I'll have to keep an eye on that, but I really like them.
I'm starting to use my Loreal Sublime towels again for a little tan this summer.  Here's what I use (affiliate link). These work well for me!
That's it for today's Fashion over 50, hope you got inspired!
The winner of the PeachSkinSheets giveaway has been chosen and emailed!  Congrats to her!  I do love those sheets and I hope if you buy any you'll let me know what you think about them too.  
Don't Miss a Post, join my list!