I'm back with another outfit for Fashion over 50 today and it's a fun black and white vest from Covered Perfectly, a company I work with often.  They have great tops and vests, catering to women over 50, with longer tops and very nice material that keeps its shape and they are made in the USA, always a plus.
I've shared this particular vest before in another black and white print and it's so cute and comfortable.It covers without being heavy at all and that lightweight chiffon fabric is lightweight and easy breezy for summer.  Black and white is always a favorite of mine and I love the combination in clothing and in home decor.  You can't go wrong with black and white, always a classic!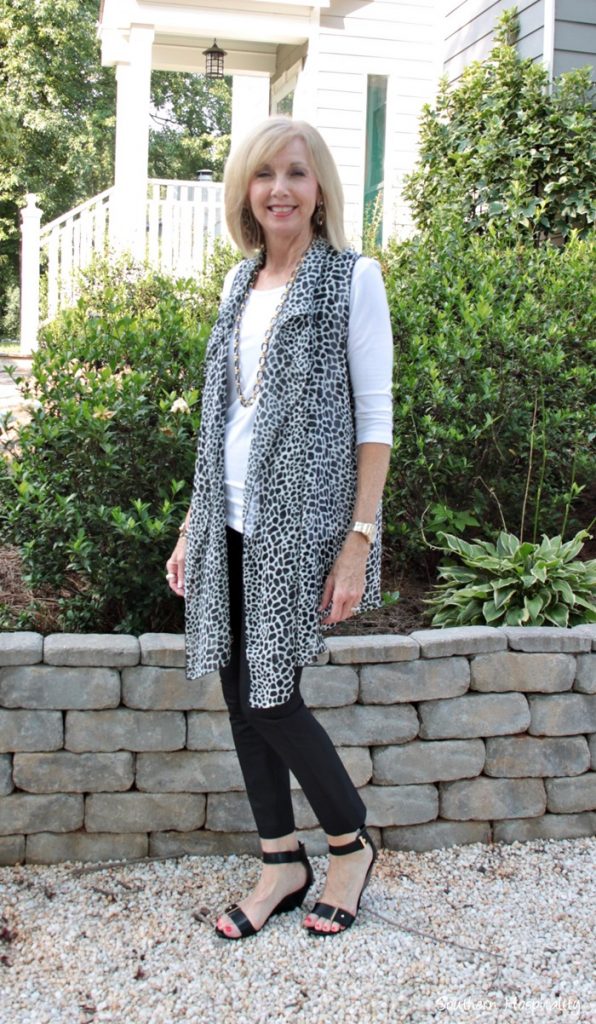 This black and white cascading vest (affiliate link) from Covered Perfectly (new fabric offered) is versatile and so nice for summer, since it is very lightweight, but feels like it's covering you up.
Indra sandals from Target (affiliate link)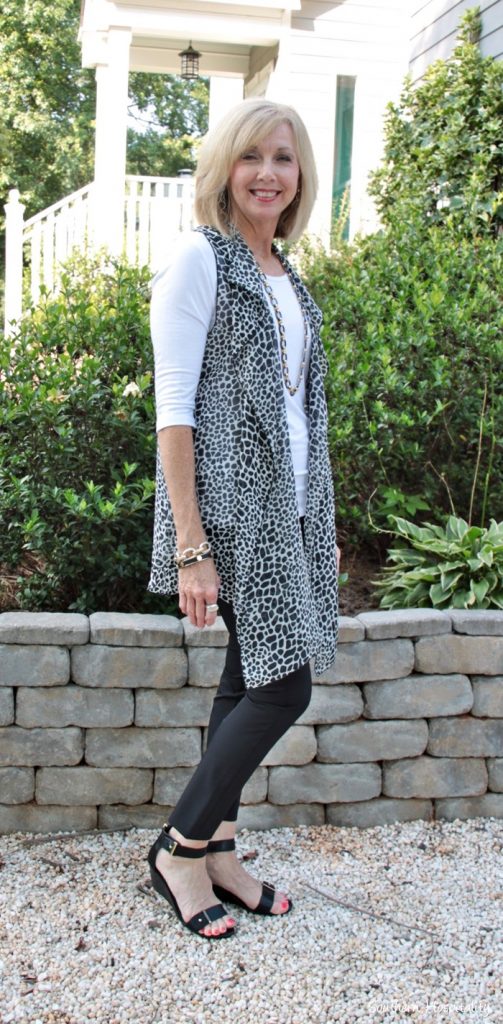 I'm also wearing their Simple Comfort white top (in Small), a versatile style top made in Micromodal and spandex fabric, with just enough stretch.
Those black pants are from Theory, from a shopping event I went to.  They gifted us with these pants and they are really nice, stretchy and form fitting.  But, as you probably know, I wouldn't normally spend this much on pants, but I'm going to enjoy them. They are a little dressy in fabric with Elastane, very stretchy and comfortable.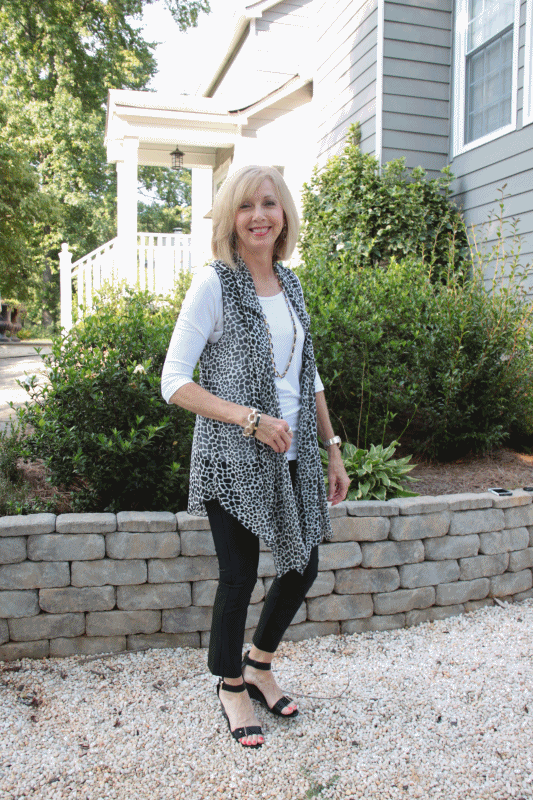 So, that's a fun look at this new vest black and white vest from Covered Perfectly.
Southern Hospitality readers can save 20% on up to two items! Use the discount code SH20 when you check out at Covered Perfectly. There are several styles to choose from and the discount will apply on up to two items, after that, you can take advantage of the buy 2 get 1 FREE special! Only one discount can be applied per order. Start Shopping!
Just wanted to mention that I will more than likely be skipping Fashion over 50 for the next couple of weeks.  It's going to be a very busy time, with Haven coming up next week and the week after that, I'll be heading to the beach for a few days with my boyfriend, Mark's family.  They are going to St. George Island in Florida and I'm going to join them for a few days. I'm staying at a cute B&B in Apalachicola and I'll share that with you all too.  Can't wait for some beach time!
I'll have lots to share when I return and in the meantime, I'm having some of my over 50 blog friends share some guest posts for me, so you'll have plenty to read and I'll do some posts in between.  There will be plenty going on here on the blog, so you'll barely know I'm gone!
The Nordstrom big summer sale is still going on, so if you missed these picks of mine, below are some clothes I thought were really cute and I can see myself wearing any of these. The shorter dresses, I would wear with skinny pants or leggings for a fun look.

And a few shoes caught my eye too! These are similar to a few pair that I have and enjoy, so thought I'd pass these along. The sale is a great way to get some early Fall things and also summer items.

Don't Miss a Post, join my list!