My clothing seems to be date night dressy or casual and not a lot of in between, so today's clothes choices are a little of both.  We have been dancing some lately, finishing up dance lessons and going out to practice.  We need to keep up with that because if you don't practice, you definitely lose it and we have to get out there and keep learning.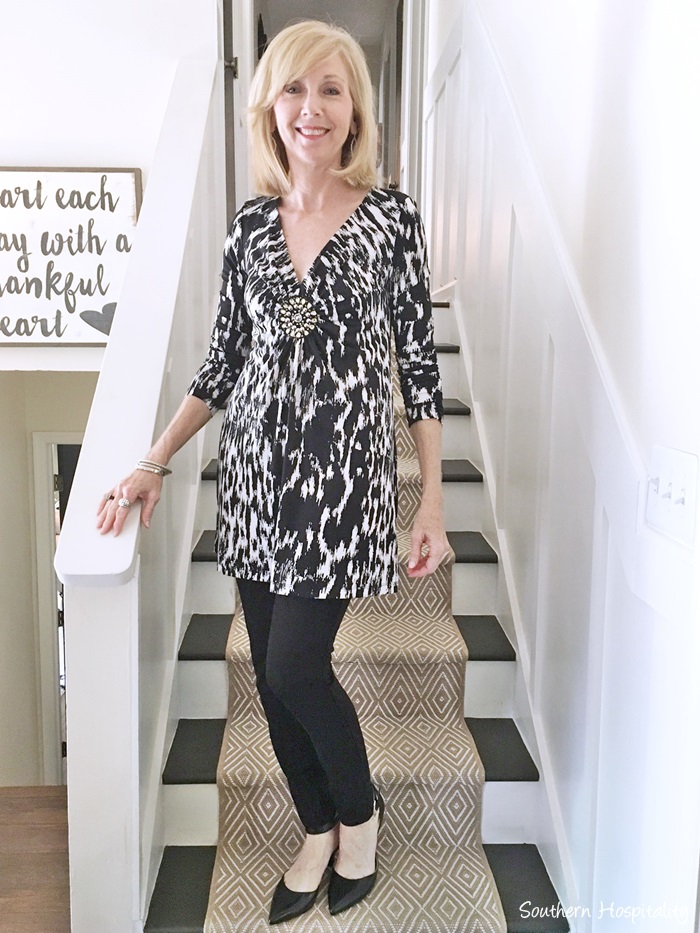 This was a dance night outfit, black ponte pants that I've shared before and this top I've shared too, but it came from Beall's Outlet in Destin a few years ago.  Definitely have enjoyed this top over the years.  I've worn it with boots during the winter and thick leggings. I love how versatile tunic tops are and thankfully, they are easier to find these days.  I remember not so long ago that longer tops were hard to find, especially this length.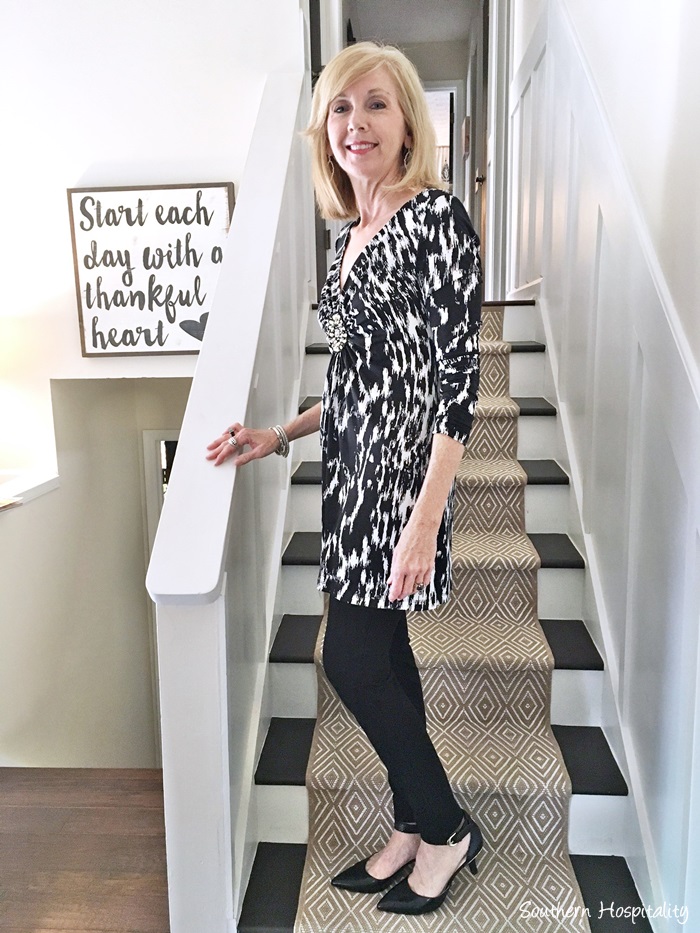 It's a soft knit fabric and really wears well, with 3/4 length sleeves and built in bling on the bodice.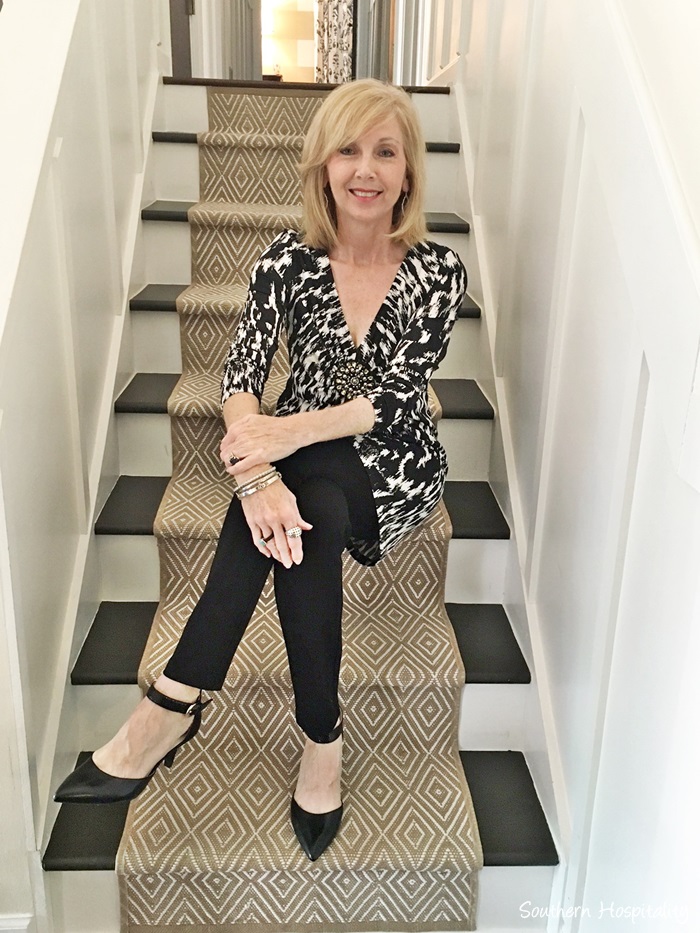 I'm sharing these ponte pants again below, as well as the new Anne Klein shoes.  I found these and bought them because the heel is lower, about 2 inches or so, comfortable enough to dance in.
Next outfit is very casual for a weekend dining out.  We don't usually go anywhere really fancy for dinner and were heading to the Marietta Square for dinner this night.  These are a new pair of Rockstar jeans from Old Navy, linked below, along with a striped black and white shirt from Lands End I found at Goodwill.  The sweater I've had for a long time.
We had a little cold snap again and a sweater was needed outside, so it was good to be layered.  Layering always works for me. I hate to be hot or cold, especially cold and it's nice to have something on in the evening to keep from getting chilly.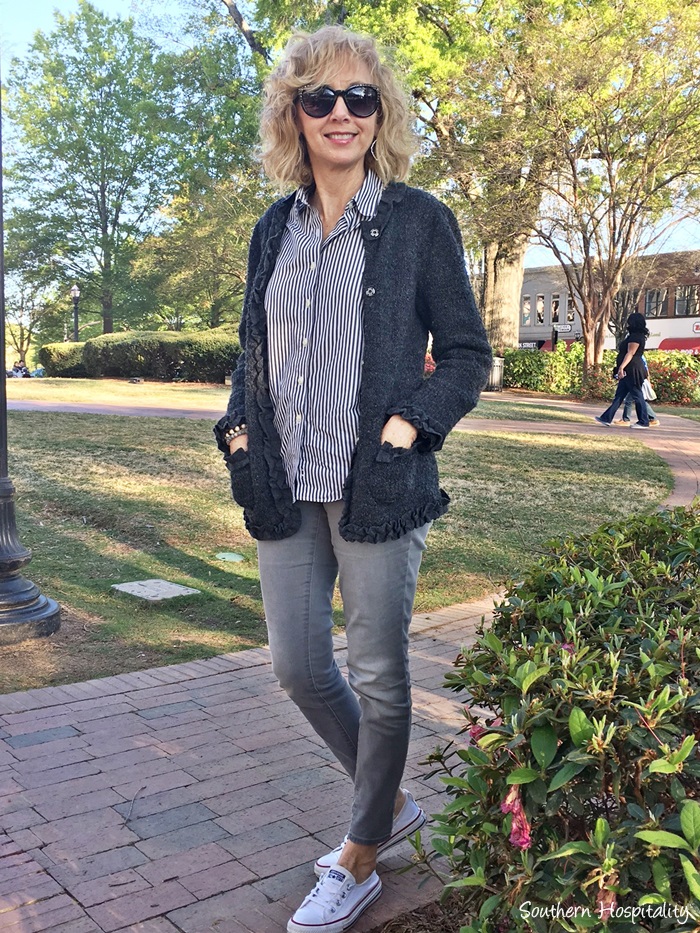 It was a beautiful spring evening on the Square.  We ate at ThaiCoon for dinner and then walked around, sat on a park bench and people watched.  Very enjoyable evening out on such a nice spring night.
You all know I love shopping at TJ Maxx (affiliate link) and now you can shop online.  I get their weekly emails and they have a nice selection of outdoor products in stock right now you might want to check out.  I saw some beautiful outdoor pillows, cushions, garden stools and more for some great prices.  Also, if you want a jump on summer white, look at the White Shop (affiliate link) with clothing and more. I love that they offer online shopping now.
Below (affiliate links) are some of the same items I have on, as well as some inspiration pieces, like the black and white tunics and a couple of tunics from Lands End, who has great clothing. The shoes are exactly the same as mine, as are the jeans.

Don't Miss a Post, join my list!