Hi, friends!  It's been a busy couple of weeks for me and I'm heading out of town to Nashville (Franklin) this weekend, so I haven't had too much time for wearing a lot of different fashions lately.  Mark and I are taking West Coast swing dance lessons right now and so we try to get to the Friday night dance as often as we can to practice our dance moves. It's so fun and we are enjoying doing this together.  It's so nice to be with a guy who loves to do different things and dance lessons was his idea. I was interested in learning different ballroom dances, but when I met him he was already taking dance classes so I joined him in those and we are continuing with more.  I love that this is something we can continue to do as we get older.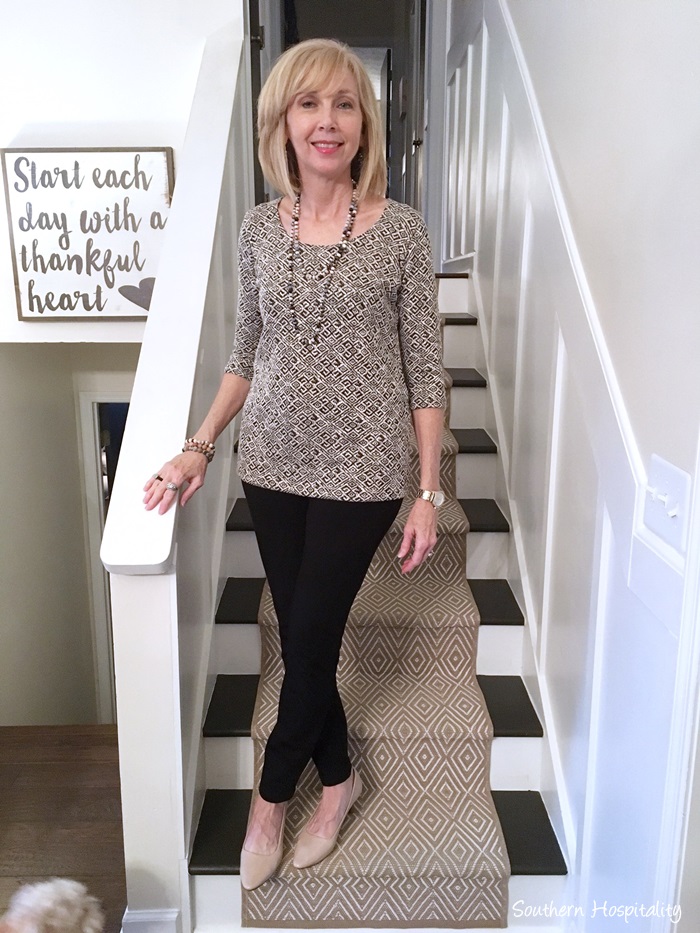 My top today is a new feature from Covered Perfectly, the online women's clothing company that I work with on my blog.  I love when they add new fabrics and this black and cream Simple Comfort top is so pretty.  Soft, lightweight and 3/4 sleeves, it's a great top alone or layered under a jacket.
Southern Hospitality readers can save 20% on up to two items! Use the discount code SH20 when you check out at Covered Perfectly. There are several styles to choose from and the discount will apply on up to two items.  After that, you can take advantage of the buy 2 get 1 FREE special! Only one discount can be applied per order. Click over to Covered Perfectly to browse!  This is called the Diamond Print. 
You know my love for black and white and this one is another great top to add to my closet.
The pants are new too and I picked them up at Costco during the hearing aid visits.  The brand is Andrew Marc and they are soft and comfy ponte knit fabric.  They have a waistband with tabs and are regular pants, but very comfortable like leggings.  They were $15 at Costco and I really like the way they fit and I love that they are long enough for me.
Andrew Marc ponte pants (affiliate link) found them on Amazon. 
The jewelry I picked up at the Atlanta mart this year is really versatile for a lot of my clothing, so I wore the sparkly necklace with this top.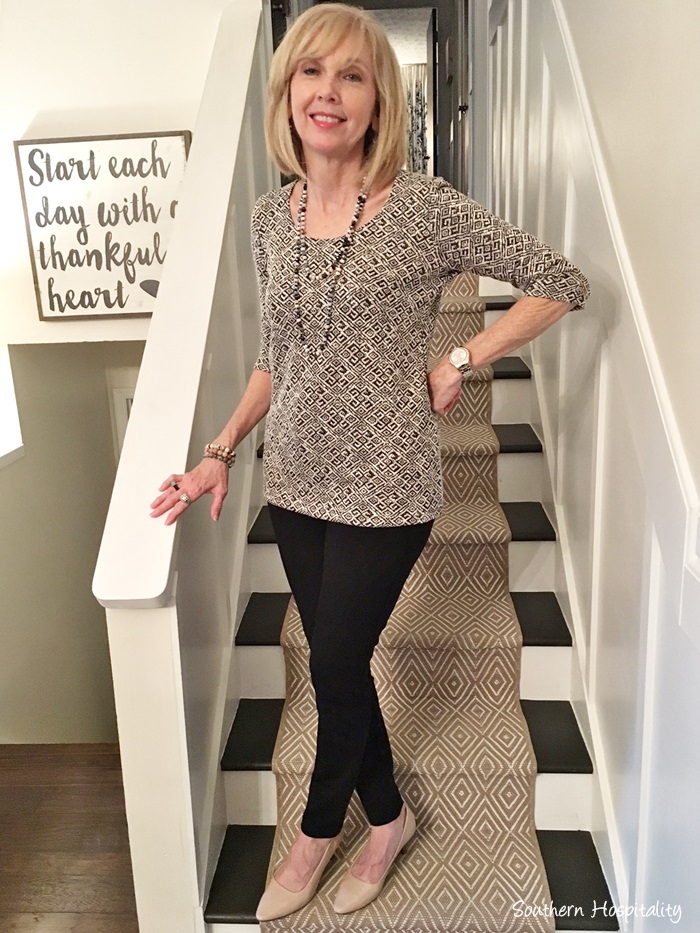 This top makes a fun outfit for going out and I know it will be a favorite of mine. I can throw on a cute jacket to dress it up or down.
I also picked up a new pair of dancing shoes online.  These are A2 from Aerosoles and I've been looking for a pair of neutral heels that are comfortable and these fit the bill.  Two inch heels are perfect for me and they are comfortable too for an evening of dancing. This color shoes is so versatile with a lot of different clothes.
If you like these shoes, you're in luck!  Aerosoles has them marked down to $29 and I paid $49 from another retailer.
Aerosoles Foreward tan patent leather shoes (affiliate link)
Also, ShopBop has a big sale going on with tiered discounts, you can find the details on that link!  Have a great Wednesday!
That's it for today, thank you for stopping by and sharing these fashion posts with me!
Don't Miss a Post, join my list!