Before I get started on today's fashion post, I wanted to mention that I'm discontinuing my beadboard wallpaper website that I've had up for 5 years now.  You all have bought a lot of wallpaper over the years, but it's getting less and less every year, so I decided to discontinue it. You can still buy the paper direct from Graham Brown and it's the same price that I had it listed at, so it's still available.  I just figured it would be one less thing on my plate since sales were declining every year. Thanks so much!
Now on to Fashion over 50 for this week!  We had a fun date night out last weekend and went dancing at our ballroom dance place.  We took lessons last year and learned the basics in Foxtrot, Waltz, East Coast Swing, Rumba, and Cha-Cha, so we can get out on the dance floor and do OK with those…mind you, we are not at all in Dancing With the Stars league of dancing.  We just signed up for West Coast Swing lessons and are looking forward to getting familiar with that one. We think it will be a fun one to learn.  Anyone know West Coast Swing?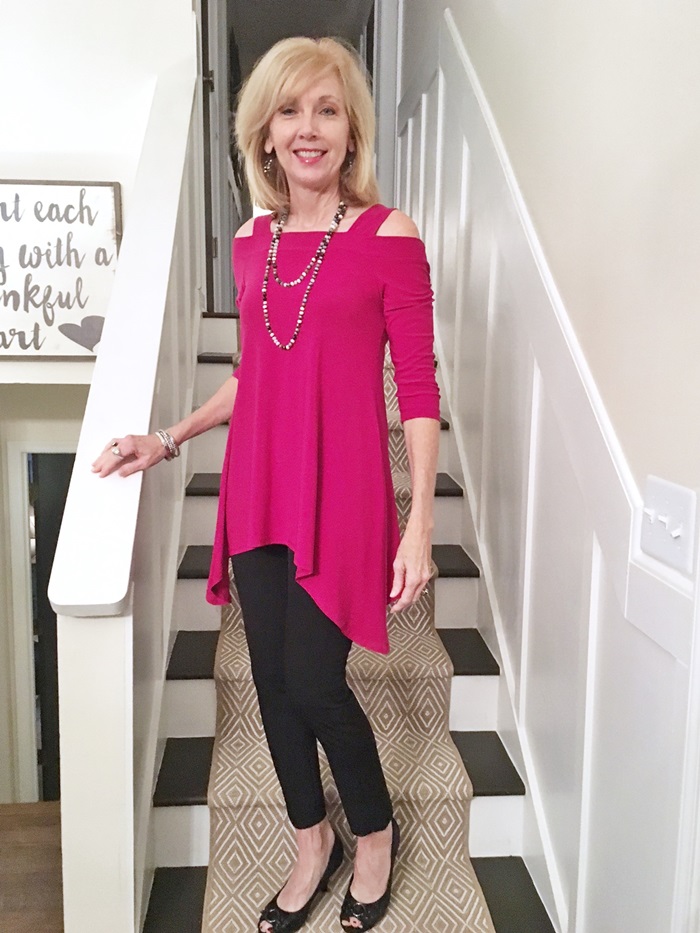 I've shared this hot pink cold shouldered top before and you all love it every time I do, but I haven't worn it with these skinny pants from Theory.  They are way pricey and I got them as a gift, so I won't even bother to link them, but they are nice for a dressy pair of skinny pants.
Clara Sun Woo cold shoulder top (affiliate link)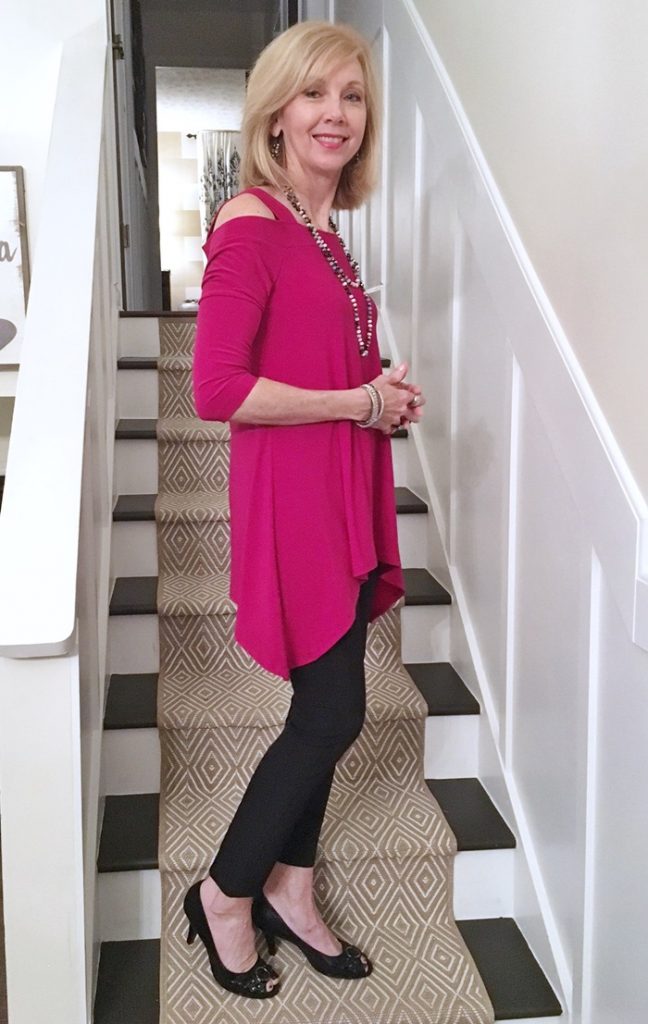 This cold shouldered top is flowy and feels great dressed up for a night out.
I wore it with the new jewelry I shared last week, from the Atlanta market.  I think these pieces are going to be very versatile.
I don't think I've shared these shoes before either, but I picked these up at Goodwill (no, not afraid to buy nearly new shoes at Goodwill). These were obviously only worn a couple of times and looked brand new.  I love comfortable shoes that look good when I can find them and these A2 by Aerosoles are nice for a basic black pair of heels that are also comfortable.  They have a silver buckle on the top.  I made it dancing all night without them killing my feet, so these were a really good find.  I found a beautiful pair of neutral sandal heels recently at Goodwill (looked brand new!)  that I can't wait to wear during the spring.  So, don't be afraid to look for almost new shoes there. You never know what you'll spot and they are about $5 a pair.
I've had good luck with Aerosole shoes over the years and just ordered a low heel pump in nude that I'll check out to see how they fit.  I definitely need more comfortable dancing shoes.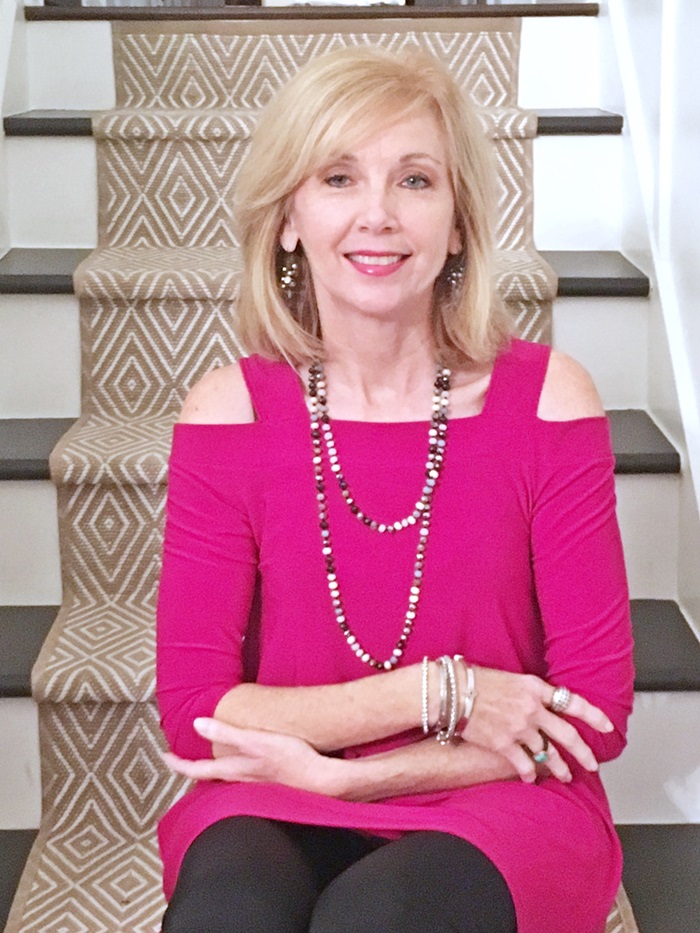 Silver toned jewelry made for some sparkle with my outfit and I felt really good in it.
I've shared this black and white cardigan before too that I got from Thred UP, but originally came from Target. I've really enjoyed this piece.  Wore it with black Calvin Klein skinny pants that I found at Costco, of all places.
A simple ribbed knit long sleeve top from Gap layered with this long cardigan was perfect for church. I added a plaid black, red, and white scarf.  Don't be afraid to mix patterns, I think these look good together.
My black booties from Sam Edelman are getting a lot of use this Winter.  I wear them a lot with jeans and  skinny pants.  Even though a little bit of ankle shows, it's not bad at all in our not so cold weather.
Sam Edelman booties (affiliate link)
Bambu bootie socks (affiliate link) still enjoying these bootie socks too!
Last but not least, I thought I'd share these beautiful flowers that Mark brought me over the weekend.  Spring in a vase with white tulips and purple hyacinth, I just love them!  He's so sweet to me. 🙂
That's it for what I wore last week! Thanks as always for stopping by.
Joining What I Wore link party at The Pleated Poppy.
Don't Miss a Post, join my list!