It is unbelievably hot here in Atlanta still….and it's the first of November. We got a little bit of cool in the last month, but for the most part it's till in the 80's.  Hard to believe it's really Fall looking outside and feeling the 80+ temps. I'm not really complaining, because it is beautiful weather with low 80's and low humidity. It just doesn't feel like Fall is supposed to feel. I have worn booties and sweaters only once so far, other than that it's been way too hot for that sort of clothing.
But, in preparation for the cooler weather I know is coming, I'm sharing a simple white blouse and skinny jeans today, with that new pair of booties I just bought. I think these are going to be some of my fave new shoes!
I love a good white top and this one I found recently at Marshalls.  The brand is Cloth and Stone and it's a soft washed fabric with tab buttons on the sleeves, so can be worn short or long sleeves.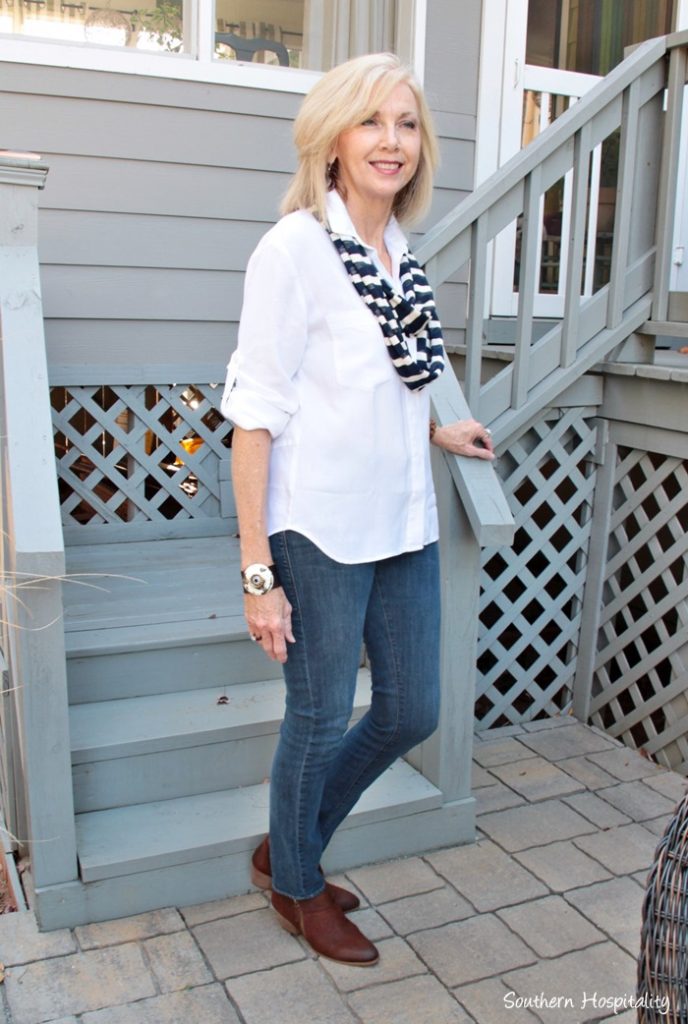 With my fave skinny jeans and those brown booties, it's a simple and easy Fall outfit for those in between days like we are having now.
This one is longer in the back with a back vent, so soft flowing and comfy.
These jeans are ones I've shown you a zillion times, Rock & Republic.
Rock and Republic Berlin skinny jeans – from Kohls, not an affiliate link.
Franco Sarto Western shooties from TJ Maxx (affiliate link)
I paired a navy and cream infinity scarf with it and my brown jewelry.
Cuff from Lucy's Inspired, earrings I have had forever, and watch is the Cora from Jord (affiliate link).
That's an outfit I put together recently and I'm looking forward to a little more cool soon.  I haven't even gotten my boots out yet, way to hot for that.
Here are a few white blouses that I found in case you're interested in something like this one!

Don't Miss a Post, join my list!