Today I'm sharing a fashion over 50 post as I normally do, but I'm also joining a group of over 50 bloggers for a blog hop, sharing all sorts of ideas for those of us who are over 50 (and yes, fabulous….you know you are!).  I've got a top to share from Glamour Farms, but I'm also going to talk about what we can do to feel good about the aging process. And I hope you'll enjoy clicking around on the link party at the bottom to see what other women this age have to say about being Fabulous over 50!
This is a topic that I love, since I'm smack in the middle of the baby boomer generation and turning a year older in December.  It's one of those ending in 0.  That's a pretty big milestone and one that I never thought I'd really embrace back when I was in my 30's or 40's. It seemed very far off at that time and it's amazing how fast it got here.  I do have to say it's not as bad as I thought it would be.  I still feel like me, just seasoned.  That's a good word to describe aging, isn't it?
Sharing a fun top from Glamour Farms and then let's get back to talking about aging gracefully. I've got a few ideas on that topic that I'd like to share with you.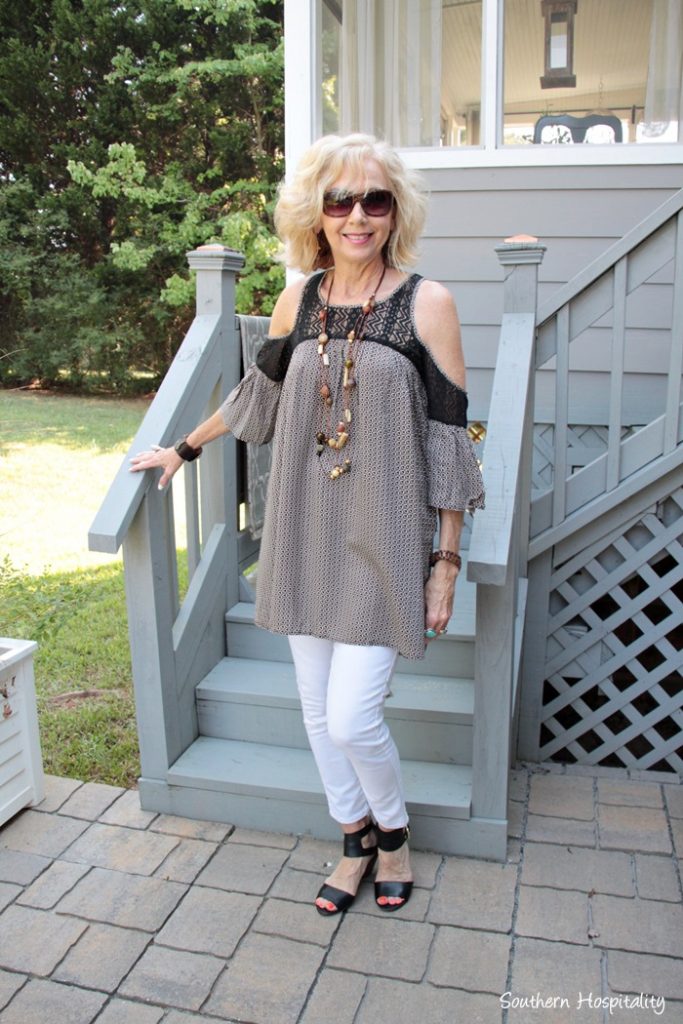 This is a sort of boho top from Glamour Farms I'm wearing today.  I'm still sporting my white jeans for a bit longer, since summer refuses to leave around here. It's been blazing hot lately and I'm ready for some cool.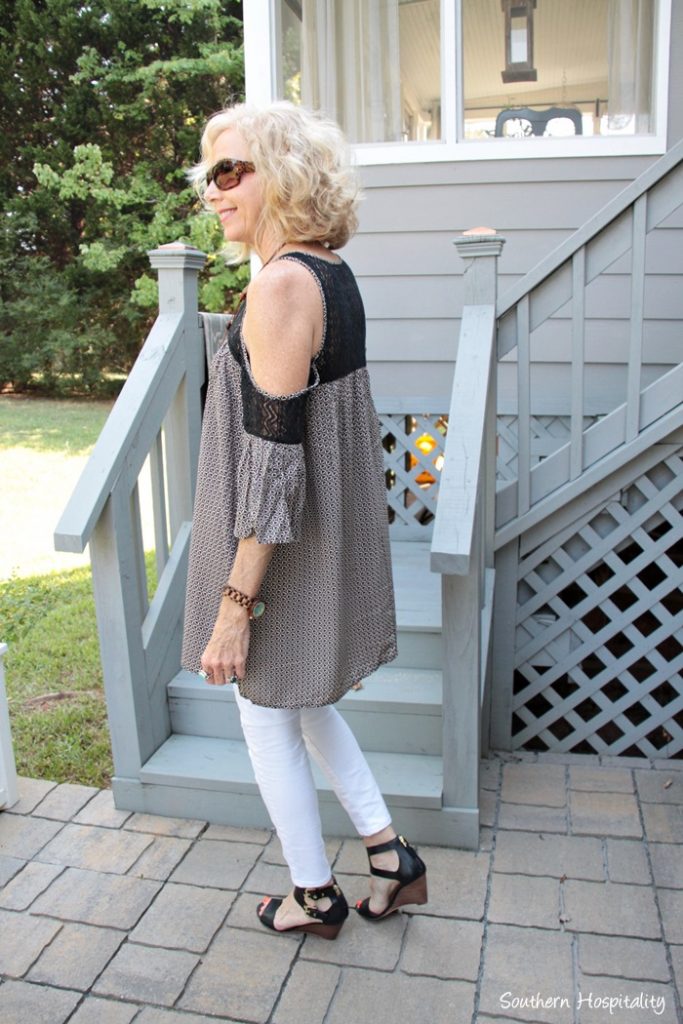 This top is very comfy and casual but with some spunk and sass to it.  The cold shoulder thing is still popular and it makes you feel a little sexy without being bare.  I do think that clothes have a lot to do with how we feel and look and putting our best selves forward and wearing something YOU feel good in goes a long ways in doing that.
With lace on the top and sleeves, it's in a black, brown, and white small pattern, feeling very Fallish. I added some chunky jewelry to it.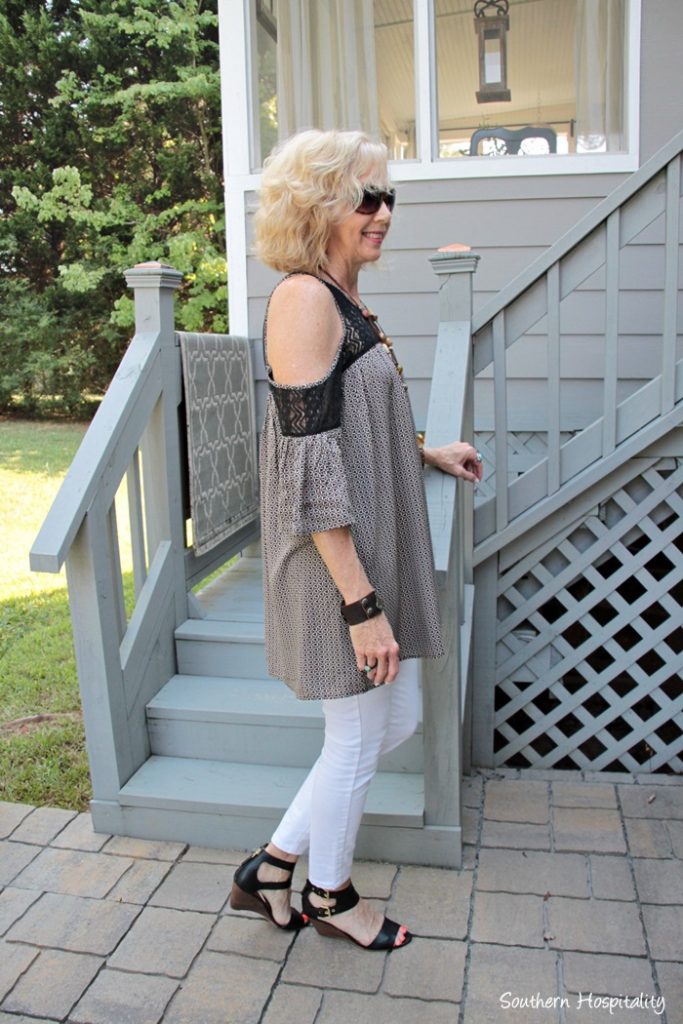 I will enjoy wearing this one out during the Fall months and I can always add a jacket if it gets too chilly.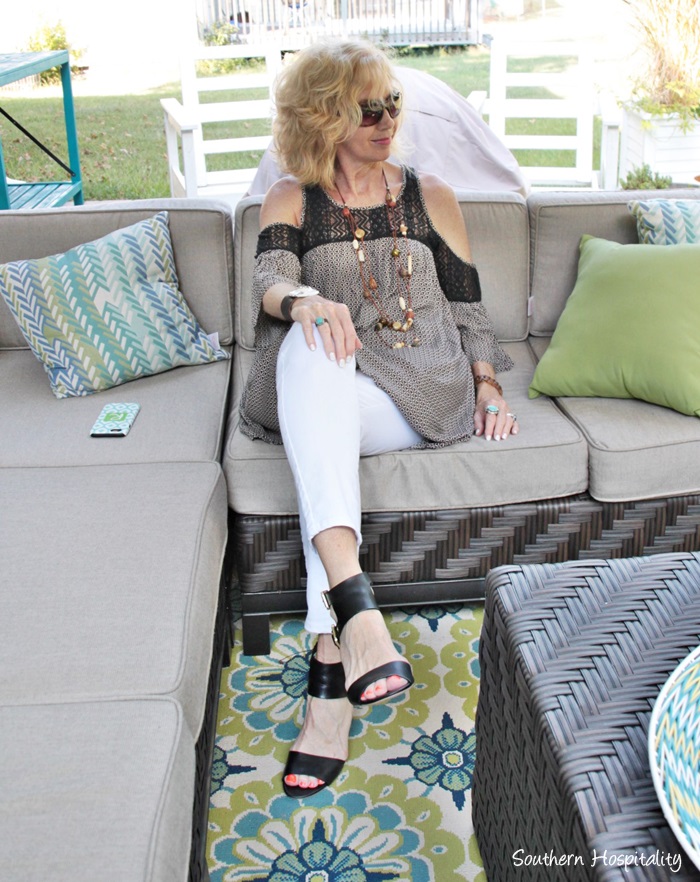 Jeans are from Old Navy, that I've shared before and I really like them.  I have a couple pairs of white jeans and they are work horses for me during the spring through fall months.
Old Navy Rockstar jeans (affiliate link)
Sam Edelman shoes (affiliate link)
That's it for today, hope you enjoyed Fashion over 50 today! If you order from Glamour Farms, use code RHODA852 (good thru 10/16 & can only be used once per person), for $10 off any regular priced clothing over $20 (not sale). I have really enjoyed my clothing from them and wear them a lot.
So, back to the topic of aging gracefully.  Aging is not for sissies, I've come to realize that.  There is absolutely nothing we can do about it, it happens to all of us, but I do think attitude plays a big part in aging gracefully.
 Attitude is everything!  If we have a good attitude about life, things just go better, don't they?  We can either have a positive outlook on life or a negative one.  I've been through enough junk in my life to truly appreciate the goodness that I have in my life now and I'm grateful for that every single day.  God gives us a certain number of days in our lives and we don't know how long that is, so as time ticks on by, I'm determined to make the MOST out of each and every day that I have on this earth with my family, friends, and loved ones.  Life is too short to do otherwise!
Dress fun and stylish, but age appropriate!  I really love fashion and looking stylish.  It's been something that's always been a part of my life.  If you ask my close girlfriends, they will tell you that even when I was younger in my 20's and wore jeans, I still looked stylish.  Never left the house without makeup and still adhere to that (most of the time!) today.  I like to be presentable and put my best self forward when I interact with people.  Besides, it just feels good to put on a fun and flirty outfit that makes you feel good about yourself.  We all have different body types and finding out what looks good on us as we continue aging is very important.  I try to take a good look in the mirror when I put anything on and stay stylish, yet age appropriate.  My style may change as I enter the next decade, but I'm determined to keep looking the very best I can no matter the age.
Wear makeup and get a stylish haircut!  I am a firm believer in makeup and that makeup can enhance any woman, no matter her age.  I see naturally beautiful women who look absolutely stunning with makeup on and cute as a button without any makeup.  But, most women can benefit from makeup (again, being age appropriate) and I think putting a little paint on the barn can definitely help all of us.  I know I look better with makeup on.  All I have to do is look in the mirror to determine that!  If you don't have time for a full face of makeup, at least add some lip color and a little mascara.  If you're like me and fair skinned, my eyes look dead without mascara and my face disappears without lip color, so those 2 are a must even when I'm in a hurry. Editing to add, take a look at your hairstyle. Is it old fashioned and dated? Have you worn the same style for 25 years? That will age you 10 years right there, as well as the wrong color. I'm a proponent of covering gray, but many women are not, so do what you feel is best in that area, just be aware that hair color can age you too.
Don't sweat the small stuff!  I've come to a place in life that I just don't worry and fret about things like I used to.  I don't stress out over clutter at home and I'm probably more of a procrastinator than I've ever been before.  It will get done tomorrow is usually my motto.  When you go through a few BIG trials in life, the smaller things don't seem nearly as important and that's where I've arrived at in life now.  Things can be replaced, it's the people and relationships that matter most in our lives. So, I don't sit around dreaming of a bigger house or fancy car, I appreciate what I have and enjoy the small everyday moments in life.
Exercise and keep moving!  I'm been an advocate of exercise for years and made the promise to myself in my 20's that I wouldn't get out of shape as I got older.  I've kept that promise and still go to the gym and get out and walk often, lifting weights to keep toned.  It's been one of the best things I could do for myself and I see women my age and older who haven't exercised or kept their bodies moving and it is so detrimental to the aging process.  So, keep moving and do something to keep the joints healthy and active!
Smile!  That's such an easy way to age gracefully!  If I look in the mirror and start to see a sagging lined face that I hoped would never come (but, alas it is here), then I just have to smile.  Smiling is the best face lift there is, so keep on smiling.  That will brighten up your face better than anything and smiles are contagious!  Send one to someone else and see what happens.
I hope you'll stop by all the links below and take a look at a lot more ideas these over 50 women have about life and aging. It's sure to give you some inspiration!  We all thought that we have something to share with our peers about being older and aging and it's a big topic.
Don't Miss a Post, join my list!