Wouldn't it be fun to have your own personal clothing stylist to choose things for you?
If you've been hanging out around blogs in the last couple of years, you have probably heard of Stitch Fix by now.  I have been hearing about them for a long time and finally decided to try it out and see for myself.  It's an online clothing company with your own personal stylist who puts together outfits for you based on a profile you fill out on their site.  This is not a sponsored post (they don't know me at all), but they have a referral program to earn a referral fee, so I'm linking my link here in case any of you decide to try them. out.
If you want to get out of the normal routine of shopping for clothes this might be a way to do that and get some things that you might not otherwise choose for yourself.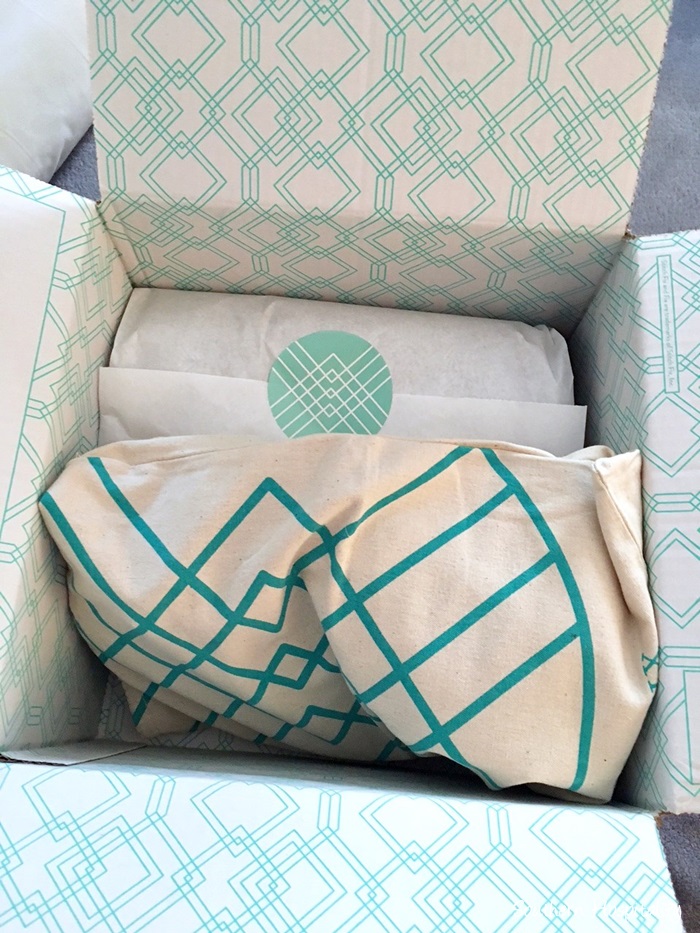 So here's how Stitch Fix works.  You go in and sign up by filling out a profile.  They ask you questions about what sort of clothes you like, along with price points that you are comfortable with, which means you don't end up with really high end prices if you don't choose that.  I used a mid-range price for my profile. They also show you pictures of outfits and ask you to check whether you love that outfit, like it or hate it.  After you go through all the questions and answer the profile, then you can also write in some ideas for them to take into consideration.  They also ask you if you dress casually, for work, or if you want dressy clothes.  You can then sign up to receive a box as often as you want.  I thought it was a very fun idea and wanted to see what they would do for me.  Since I opted for casual clothes and I wear a lot of skinny jeans, here's what I got.  The box arrived all wrapped up pretty and I couldn't wait to open it!   They send 5 things in every box, including clothes, shoes and jewelry.
Here's the basics on how Stitch Fix works:
If you buy all 5 things, you get a 25% discount on the total bill.  You can keep as many pieces as you want or send them all back. I sent all but one thing back on my first box.  I'll tell you more about that below.
They do charge a $20 styling fee for every box sent out.  That fee is then applied to anything you keep.  If you send all 5 things back, then the $20 is gone.  That's sort of a bummer, but hopefully you'll like a few things.  It worked out OK for me on this first order since I bought one thing. Most of the items I received were around the $50 range, with the jeans around $100, but again you set the price parameters in your profile. I didn't take a pic of the skinny jeans, but decided to send them back since I have plenty of those in my closet already and the ones they sent were $98 and I didn't love them any better than what I already have.
My first box had a variety of neutrals and one color.  I love black and white and have so much in my closet, that I couldn't justify keeping this top, which I thought was just OK on me.  I really like my tops a little bit longer than these were.  But, if I do another box, hopefully next time will be more fine tuned.  I think this online shopping service could be very good for those who don't have a lot of places to shop in your town or get overwhelmed shopping online.
This little lace number was cute, but it didn't really grab me either.  I think it would be best layered under a jacket or something, but didn't really feel like me, so I sent it back too.
This dusty rose long cardigan was pretty, but I don't feel this is the best color for me.  I went back and in the profile added colors that I think look best on me, so be sure and do that when you fill it out if you try Stitch Fix for yourself.
Now, here's what I kept!  I immediately loved these gray suede Tom's wedge booties. I know these will go with a lot of things in my closet, so I kept them. They  fit perfectly and feel comfortable so far.  My sister loved them so much, she found them online and ordered them too.
Tom's Castlerock gray suede booties (affiliate link)
I wore them out with my family one day with those Old Navy High-rise jeans I've shared before. These are still a fave of mine and I love the charcoal gray color.  Mixed with this rust sweater I got last year, it was a comfy outfit for the day out.   This sweater was from Nordstrom last year and the brand is Sun and Shadow.
Old Navy High Rise Rockstar Jeans, Stone Lake (affiliate link)
These pics were at my parents house, I was there for an outing I'll tell you about tomorrow.  We finally talked my dad into getting hearing aids, so I'm sharing that story tomorrow!
They also send along cards with pics of each of the items in your box, so that you can see how to mix and match the items with other things in your closet, so that's helpful if you're not good at that sort of thing.  I think I'm pretty good with my own clothes styling, but if you're not, then Stitch Fix might be a good alternative for you.
Just wanted to share Stitch Fix with you and my thoughts on it in case you might want to try it for yourself. I do like the idea of a personal stylist who takes your likes and dislikes into account in choosing clothing to put together for you, as well as sizes and fit.  They ask detailed questions on size and fit of clothing, so you can be assured you're getting personal service on that too.  I really like the idea of the service even though I only kept one thing this time, I think I'll use them again in the future.  I know there are a lot of women who aren't that comfortable with choosing clothing and sometimes get stuck in a rut, so that's where I think Stitch Fix might help.  If you want to see what someone else might choose for you, give them a shot!
My curiosity got the best of me and I just had to try them for myself.  If you do give it a try, let me know! I'd love to hear your thoughts and experience too. Have you tried Stitch Fix, if so tell me what you think?! 
Don't Miss a Post, join my list!