Before I get started on Fashion over 50, I wanted to introduce something new to my blog! I'm going to start adding some videos to my sidebar, so I'll have my own video channels going here and the first one I want to share is my dad in his garden.  I did as many of you suggested and talked to him about his garden and got it on video to share with all of you.  Hope you enjoy listening!  Just as an FYI, we lived next door to the house they are in now for 10 years and that's the house that we picked up rocks from the garden.  He purchased an acre lot, gardened on that lot and then built the house they are in now which is right next door.  So, this garden goes back to the 70's and the first house, to the 60's.  Lauren is filming the video for us.  Enjoy! You can watch here and it will stay on my sidebar too for future viewing.
Hey and welcome to another Fashion over 50!  The heat in Atlanta has cranked up to a sweltering 95 degrees this week and we are just trying to stay cool these days.  We complain every year about the heat, but somehow survive it until September gets here and things start cooling off again.  So, during these hot summer months, I'm all about cool and casual.  Glamour Farms sent me this cute cold shouldered top to style and it's a nod to the upcoming 4th of July holiday.  Not exactly red, white and blue, but close!
I styled it two ways, one with white jeans and one with white shorts.
It's a really cute 3 color top with faded out shades of coral, white and blue.  It does give a red, white and blue appearance.
The cold shoulder effect is so cute.  I paired it with my white jeans and tan leather wedge shoes.
Feeling Blue top from Glamour Farms (affiliate link)
For $10 off at Glamour Farms on all except sale items, use code Rhoda4, valid from 6/15 through 7/15/16.  
White jeans are Rockstar jeans from Old Navy. (affiliate link)
During summer, I wear my hair curly quite a bit. It just gets big and messy with all this humidity, but sometimes that is easier than straightening it all the time.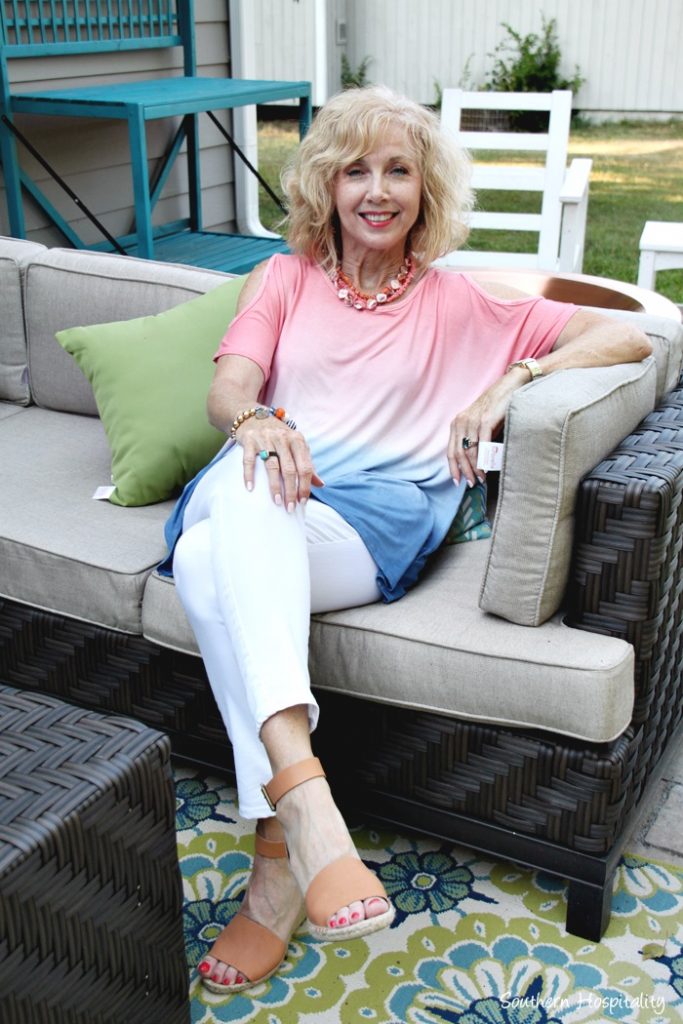 This is a very summery outfit and I love it!  I added some coral jewelry I had with a little bit of gold accents.
My shoes are from TJ Maxx and the brand is from Brazil.
Vince Camuto Torian are similar (affiliate link).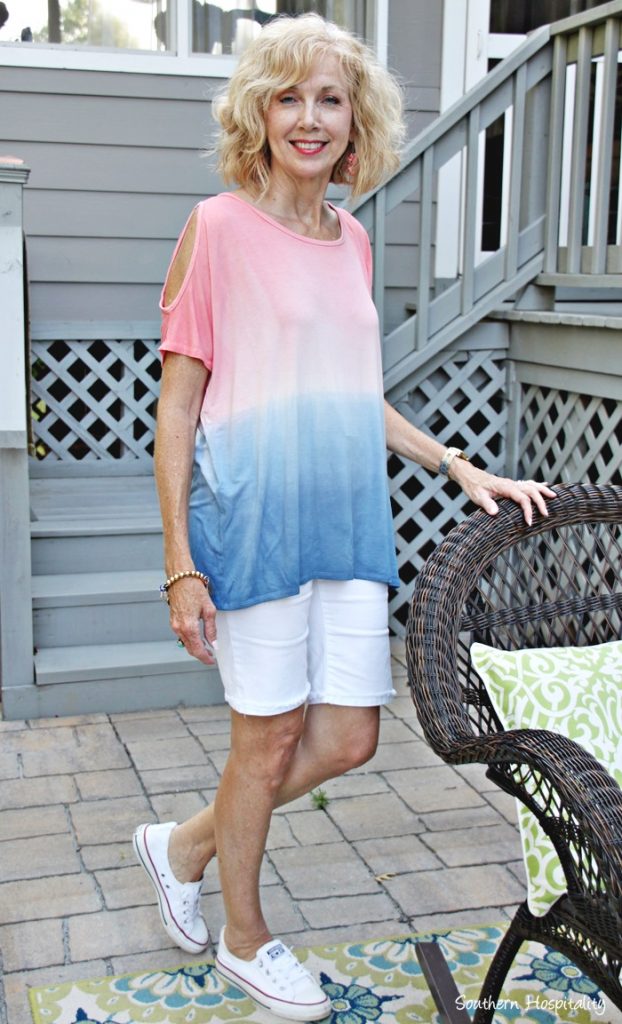 The 2nd way I styled the top was with my long white jeans shorts and my Chucks Shoreline shoes.  I'm really loving these shoes for summer. They are sporty and casual and great for so many summery outfits.
Jeans Shorts are by Liverpool, style Bae Bermuda, but they are from late last year and I can't find a link to it now.
Chuck Shoreline sneakers (affiliate link) – I love these cute sneakers!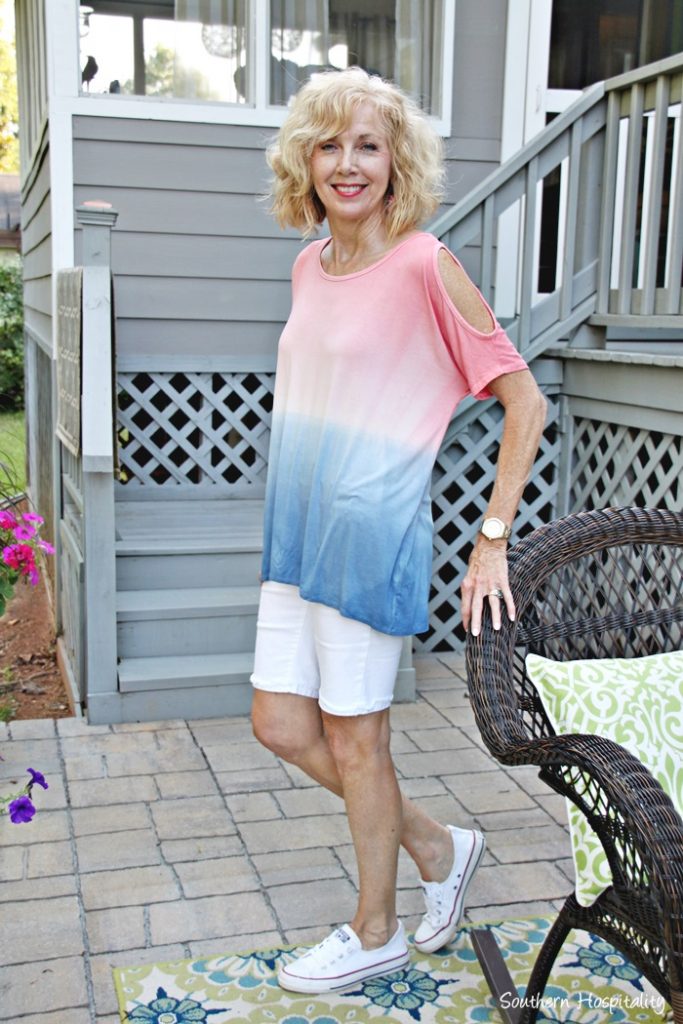 Cool and casual and perfect for a 4th of July celebration.
Minimal jewelry and took off the necklace.
This look is very cool for those hot summer evenings w've been having.
Hope you enjoyed this feature today for Fashion over 50!  Thanks as always for stopping by!
Don't Miss a Post, join my list!