It's a Holiday week and things are moving  little slow around here.  Plus, it's hot, hot, hot in Atlanta right now. We are needing some rain and the heat is making it very miserable outside, so I'm trying to stay cool and comfy in my clothing choices too.
Today, I've got an outfit I wore to church last weekend.  It's all black, which I like, and it's a mix of linen and lace.
Linen is very comfortable during the hot summer months, but it does wrinkle, so you have to be prepared for that. This is a washable long linen skirt from Old Navy that I got years ago (and I do mean years) and it is still comfortable and casual.
I paired it with a new black lace top that I also got from Chadwicks, who I introduced last week to you, a company that's been around for 30 years now.  The lace top is stretchy is hip length.  Lace is fun to mix up and I could also wear this top with jeans.  Depending on what you pair it with, lace can be casual or dressy. The top is lined with some stretch to it.
20% off orders over $85 at Chadwicks using code CH56643, through 7/15/16.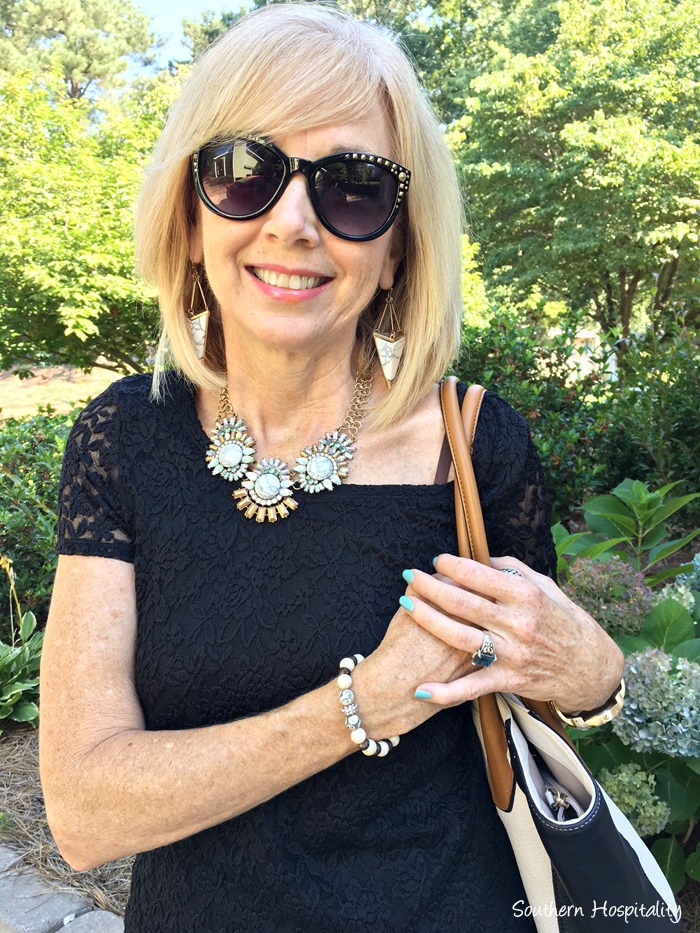 I also got some new jewelry to share with you.  This pretty and blingy necklace and earrings came from the Happiness Boutique.
Sunglasses from Charming Charlies (affiliate link). I don't see this exact pair on their website. 
Happiness Boutique got in touch with me about featuring some of their jewelry and I chose this pretty set to style.  It's the marble collection and their price points are very reasonable. I don't think the marble is real stone, but the details are really nice and substantial and I really love this set.  It will be versatile with a lot of outfits.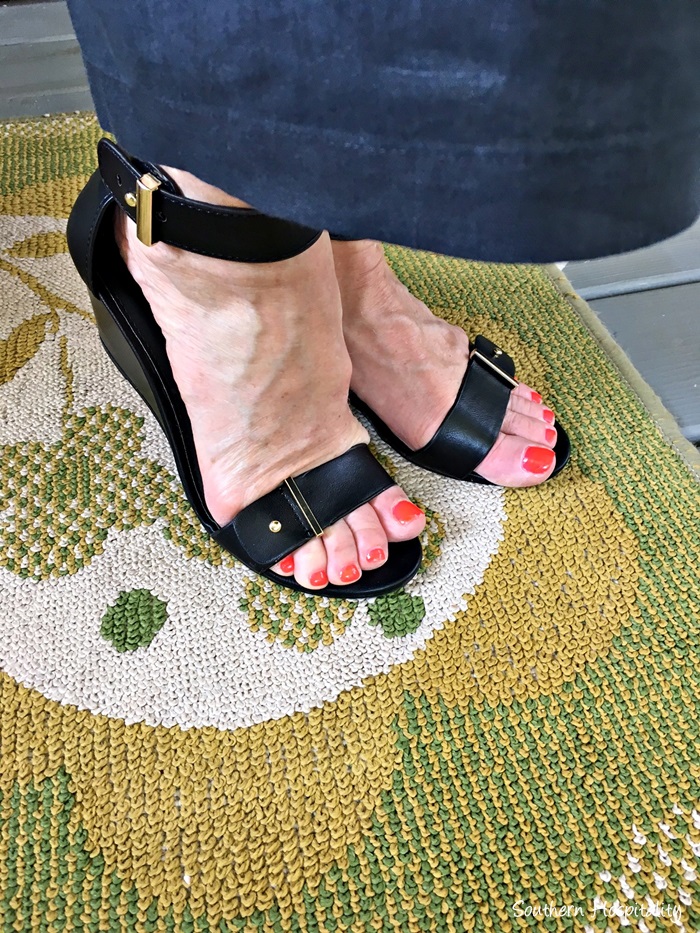 The shoes are new too, Indra from Target. I was looking for a not too high wedge shoe and came across this one at Target and ordered in my size.  Target always has trendy, but inexpensive shoes for the season and I'm really liking this style, which is similar to others I have. The wedge is not too high and they zip in the back for ease of putting them on.  I like the gold detail on them too.
Indra Sandals from Target (affiliate link)
Summer is so hot and right now I'm just trying to stay cool. I wore this outfit to dinner at the Square and it's just simple white shorts and a 3/4 sleeve top with sandals.
Simple, cool and stylish.  I've shared the sandals before, but they are from DSW, gladiator sandals and I've really enjoyed them this year.  The pewter color mixes with anything.
That's it for today, folks!  Tomorrow the girls (me, my mom and sister) are heading out early for a road trip to New Orleans to see Lauren and the babies for a long weekend.  Lauren is getting ready to go back to work after maternity leave, so we wanted to spend a little time with her and the girls before she gets busy again.  We are taking mom with us because she dearly loves to see those babies and wants to spend as much time with them as possible. I'm glad Lauren and Philip have a pool in the backyard, because I have a feeling we will be in it a lot!
Joining The Pleated Poppy What I Wore party today. 
Don't Miss a Post, join my list!