I'm off on another fun adventure today, heading down to Orlando, FL, where I'm meeting up with the folks at GMC and several blog friends, to tour the HGTV Dream house in Merritt Island, FL on Thursday. We'll be driving some new GMC cars on our little road trip to the coast and it's going to be a blast, I'm sure.  Of course, I'll be sharing all about the gorgeous house on my blog when I return!
Meanwhile, back to fashion Wednesday!  Today's feature is a new to me website with some pretty and preppy inspired clothing.  Needham Lane out of Massachusetts, features timeless 100 % cotton colorful fabrics and classic styles.  If you like Lily, you'll probably like Needham Lane, so take a look at these pretty spring outfits that I'm styling for them.
Their clothing pieces come in several different fabric choices, so you'll more than likely see something you like.
The Lucy Navy Skirt (affiliate link) is a cute navy and white patterned straight skirt that hits above the knee.  I had this Coldwater Creek blouse in my closet and love the classic navy and white together.  The gold shoes are Kenneth Cole Reaction and I got them at TJ Maxx a couple years ago.
Even though I don't love to show my knees much anymore, these are not too much above the knee. They will look better when I add some tan to my legs too. I'll be back to tanning towels soon.
With a jeans jacket added, this would be a great outfit for shopping and lunch out.
For a bit of color, I thought this green jacket from J Crew that has been in my closet for years would be a fun addition.  I love navy, white and green together.
Gold jewelry sets off the gold flats.
Their dresses come in several different fabrics and this Lime Floral Piper Dress  (affiliate link) is classic and feminine in a sheath style, just above the knee.
I added the J Crew jacket to this one and it adds a nice touch for a little bit of sleeve.
Needham Lane is a really cute online store and their clothing is 100% cotton.  Soft to the feel and very comfortable, cotton is a natural in the summer.  The dress and skirt are both lined and the stitching is very nice.
Their tunic tops are so cute and classic too! I love this turquoise one with my white skinny jeans.
This one is the Carolina Aqua (affiliate link) embroidered tunic top and it's very comfortable and flattering.
The side slit and 3/4 length sleeves make this one very comfortable and easy going for summer.  I paired this outfit with gold sandals from Target that I've had for a few years.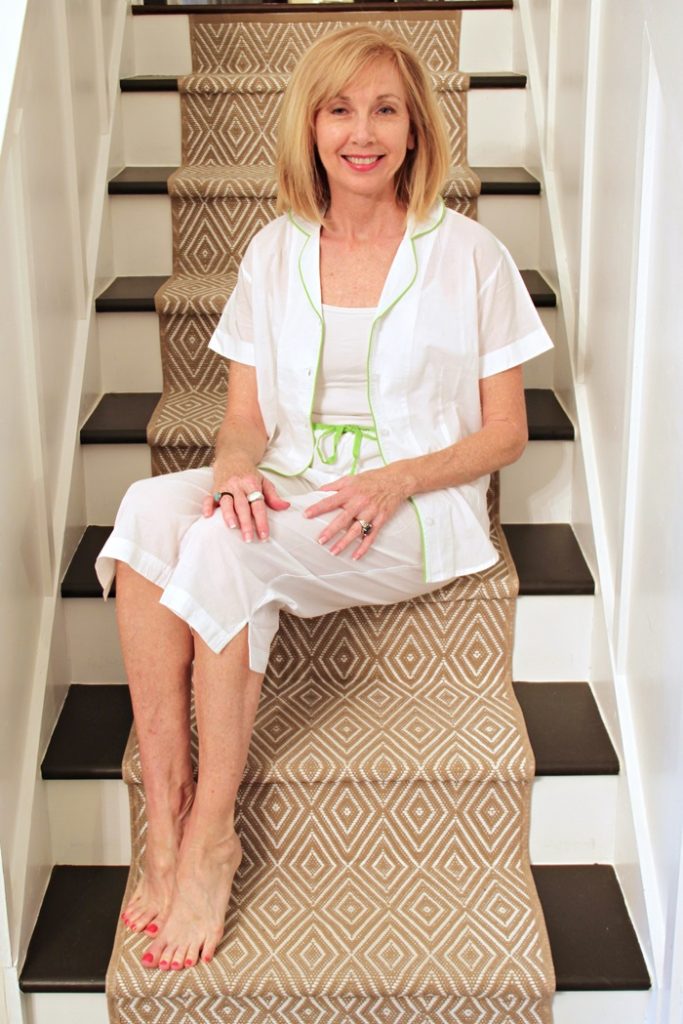 And the last thing to show you all is their summer cropped pajamas.  I'm going to totally enjoy these when the weather gets hotter!  I added my own white camisole to this Madison Lime short sleeve pjs (affiliate link).
I hope you enjoyed seeing this preppy and sort of Southern style company, Needham Lane.  Even though they are in Massachusetts, their clothing totally reminds me of Southern style.
Note: Needham Lane sent me clothing to style and feature and I use affiliate links in this post, making a small commission off any sales. 
Don't Miss a Post, join my list!