Hi, friends!  I'm back with Fashion over 50 today with a repeat from  last year. This is a cute, cute cold shoulder top that I got from Glamour Farms last year when I was working with them regularly. We aren't doing anything right now, so I don't have any codes for you, but this is probably my most fave top I got from them.  It's such a pretty color and how could I NOT pose in front of my gorgeous hydrangeas in this color?  I met one of my girlfriends out for dinner and it was fun to dress up a little.
It has tiny straps and elastic that holds things in place, but even with no straps it would be fine.  I do like these kinds of tops and may have to get another one this year.  I've really enjoyed this one with the lace detail and the color is exquisite.
Shoes I've shown before too and they came from TJ Maxx last year.  I've enjoyed them as well and they are a great mix with neutrals.
This pair looks almost just like mine:  Neiman Marcus Esmie (affiliate link), warning they are pricey, way more pricey than I paid. 
Here's a similar pair of shoes:  Vince Camuto Leddy (affiliate link)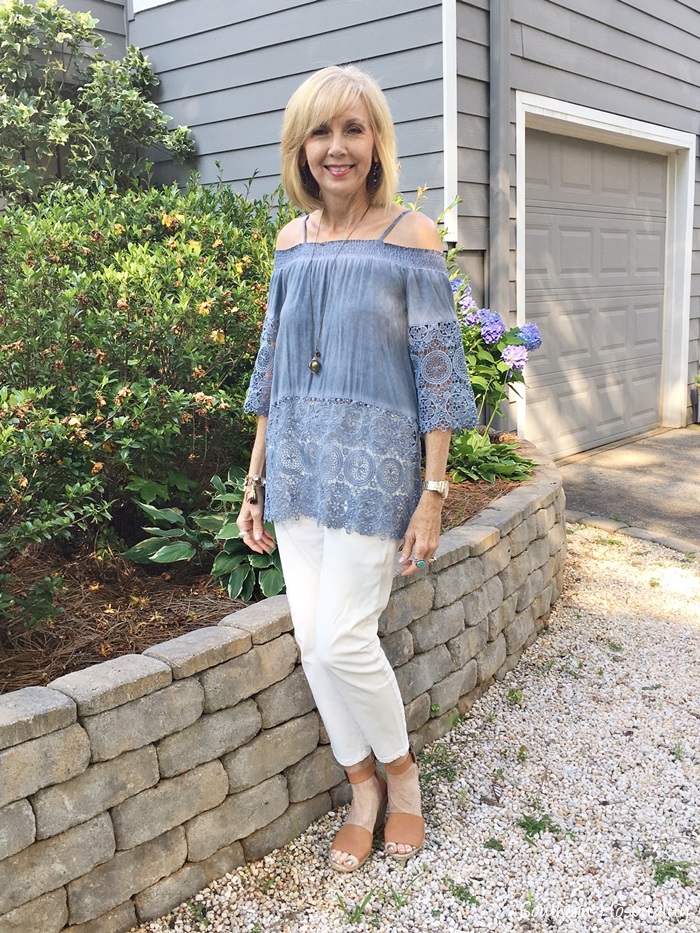 I wore some simple gold tone jewelry to finish it off.
So, have you tried off the shoulder tops yet?  I totally think they are fine for women over 50 and 60.  Why not show off your shoulders if they are still looking pretty good?  That's one spot that seems to age more slowly, I think.
Here are a few off the shoulder tops (and 2 shoes again) I've spotted that might be a good fit for you!

- Rhoda