Summer has arrived full blown here in Atlanta and we are sweltering right now. It's not even into July yet and already the heat and humidity have settled in making it miserable to be outside for too long, unless you are floating in a pool somewhere.  I've been wearing dresses more lately, because of the heat.  Dresses are a little cooler to me this time of year since anything binding on my legs just makes me more hot and humid.
Back in the 80's when I was working in the Corporate world, there was a catalog company called Chadwick's.  This was way before ordering anything online and the internet was just an idea back then. I used to get their catalogs in the mail and ordered quite a few clothes from them through the years.  I always loved their styles and price points and their clothing was very affordable for a working girl and the quality was very favorable.  Guess what?  Chadwick's is still alive and well and not only do they still do catalog sales, but they are online too, just like all other retailers these days.  I'm partnering with them today to show you some of their dresses, specifically since dresses are so much fun, cooler to wear in the summer, and very feminine.  I enjoy wearing dresses more than ever now.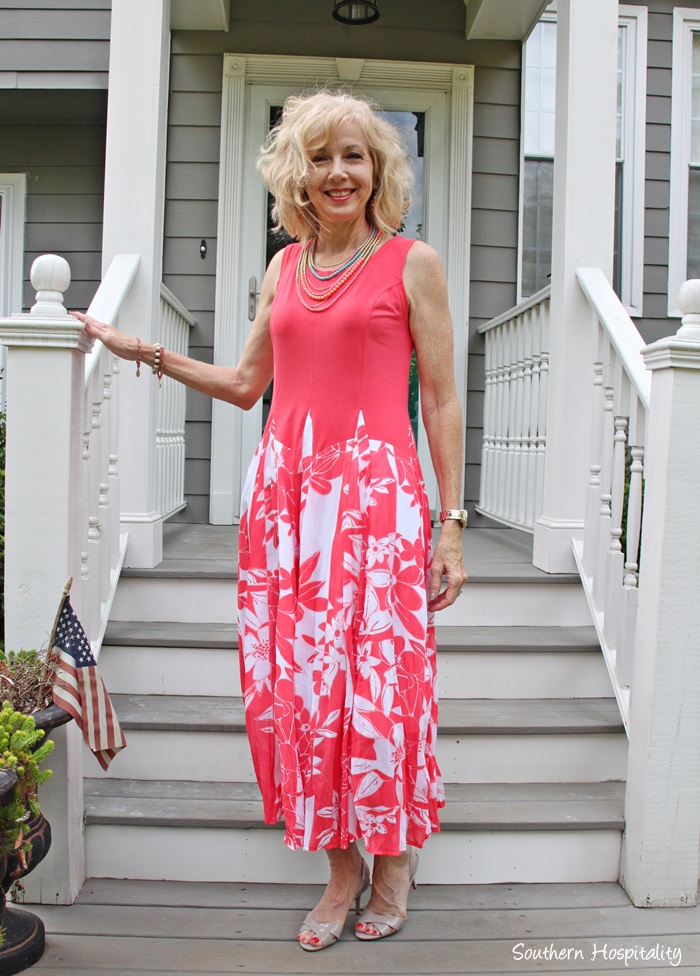 The first one I thought was so cute when I saw it online, the Sleeveless Georgette floral.  The skirt is sort of an organza material and it is fully lined with a slip lining/crinoline underneath.
I found these Calvin Klein nude slingback sandals at TJ Maxx (on clearance for $24!) and they will be a great pair of dancing shoes and go with anything shoes.
The flowy skirt is so feminine and I couldn't resist this bright coral color for summer.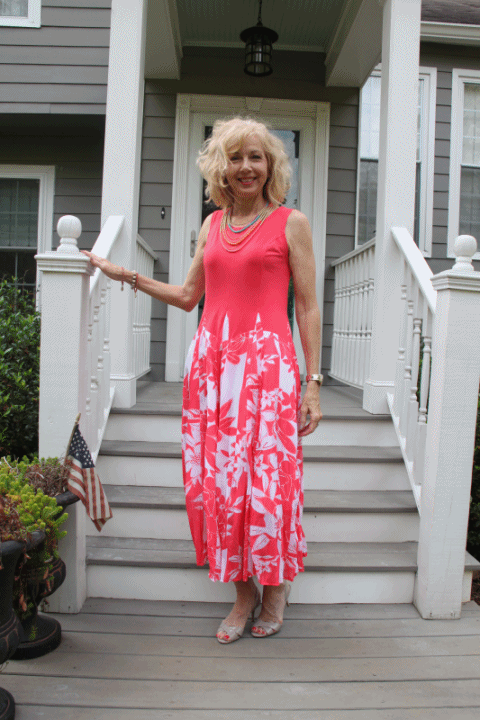 Here's a little gif I put together showing the movement of the skirt and how flowy it is.  The wind was blowing the day I did this photoshoot, so it was extra flouncy.  I ordered this in a Medium, but would have gotten a Small, but it was out of stock.  I had my mom take it up on the sides and top, so it works, but everything else I ordered either a 6 or Small, just to let you know sizing.
Did you notice my little photobomber in the background?  Cody wants in on all the action too!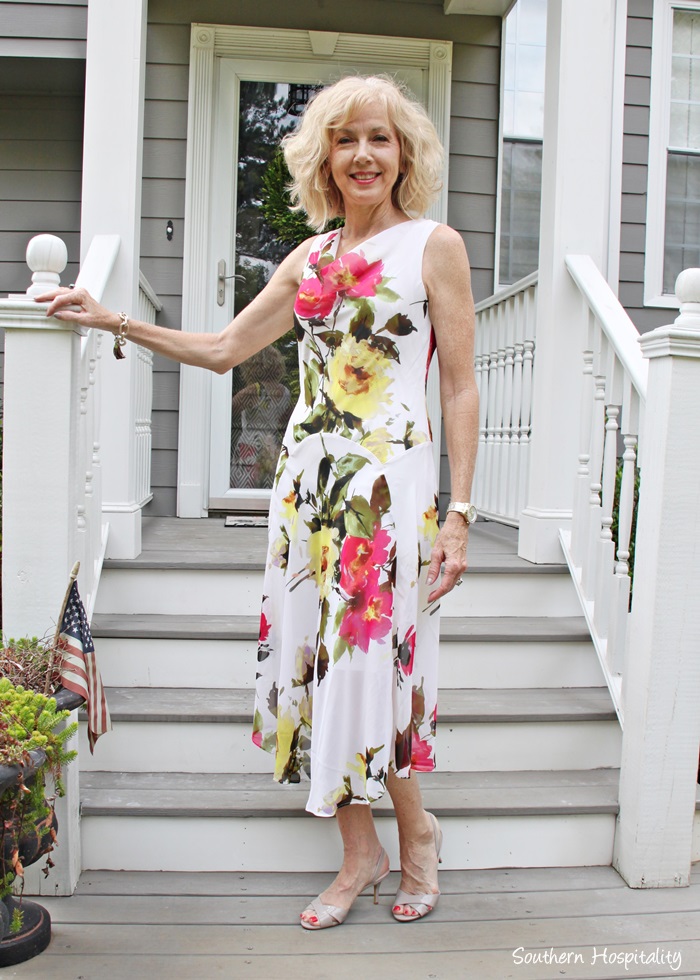 Next, is the Georgette Draped neck, a pretty floral, perfect for a summer wedding or outdoor event.  What is more feminine than a flower bedecked dress?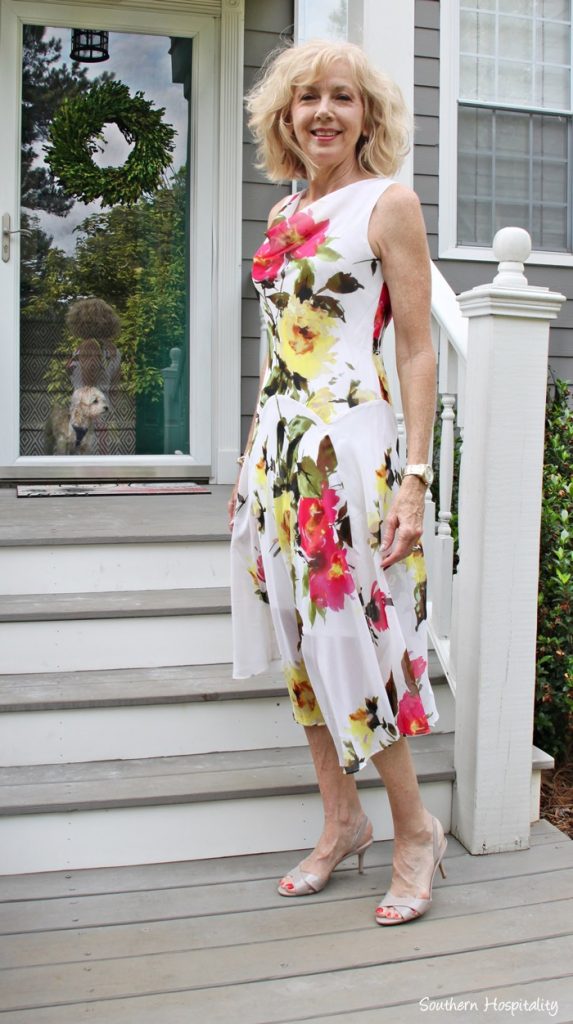 It's sleeveless with a little V in the back and the hemline is a little asymmetrical, but not too much.  It's a very feminine dress too and the colors are beautiful.  It's very fitted through the bodice, but flares out on the skirt just a bit.
I paired this one with the nude Calvin Klein slingbacks, for a casual but classic look.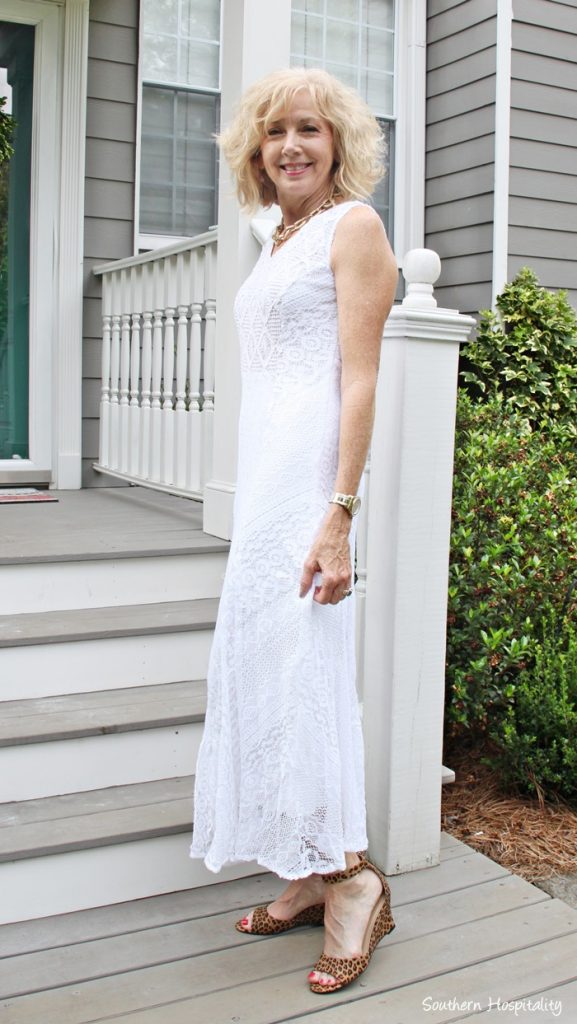 Have you noticed how lace is having a big moment in fashion these days? I see lace everywhere now. It's feminine and pretty.  This Crocheted maxi dress in white lace is very comfortable and is fully lined, which I love.  These leopard wedge shoes are also from Chadwicks and are a fun mix with this dress.
The lace on their dresses is not shiny, but very matte and flattering.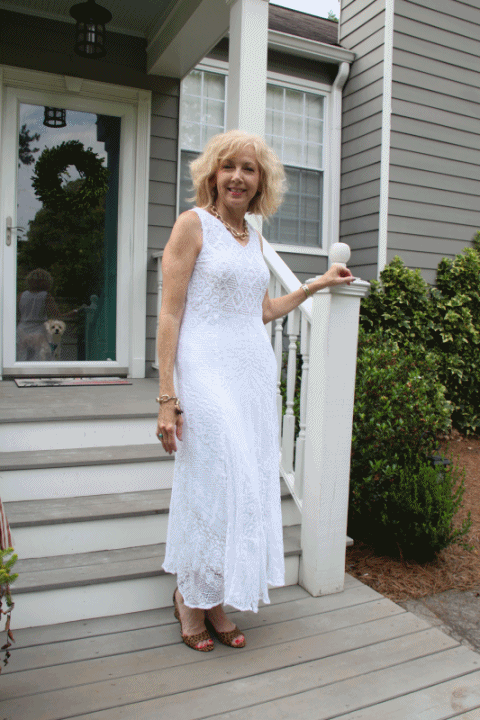 Here's another gif on the white lace maxi dress, to show how flowy and flirty it is.  I can see wearing this dress to the beach and it could be dressed up or down.
In fact, I dressed it down and wore it to church with my flat pewter sandals.
So comfortable and adds a nice touch to the dress.
Gladiator sandals from DSW , looks like Gold only available. This site has the pewter available. (not affiliate links).
I went with all silver jewelry to accessorize the dress. Silver starfish necklace (affiliate  link) is a gift from the Etsy shop of Starfish Cottage.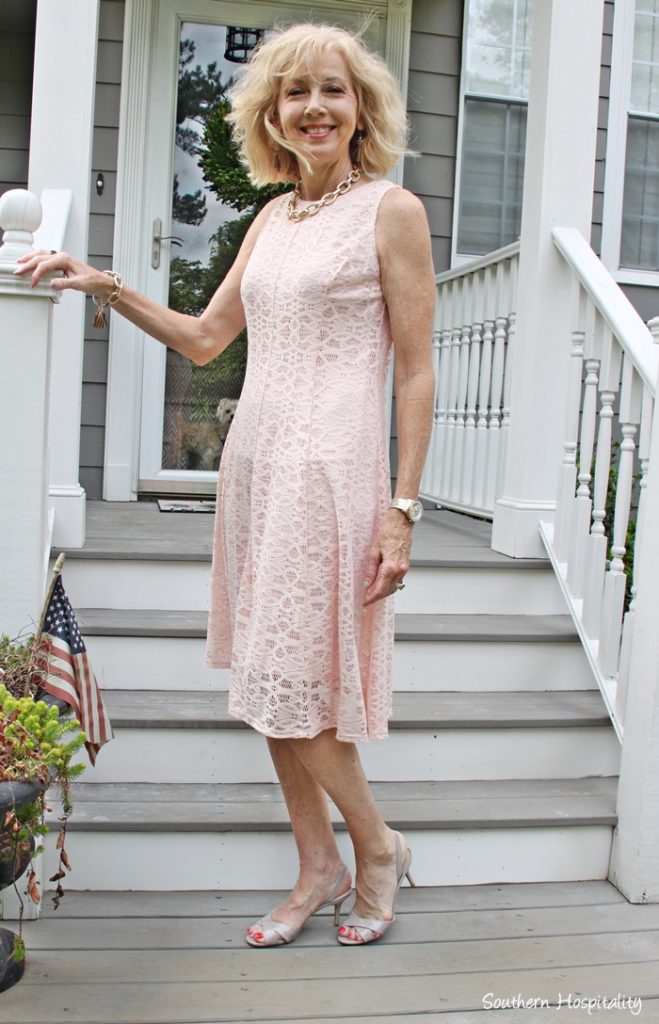 One more lace dress in soft pink.  I don't think this is my best color, but soft pink/blush is so feminine and such a well loved color right now. This one is the Sleeveless Lace Dress in pink.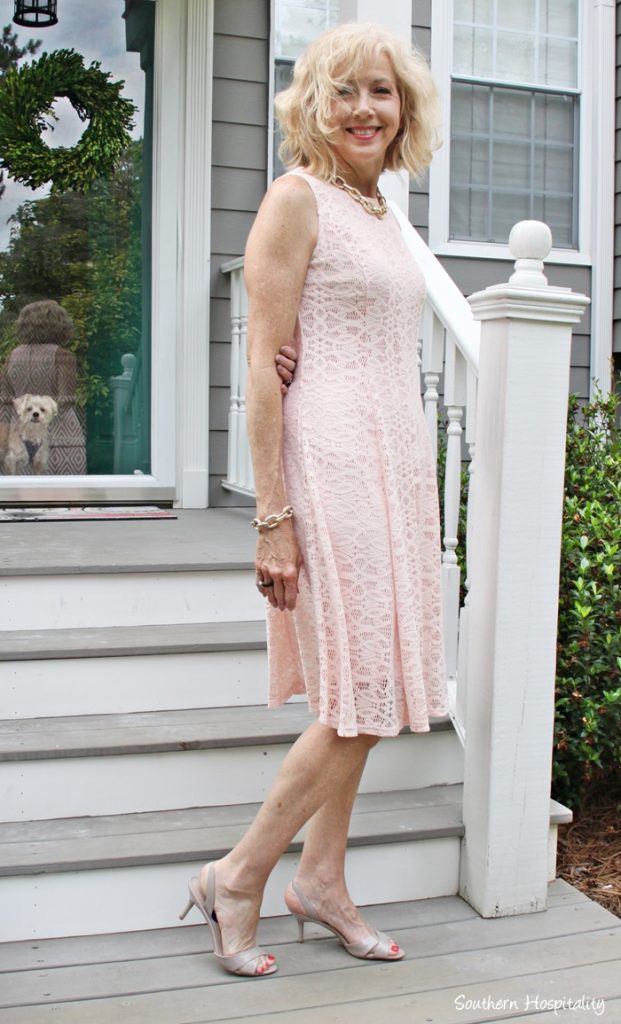 It too is fully lined and very pretty and feminine.  If you're looking for summer dresses or any summer outfits for that matter, check out Chadwicks for decent quality and exceptional value.  You won't see yourself everywhere else in Chadwicks clothing and I'm excited that they are still around and putting out nice clothing at a great price.
For an extra 20% off your order (over $85) at Chadwicks, use code CH56643 (affiliate code, expires 7/15/16).
Note:  This post is sponsored by Chadwick's. 
Don't Miss a Post, join my list!