My sister and I went shopping last week to Stein Mart to get something for our mom, since her birthday is tomorrow.  She loves clothes and so we each got her a new outfit from Stein Mart, which is a store that she usually likes to browse.  We can always count on them for colorful, stylish and reasonable prices in clothing.  I couldn't help but look too as we were scouring the racks for something for her and I found an outfit that I'm sharing today.
I don't have a lot of slacks and more dressy pants since I got out of the Corporate world and pared down my closet. I do have a lot of skinny jeans and pants, but not a lot of others things, so I thought I'd look at their business casual pants for something new for spring and I wasn't against finding colorful pants.  I spotted these pretty jacquard kelly green pants and really liked them. They have spandex so are a bit stretchy and they slip on and don't have buttons or zippers, creating a nice flat front.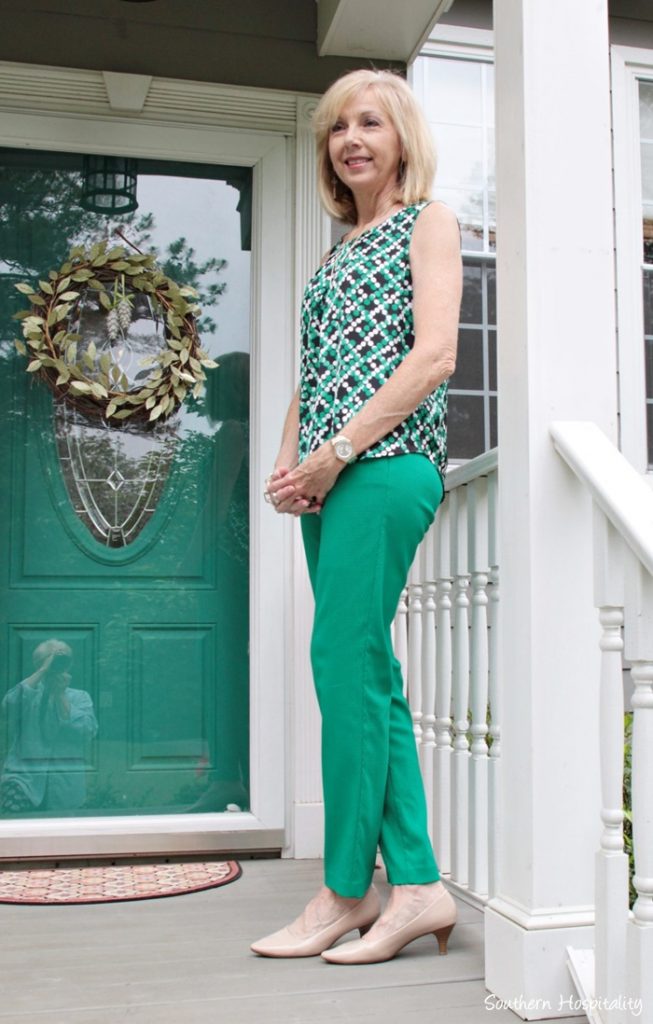 I looked around and found a Nine West top on sale and got that too and it was the perfect compliment to the pants.  I can wear a jacket over this if needed inside with air conditioning, but I love how it looks.
Here's the link to the pants at Steinmart.  I couldn't find an affiliate link, but this link is the exact pants, so you can go direct to Steinmart or shop the tab below for more of their sales.
This jacquard fabric is soft and supple and has a little diamond pattern on it.
I like that it's a flat front pant too and is slender but not skinny.
I think this is a flattering look for a business casual or social outing and I will have fun incorporating these in my wardrobe. They are ankle length and work with heels or flats.
Ready for spring!
The shoes I've shared before, they are Aerosoles Foreward  (affiliate link) in Light Tan faux patten leather. These have been a nice neutral addition to my closet too and are very comfortable.
I love the pants fabric in their diamond jacquard pattern. I couldn't find a link to the Nine West top, but it's a silky type fabric and is lightweight and comfy, in Kelly green, black and white and went perfect with these pants.  Plus, I love polkadots!
Here's another way I'd wear these pants, with this C Wonder jacket with the sleeves turned back and a simple crisp white blouse and gold flats for a bit of prep.  I'd also wear these with my casual  jeans jackets, a white T and my Converse Chuck's Shoreline slip on sneakers, so I can see a few varieties with these pants in a casual look or more dressy attire.
That's my fashion share for this week, hope you enjoyed this one!
Don't Miss a Post, join my list!