Happy Wednesday!  I'm still in Little Rock today at Moss Mountain farm and no doubt having a fabulous time here. Last weekend, I went to my cousin's son's graduation party and wore a new top that I just got.  You know how those ads scroll by on Facebook and some of them are clothing?   Well, that's how this top landed in my cart and I bought it.  It's from a company called Rosegal, which by the way is not top quality stuff.  When I mentioned to my niece that I bought something from them, she said uh oh, look out hope it's OK.  It was only $15, so I figured I wasn't out much.  She's right, it's not top quality but for a casual summer top I'm fine with it.
I've been wanting to try more off the shoulder tops as they are very trendy right now and this one isn't low cut at all, so it's a good one.  Why not wear an off the shoulder top after 50 or 60?  Shoulders are a body part that ages pretty well so why not show them off?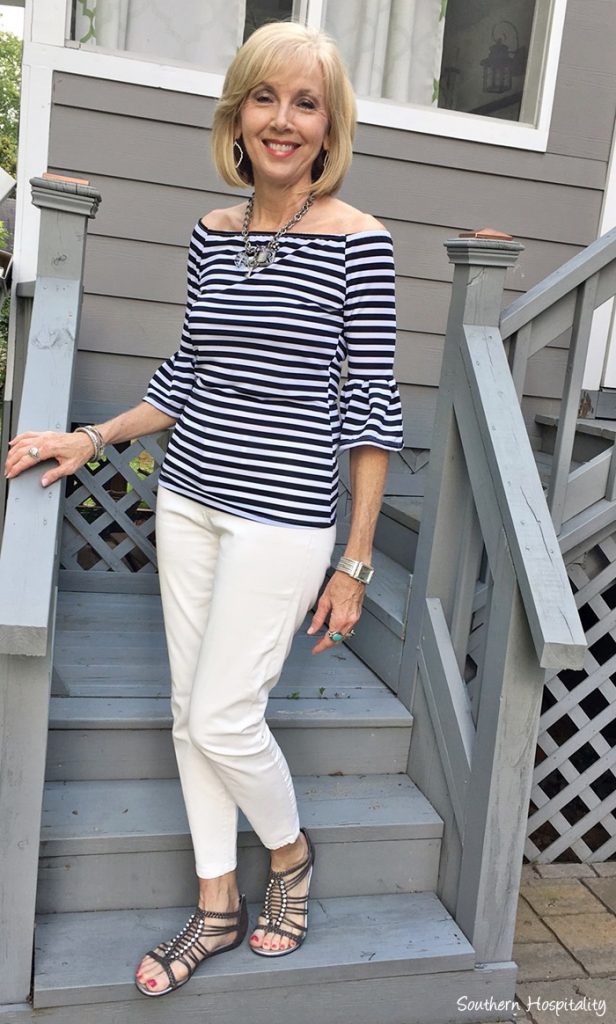 The bell sleeves caught my eye as well as the black and white stripe, which I love.  I figured it couldn't be too bad and it's not.  It's made out of a stretchy knit fabric so comes down to the hips and I do love those sleeves!  Unfortunately, it's sold out at Rosegal (affiliate link), so you can't buy it right now, but maybe they will bring it back.  You can bookmark and see if it comes back if you're interested.
I knew I could mix it with my white summer pants and shorts and it would be fun to wear. I got a medium since most cheaper clothes run smaller.  The pants are Banana Republic cropped pants that I've had for a couple of years.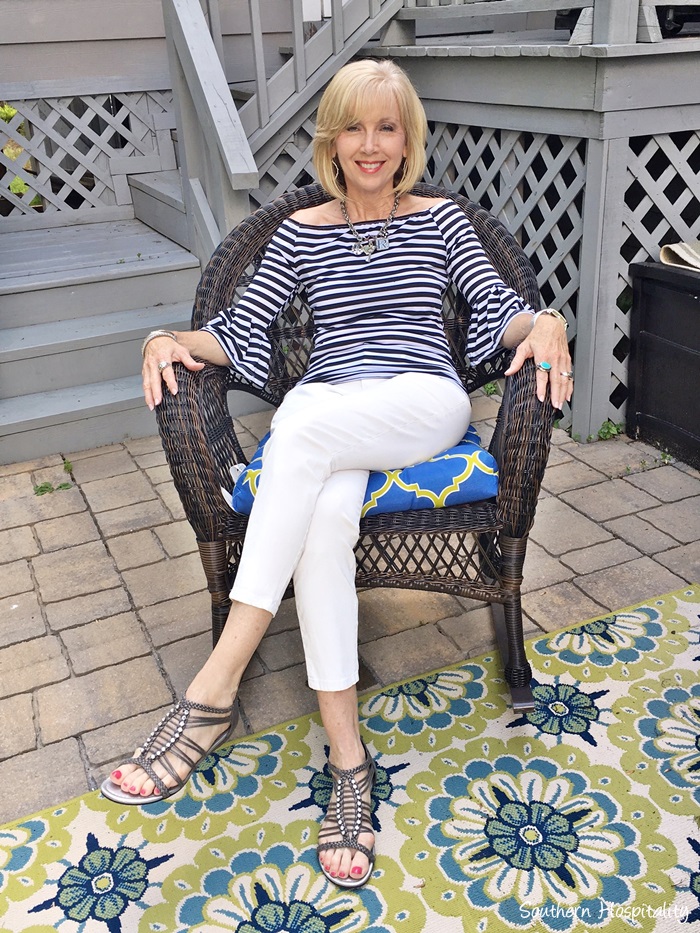 These gladiator sandals in a pewter color, I got last year and they are Guess Janger gladiator sandals.  I can't find this color anymore, but they are on this site in gold for a really good price.  That's the way it is with shoes, they change so fast and go out of stock from season to season, but I don't replace my shoes that often so will be wearing these for several summers, I'm sure.
I added my silver jewelry and was set to go.  Necklace, bracelet, watch, and earrings all came from the jewelry market at the Atlanta mart.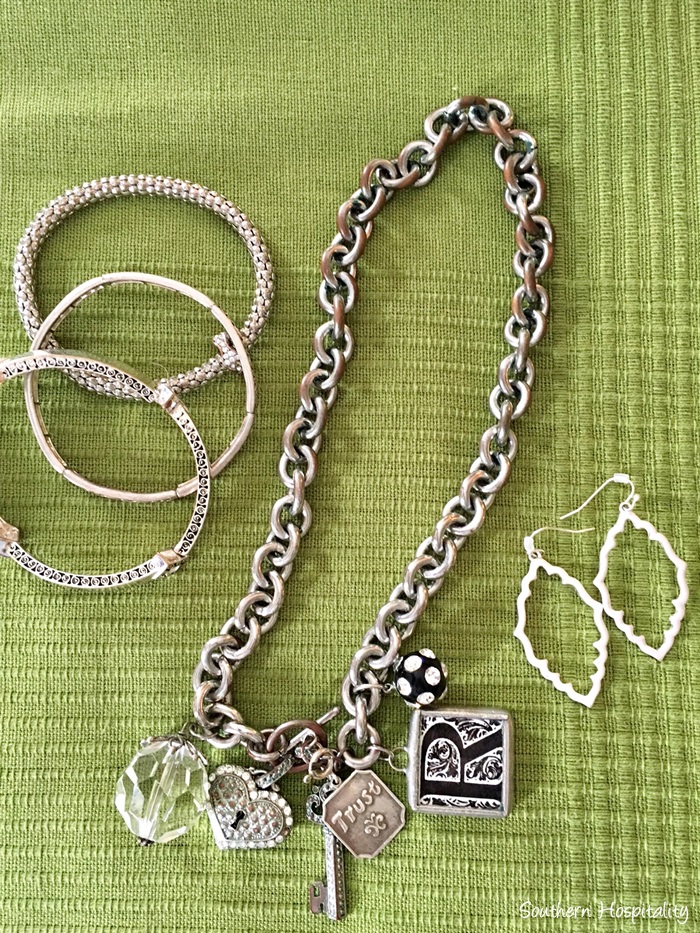 I've had this necklace with charms for several years now and it's starting to lose the silver tone, so I will have to look for a replacement and change it out eventually, but it doesn't show that much when on.
And that's a wrap on this week's Fashion over 50.  I hope you all have a wonderful week and I'll be back soon with reports on Moss Mountain farm!
Here are a few off the shoulder tops that I spotted and liked, so thought I'd share! I can see myself getting another off the shoulder top this summer too. Affiliate links used.

Don't Miss a Post, join my list!