It's been a busy few weeks of travel for me and I just got back from Nashville, where I was part of the House for Hope designer showhouse last weekend.  What a fun time that was, being part of this newly built modern farmhouse home and to be one of the designers that had a room in the house.  I shared my space last week, but will be back this Friday to share the entire house with you all, so stay tuned for that. It's sort of funny calling myself a designer, because I really only play one on my blog. 🙂
In the meantime, for Fashion over 50 today, I'm just sharing a couple of outfits I wore to Nashville. One was my travel day outfit and one the outfit I wore for the opening of the showhouse.  Not much new this week, but I'll share what I've been wearing.  The weather has been all over the place again. It was getting really warm, then we had a cold snap and it was really cold in Nashville for a couple of days and now back in Atlanta again, it's spring all over again. Spring is really showing her face around here these days with all the trees budding and warming up outside. My azaleas are already popping blooms and I can't wait to see what my hydrangeas are up to this year.  I love spring!
I think  you've seen all this before, except for the shoes.  These jeans are Rock and Republic, striped top is J. Crew and the cream faux fur sweater vest (Lisa International) came from the Atlanta Mart a couple of years ago. I sure got my money's worth out of it, it's great for layering over a shirt when it's a bit chilly out, but I don't want anything too heavy.  And I love that it has pockets.
Shoes are from Costco and are Cole Haan.  They are dark navy patent leather boat shoes and I thought they would be fun with jeans for a casual look.  They are pretty comfortable for my first time wearing them.
Cole Haan shoes from Amazon (affiliate link)
I've also shared these sort of wild snake skin print pants a couple of years ago. Got them at C Wonder when they were going out of business. Sweater is from TJ Maxx, from Michael Kors and those booties are Tom's.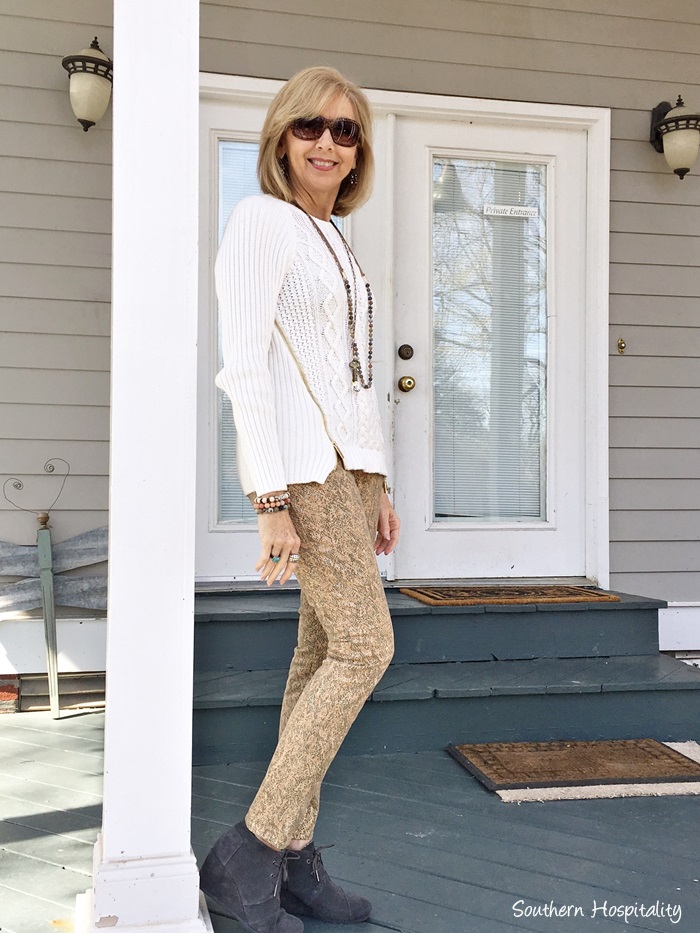 Fun for a casual, but a little funky look for the showhouse opening.
That's it for this week.  I'll have a few new things to share with you later on this month. In the meantime, I hope you are enjoying this early Spring weather and that it's warming up in your part of the world too!
Here are a few links that are the same as I'm wearing or similar.

Don't Miss a Post, join my list!