Today's fashion over 50 clothes are mostly all reruns from my closet, but it's what I'm wearing lately. Again, I don't get dressed up that much anymore and in the winter months, I'm all about warm and cozy, so sweaters, scarves and boots or booties are what I gravitate to the most.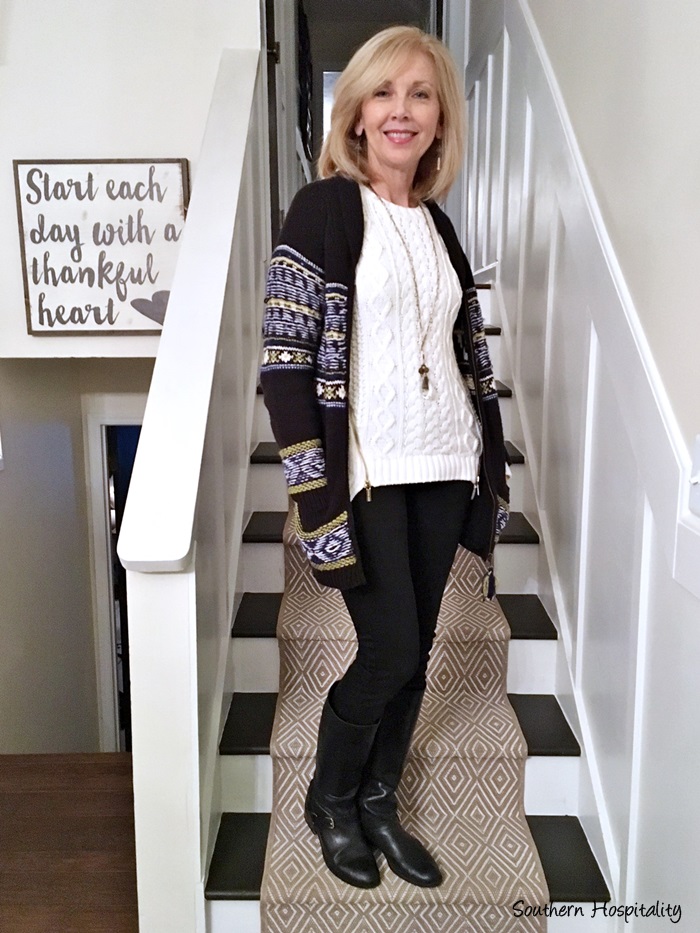 We didn't have big New Years Eve plans this year, since it was supposed to be rainy and cold, it just didn't make sense to do something outside.  We did plan for an Italian dinner out and were going to go by the square later on, but since both of us were dealing with colds and congestion, getting outside and walking around wasn't an option.  So we had a pretty quiet evening of Italian and football at home.  This is what I wore out to eat.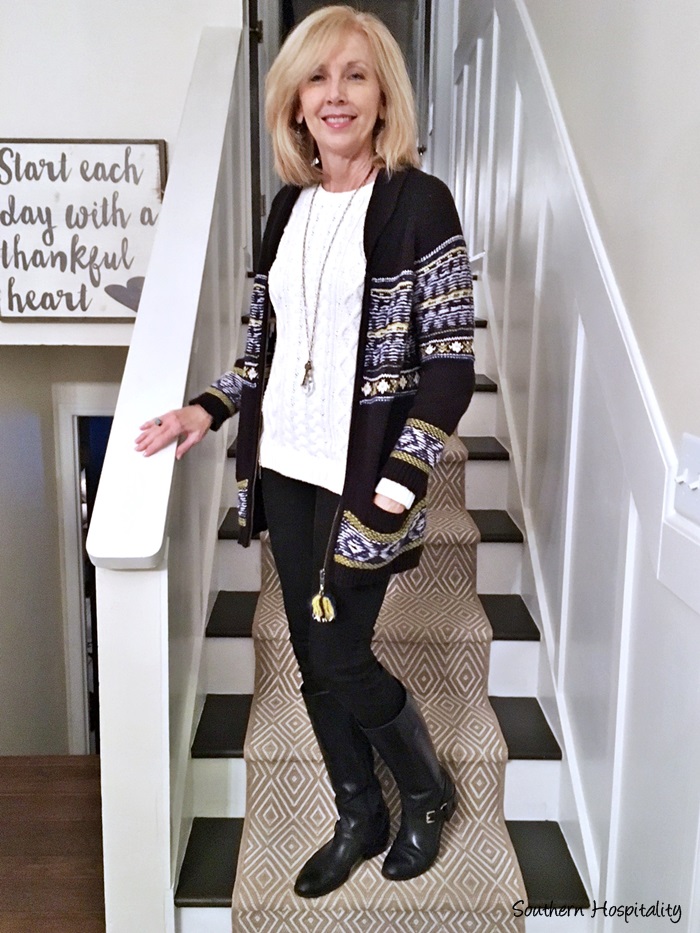 All of these pieces, I've had for a couple of years and so I can't link to them, but they are classic pieces that I've really enjoyed.  The white cable cotton sweater is Michael Kors from TJ Maxx and the black sweater is from Anthrolpologie, from their sale rack about 3 years ago.  Boots are Calvin Klein and the black stretchy skinny pants are also Calvin Klein and I found them at Costco.  They are good pants to wear tucked in with boots.
I'll share a few links at the bottom of similar items, since these are a few seasons old.
The next outfit, I wore over the weekend too and these are a new pair of dark wash skinny jeans that I ordered from Old Navy.  These are the high waisted ones I talked about in another post, the Rockstar skinny.  I'll share links at the bottom of the post with pics.
This high-low sweater is an old one too from Calvin Klein, found at TJ Maxx and I've loved this sweater over the years.  I paired it with a new black and white buffalo check infinity scarf I picked up before Christmas at a local boutique.
I love infinity scarves because you really don't have to think about how to tie them, just loop them over and pull the drapes until you like the way it looks.
Paired these jeans with my new black booties I shared with you recently too, from Sam Edelman. I am really loving these booties, they are comfortable and not too high. I'm still enjoying the bootie socks I found too and will link all of those below with pics, so you can easily find them.
That's what I've been wearing lately! How are things in your part of the world.  Are you getting cozy in sweaters and boots too?
Here are the same items or similar items to what I'm wearing (for the black and white scarf and Calvin Klein black pants), in case you want to take a look for yourself.  Thanks as always for stopping by!

Don't Miss a Post, join my list!