I'm back with a couple more recent outfits I've worn, since summer is heating up around here.  I tend to still wear jeans and colored denim all through the summer if I'm going to be inside most of the time.  If I'm outside, I'll wear shorts to stay cool and I'll share some of those later too.
I am just starting the self-tanner about now to get a little color going, since I do not bake in the sun anymore. My favorite at the moment is Loreal Sublime towelettes and they apply so easy and I haven't had a lot of problem with them streaking.  I'm still white in these pics, but you'll start seeing me with a little tan soon.  I'm fair skinned with freckles, so I tend to be much more careful with my sun exposure these days.
Amazon affiliate link:
L'Oreal Paris Sublime Bronze Self-Tanning Body Towelettes, 6 Count
These skinny black jeans are by Nine West and called Vintage Soho.  They are stretchy and very comfortable and I found them at Steinmart.  This top was also from Steinmart. They have really good sales and I often pick up things in there for not much money.  I can't find these online anywhere.
Similar Gap Jeans (affiliate link)
I think this top was $12 after the sale price.  It's flowy and long and the fabric is the kind that wash and wears really nice.  The brand is Sunny Leigh.  Here's a whole page from Steinmart of this brand, but I don't see this top anymore.  I'll definitely be looking for more tops like this.  The sandals are a couple of years old and came from Target. They are sort of a bronze metallic. 
This top has a couple of shades of blue so I wore more of my turquoise jewelry, which is plentiful in my jewelry organizer.  I have lots of it and never get tired of it.
The necklace is from a jewelry show a few years ago in TN and the earrings came from another set I have of turquoise. That top 3 stacking bracelets are from the All Inspired Boutique here in Atlanta that I've blogged about before.  I don't see this Grace one on the website any longer, but there are lots more.  The brighter turquoise bracelet came from Knot and Bow here in Atlanta too.  I love mixing up all my jewelry for a unique look.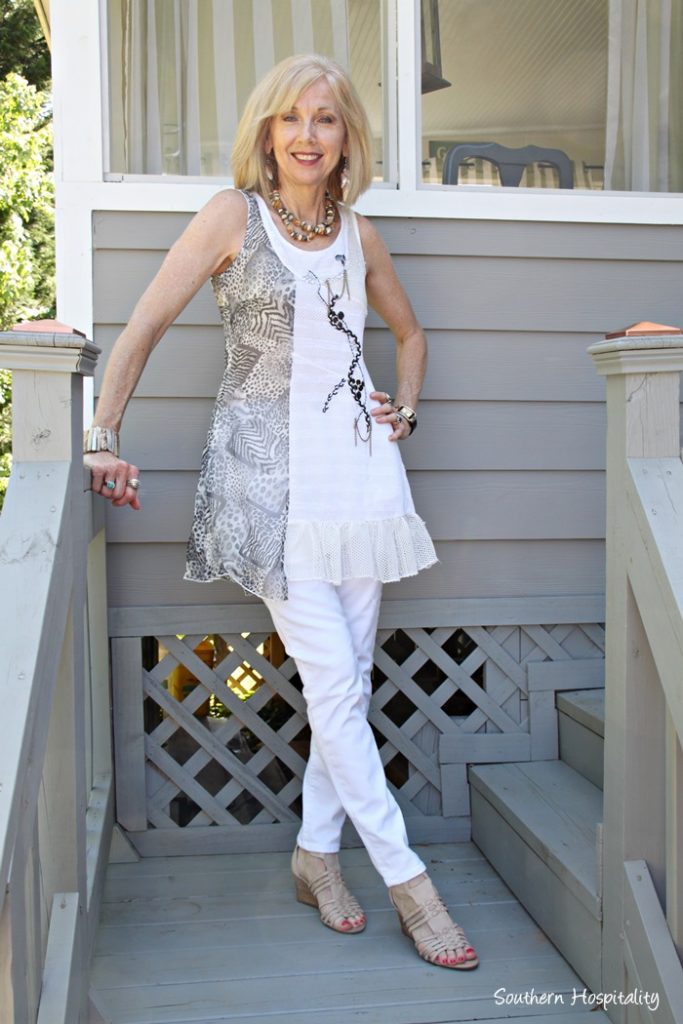 I did buy a new pair of white skinny jeans from Nordstrom online, after someone mentioned this brand in one of my fashion posts.  Kut from the Kloth (affiliate link) is the brand and they really do fit well.  You can't see the top of them here, but they are mid-rise and the waist band fits nice too, so I'm very happy with them. I had bought a pair from Banana Republic that were more expensive than these and they gapped at the waist. These are a winner for me and they have a 32″ inseam which works for flats or wedges on me.  It's hard to get all the folds out of skinny jeans when you're taking pics.
This long top I bought last summer at a boutique in downtown Woodstock, GA.  There are a few shops down there that we like to shop in and I found this one and it wasn't very expensive either, less than $40.  I've really enjoyed wearing it during the summer months with white jeans.  I opted for my tan leather sandals from TJ Maxx this time.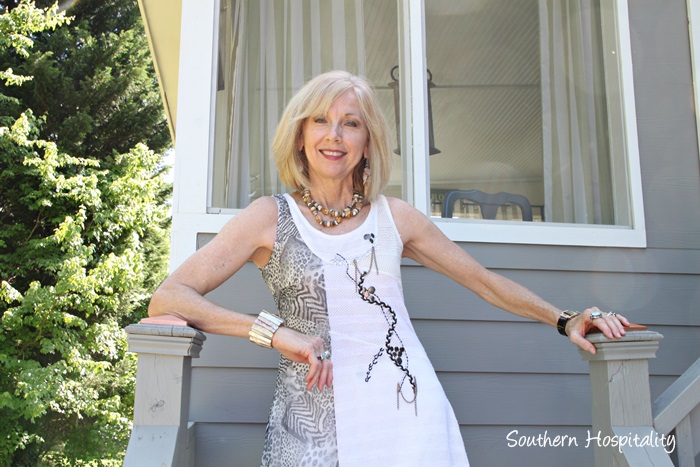 The top has some embellishments on the front which are very unique and I wore my mother of pearl jewelry with it.
Let me bring up my workout routine again, it's been awhile since I talked about that…..
I've mentioned before that I am a bit of a snob when it comes to my arms.  I have been diligently lifting weights to keep my arms toned for the last 30+ years and I'm happy that it's worked so well.  I usually get comments about my arms when I have on short sleeves, so that is my secret. I love toned biceps on women (and men!).  I refuse to let them get flabby. That's just one of my things.  I wrote this post almost 2 years ago about my workout routine.  So, if you missed that, go back and read it.  I am naturally tall and thin and got that from my dad, but I have been in an exercise routine since I was 25 years old that has served me well and now I'm 2 years from 60.  I don't work out as hard as I used to, but I keep moving no matter what. I do have way more aches and pains now that I have to deal with too.  Thought I'd throw that in again for those of you who think I sit around eating bonbons and stay slim.  I have put in the work to get here!  I get that question all the time when I post food pics. How do you stay so skinny?
We all have our best features and my arms are one of mine.  I'll show them off way more than I will my skinny legs. 🙂
I've showed  you some of this before, but I do love mother of pearl.  The bracelet came from a shop in Destin, FL, the earrings from a shop in Nashville and the necklace was a yardsale find.  Yes, you can find some great jewelry at yardsales. This one was $1!  Can't beat that, can you?
That's Fashion over 50 for today, hope you enjoyed!  I'll be sharing more of my friends along the way, since we all have different shapes and sizes.  My roommate, Rhonda, will be making a cameo appearance soon.  She's way shorter than me, petite and curvy and we are very opposite, but she likes fashion too, so I'll share some of her looks.
Don't Miss a Post, join my list!