The weather in Atlanta is finally cooperating and we have had some really nice weather lately. We really didn't have much of a winter this year and even though it wasn't that cold, it's been rainy which can be equally dreary. But now, the sun is out more often than not, so that's been nice. I think Spring is here and we are seeing lots of budding of trees and daffodils popping up.
I've got a couple more outfits for Fashion over 50 to share today that I wore on my dates recently. These are some that you've seen before, but maybe mixed up a little bit. It will soon be time to retire the sweaters and boots for the coming season.
These are Miss Me bootcut jeans that I've shared before and the Hinge fringe sweater that I've also shared before. Unfortunately, that sweater seems to be sold out from Nordstrom.  It's been fun to wear this year.
I wore it with a cable knit long sleeved sweater and added a colorful coral scarf that I found at the thriftstore for some added color.
Here's the video I've showed you all before on how I tie most of my scarves.  The coral one was already twisted like that when I bought it at the thriftstore for $5, but it's tied the same way as below.
I like coral and brown together.
Here's a fringe tunic top that I think is really cute too, from Selfie Couture (affiliate link).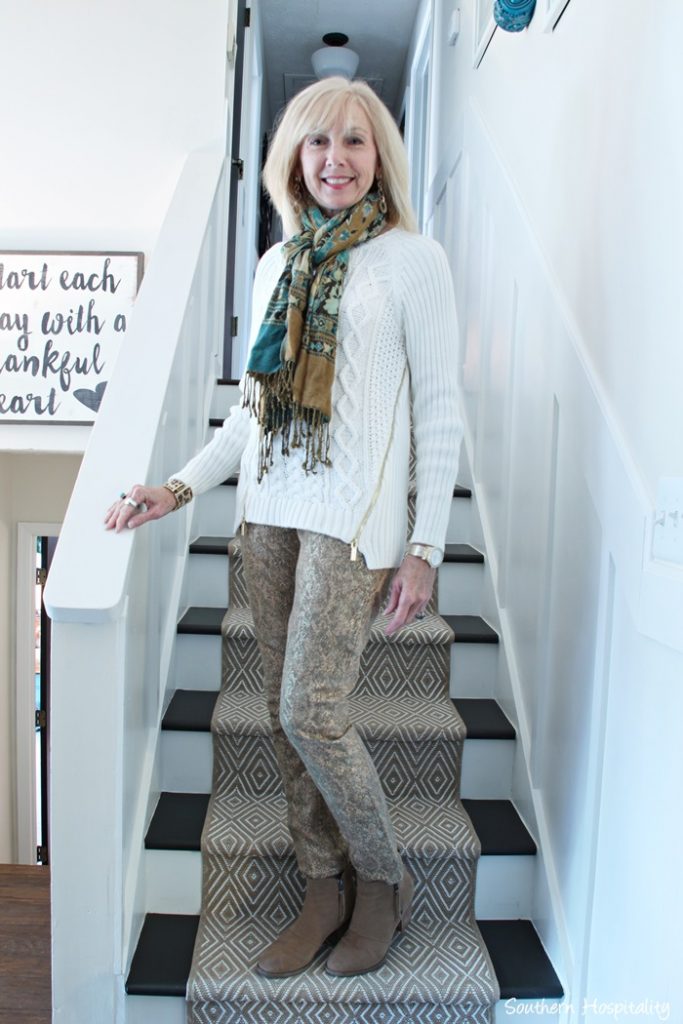 Next outfit you've seen before too, but it's worth another look.  I got these pants from C Wonder over a year ago (again, they are out of business, so sad). The fabric is snakeskin print with a little gold glimmer and they are fun to wear.
Here's a Michael Kors longer sweater with a cowl neck that's cute (affiliate link).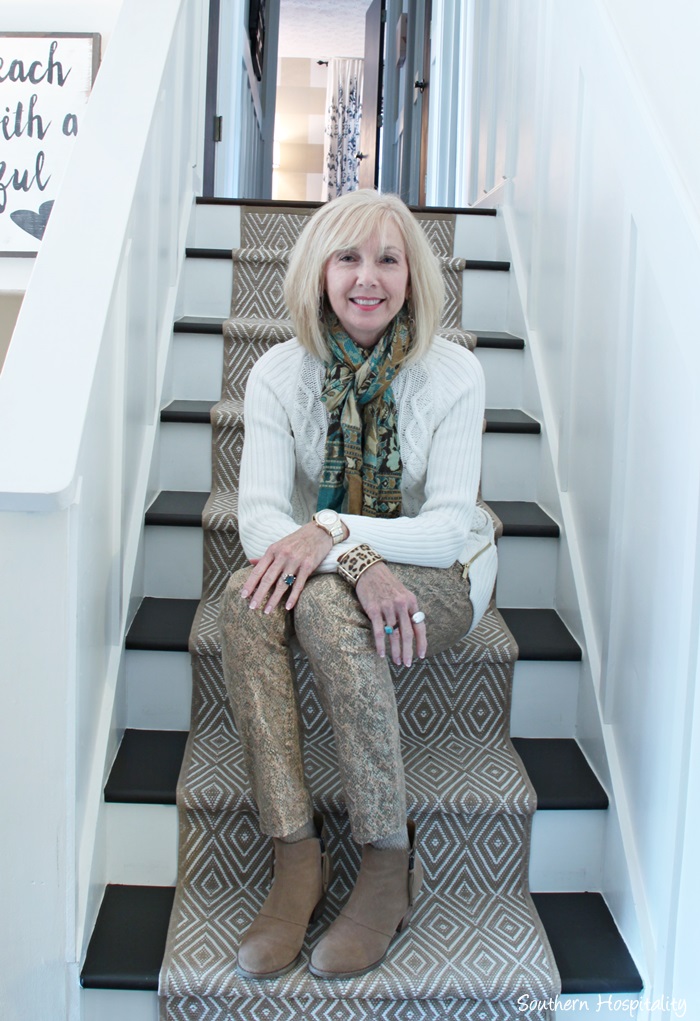 Since they are patterned, I opted for a cable knit cotton sweater from Michael Kors (and TJ Maxx), with my tan suede booties.  That cuff bracelet is from Accessory Concierge (affiliate link).  
The scarf adds some extra color and brings in teal to the mix and my vintage houndstooth coat (found in Savannah at an antiques store) I just love. It's been a fun piece to layer during the winter.
Last sweater and boots outfit, I picked up this soft fuzzy leopard long sweater from sample sales at the mart in January.  It's very cozy and soft and I like the graduated brown tones.
Brand of the sweater is Selfie Couture by Trendology.  I looked them up and this sweater is probably last season, because I can't find it online now.
I wore it with my new winter white cords by Kut from the Kloth Diana and an Express cotton sweater I've had forever.
Here's a link for the Petite white cords from Nordstrom (affiliate link).  The regular misses in white seem to be out of stock all over the web.  
It was a fun outfit to wear to the Franklin luncheon and I felt very stylish in it.  Thanks as always for stopping by and checking out Fashion over 50!
Don't Miss a Post, join my list!