I'm sharing a couple of sweaters I got in recently and you saw them in a previous post, but I didn't have them in yet, so here you go. I love them both and they are both from Banana Republic Factory. This time of year just calls for sweaters and these are going to be fun to wear. It's finally cooling off enough to get out the sweaters in Georgia!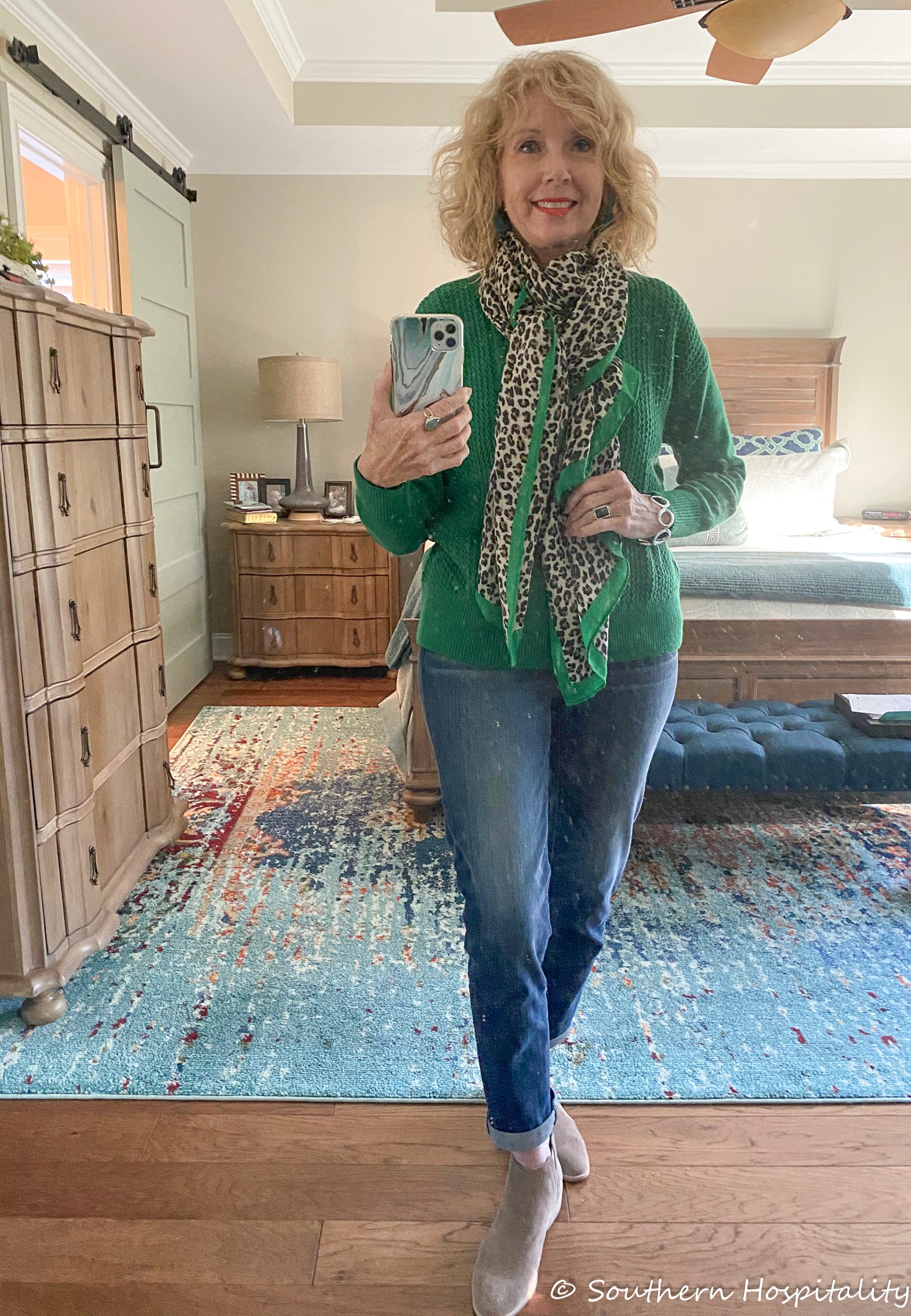 This green cable knit sweater is so cozy and soft and I love the kelly green color. I also ordered that scarf from Banana Republic Factory, but now it's no where on the website. I'm glad I scored it on clearance and it goes so well with this sweater. I have a couple of other things this same color green so it will be fun to mix things up. These jeans are no longer available either and are from White House Black Market. I'm really like them.
Both of these sweaters are still on super sale.
Here's a pair of booties from TJ Maxx for a good price too, same brand I'm wearing. This color is Blush.
Here's another Dolce Vita pair at TJ Maxx, great price.
Affiliate links used in this post, which means I earn a small commission if you buy through my links, so thank you for that! 
This black and white sweater is also a Banana Republic find and it's soft and not very heavy, so perfect for a cool day and it would look great with a jacket too. I bought these booties last year, Dolce Vita brand and this pair is very similar.
This top is more summery since it's linen, but I'll enjoy it next year. It's marked down as well.
I'm wearing some newGrace & Heart jewelry too and wanted to share these pieces with you. This stone is so pretty, a mossy green color agate and hematite stones that will be great with so many things. The two bracelets are different, but similar colors and these are brand new items I just got in. I love them.
This is a great time of year to be thinking about Christmas gifts (for yourself and friends/family!) so if you need any help with choosing some of these let me know.
My link is above and you can check out the catalog and new lookbook. I love mixing up this jewelry for so many looks. This necklace comes with a bracelet attached and I took off the bracelet and added this pretty mother of pearl pendant for a totally new look.
That long piece is a separate piece that can be worn as a bracelet, so I took that off and added the pendant. Very versatile piece and made of freshwater pearls.
There are some great specials below too, these prices are good through November 8th. This jewelry is sterling silver, brass, and semi-precious stones so you are investing in jewelry that will last and which also has a lifetime warranty. This is not costume jewelry.
There is also a Holiday Bonus with purchase so take a look at these below and see if you fall in love with something!
Here is a group of sweaters you might like, including the ones I'm wearing. I love a cozy sweater this time of year, don't you?
Don't Miss a Post, join my list!