Today will be a fun fashion over 50. I'm joining a couple of my over 50 blog friends today, who you will want to get to know if you don't know them already, so stay tuned for that. We are all sharing athleisure/workout clothing today so if you're looking to get back to exercising or if you've always exercised, you might be interested in today's post. I'm going to share my workout routine again with you.
I'm still going to the gym and have shared a few posts over the years about how I exercise and stay in shape. At 65, it's more important than ever to keep moving and get up and do something to keep active and fit. So I'm going to be your encourager today to keep at it! We can't stop moving, that's one thing I've learned over the years.
Workout clothes are very important too and I've got a collection of clothing that I've had over the years. It was time to add a few new things to my workout clothing, so I found some nice items on Amazon. I love boot cut yoga pants and have had a hard time finding those. This pair I have on I found at TJ Maxx a few years ago and they are by Adrienne Vittadini, but I haven't been able to find anymore of them, so I'm on the hunt for another pair. Bootcut pants are more flattering on me, I think so I wear these instead of just plain leggings. They feel good on and I can wear them to run errands as well as to the gym.
I found 2 tops I really like on Amazon and they were reasonably prices. This fuschia pink one is cute! I got a size Medium in this one after reading the reviews. Affiliate links used below!
It's longer in the back, so very flattering and I love the cut in on the shoulders. You can see the back of this one on Amazon and in the above pic on the link. The fabric is soft and flowy.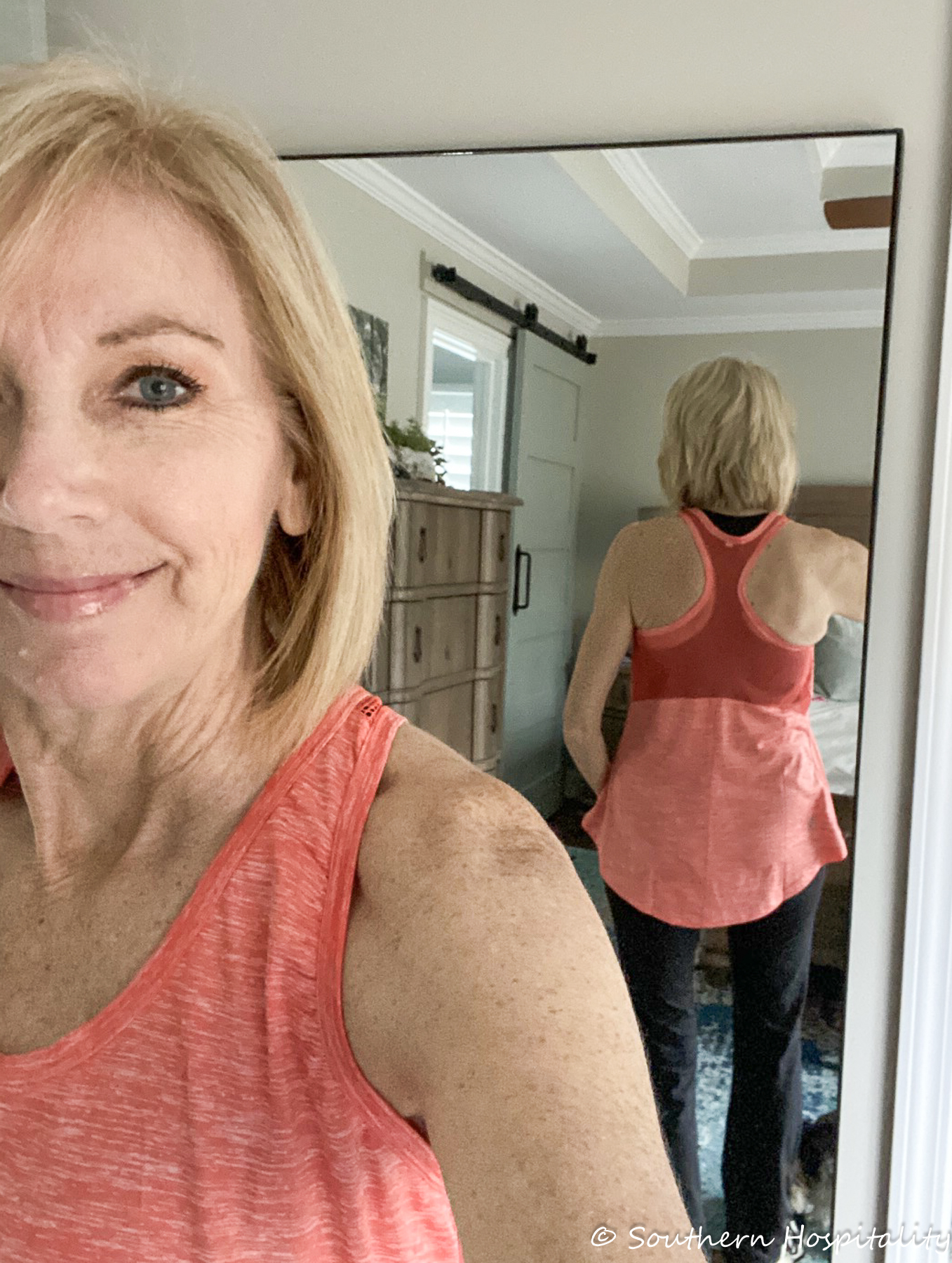 This one is cute too with mesh in the back. Here's that one. I really love both of them.
Daisy is posing with me. I also got a couple of these Hanes sports bras and they are a good buy. I have black and white, size Small.
I'm also trying these flare yoga pants, getting a Medium with 31″ inseam, so I can let you know how I like them. Reviews are good.
I haven't shared my workout routine lately, but I'm still working out at the gym. I don't hit it as hard as I used to, but I do still lift weights and do upper body and a couple of leg exercises. I also ride the recumbent bike for about 30 minutes 3 times a week. I use a 20 lb. barbell now for bicep curls and chest press, as well as I do dead lifts with this bar too.
I use a 5 lb. weight for tricep curls and do 3 sets of 10. Here's a workout post I did a few years ago and I basically do the same routine that I shared back then, but I use a 20 lb. bar now instead of a 30 lb. bar. I don't try to lift heavy weights, but lifting weights is a great way to keep your upper body in shape. I've been lifting weights since I was 25 and I still love toned arms. The skin isn't as firm as it used to be but at least I still have some muscle tone.
I also do this back pull machine which is good for strengthening the back muscles.
I do a couple of leg exercises, the quadricep machine and hamstring machine which works the backside of the leg. I either walk on the treadmill or ride the recumbent bike. Mark and I still have our bikes and I hope this year we will get out and ride more. It was such a busy year last year that we didn't get to ride as much as I wanted to, but we need to get back to it again this year. We have such a great place to ride bikes around our house, to the lake around the historic district in town, as well as downtown and Logan Farm park. We can easily ride 10 miles if we choose too and see some beautiful scenery along the way too.
So that's my encouragement again on working out. We all have to think about getting up and moving all the time. It's easy for me to get lazy too and I have to make myself get out and walk or do something. I have body aches and joint pain. It's so easy to stop and not stay active, but I feel so much better when I get up and do something. I keep my gym membership so I can workout year round and it's very reasonable. It makes me get dressed and leave the house to work out which is what I really need. I've tried to do stretching at home on a mat and I don't do all that well at self-motivation so getting out of the house works best for me. I also try to walk with girlfriends at the local park pretty often. That's a great way to socialize, catch up and get our steps in.
I think the biggest thing I can share about exercise is…get up and do something! It's so important to just keep moving and we all need to do it. I've watched the difference in people who stay active and keep moving and those who do not. The ones who are sedentary age much faster than those who get regular exercise. So don't be a couch potato, get up, move and do something to keep your energy level up and your muscle tone intact! My parents are great role models for moving the body. They both kept moving and staying active all the way through their 80's and it has really helped them get to their 90's and doing pretty well.
Tell me about your exercise routine. Are you working out regularly or do you need to get motivated? 
I linked several of these items above from Amazon, but here are a few other things. I've got the top pair of Adidas shoes and I'm on the hunt for another pair of Adidas Cloudfoam. They are so comfortable. I wear these knee length bike type shorts under my yoga pants for a smooth line. These aren't the exact ones I have but they are similar. And I love the aqua workout set from Walmart. That would be very versatile to have.
There's a lady I just started following on Instagram and she's 75 years old and just started lifting weights in the last 5 or 6 years, I think. Her name is Joan and she's pretty amazing, so check out her Instagram page, Train with Joan. She's amazing and you should see the heavy weights she lifts. So much more than I do!
Don't miss my friends below! Please stop by and visit them and see the athletic wear they are sharing too. I know you'll be inspired! 
Cindy – Cindy Hattersley Design
Jennifer – A Well Styled Life
Don't Miss a Post, join my list!