I'm back for Fashion over 50 today and sharing an outfit that I wore to church last week. It's a simple look of black cardigan, black pants and a sassy leopard tank top. You know I love me some leopard and adding little touches in your wardrobe is a way to have some fun. It was a pretty mild day that day, so for those wondering if my feet get cold in these booties, no not usually. I wear bootie socks with them and that definitely helps. I don't mind a little sliver of skin showing. This top is Holiday ready too from the Cassie Hi Sugarplum collection.
I felt good in this and it's very cozy. The shoes are Sam Edelman and I've had them a few years. Jewelry is a mix of things, but black and neutral.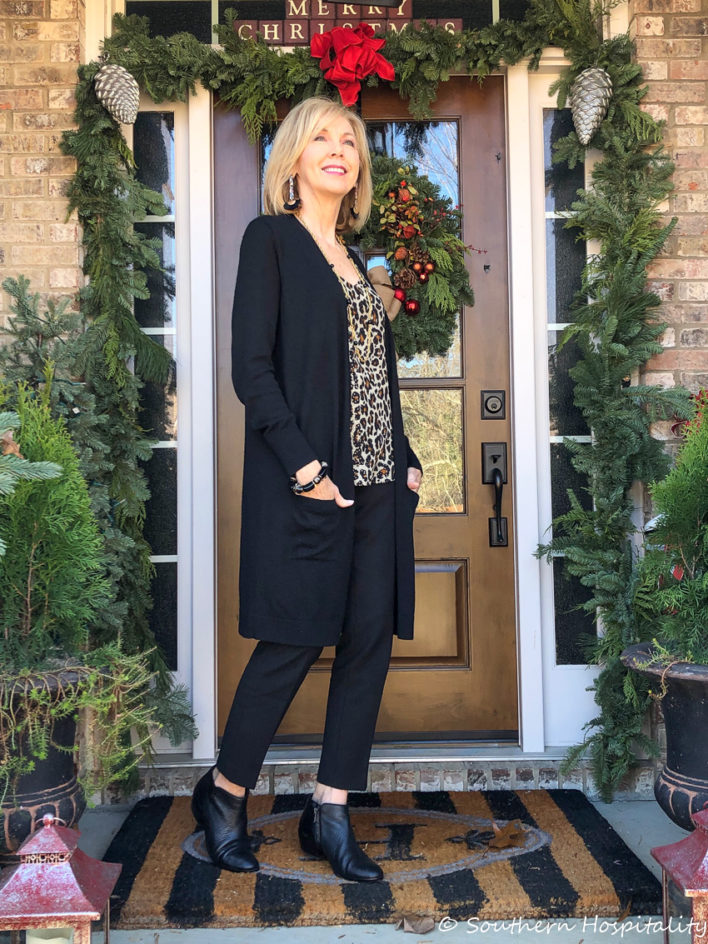 Cardigans are so versatile this time of year. You can layer them heavier for colder weather or wear a sleeveless top like I did with this one.
This is the Cassie Hi Sugarplum leopard tank and it's so cute. I love the fabric, with little gold dots it can be dressed up or down. I've linked it below. It runs a tad large, so size down one if you get it. I got a Small but could have used an XS. There are lots of sizes left.
Here are some similar cardigans to the one I have. Mine came from Nordstrom over a year ago and I have so enjoyed it. Those pants I've linked are from Chico's and similar to the ones I'm wearing.

Don't Miss a Post, join my list!