Hey friends! You all were so great with your comments and feedback on my laundry room renovation. It's so fun to come up with ideas and then get validation of it all and that's just what you all provided. I was so excited to share that space with y'all and still love that feeling of sharing and inspiring even after 12 years of blogging! I love seeing what everyone out there is doing in their homes too and enjoy the inspiration that blogs bring to all of us.
Today's Fashion over 50 is another repeat. I've shared this black and white houndstooth cape before, but it's fun to share again.
I've had this one for at least 3 years now and it's a great layering piece on those chilly but not freezing days we get this time of year. I'm wearing it over a Spense black sweater dress that I got from thredUP (affiliate link).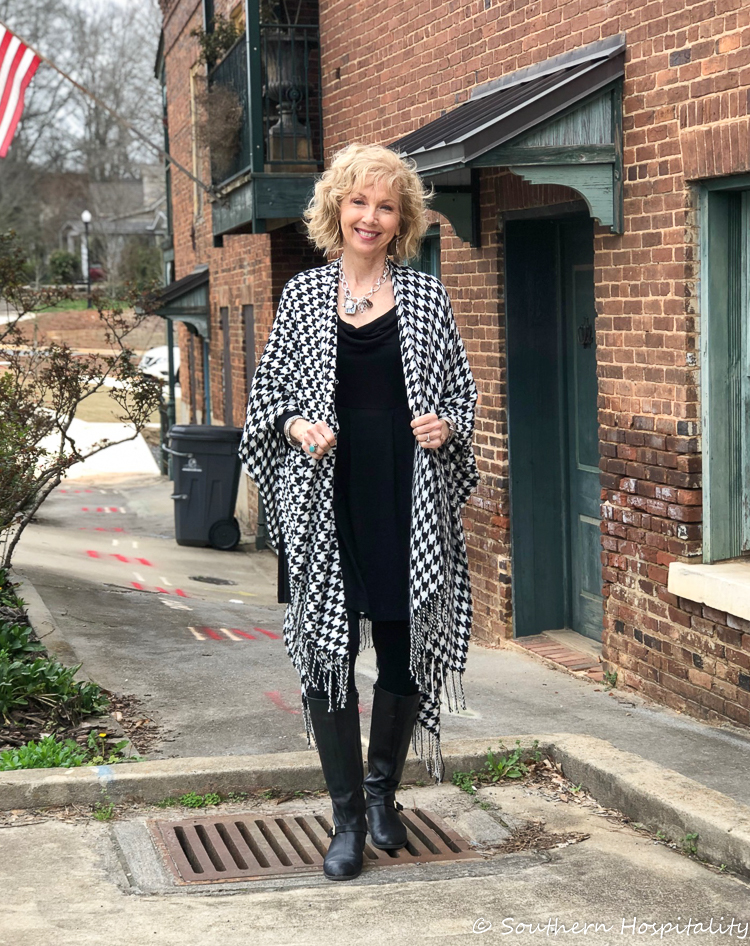 I added silver jewelry and my black leggings and boots and I always love the combo of black and white.
Our downtown Acworth is a great backdrop for fashion photos.
I got this necklace years ago at the Mart here in Atlanta and recently changed out the necklace part for a new one, since the old one was turning after several years. I just moved over the charms to the new necklace.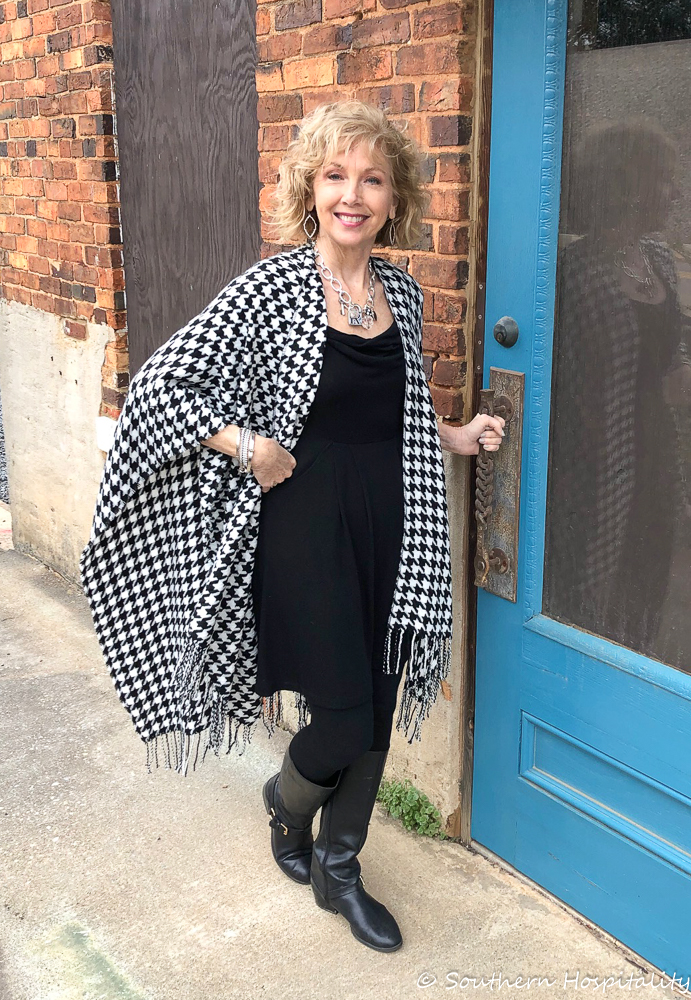 It's a comfy and cozy outfit that I wore to church last Sunday.
This sweater dress is comfy too, with a bit of a draped neckline. Plus this cape is a great way to pull for AL football. Roll Tide!
It was fun to pose in downtown Acworth and get a few good shots. Mark is my always my wonderful photographer!
One more thing I've been meaning to share with y'all is this Conair Steamer that I got after Christmas. I really hate ironing and had heard good things about these steamers so I picked this one up at Target, Conair Extreme Steam. It works so well and I love it!
Here's the affiliate link if you're interested. I've been so pleased with it, be sure to use distilled water as the instructions say, I'm sure to keep it clean. I steamed a cotton blouse in about 3 minutes, so easy. I think my ironing days are over! And it will come in handy for pillows, drapes and more.
Here are a few clothing items I found you might be interested in (affiliate links). Remember with tights/leggings and boots, dresses can be a little shorter!
Taylor Bell Sleeve Sweater Dress
These Ralph Lauren riding boots are almost just like mine (also Ralph Lauren) and on deep clearance if they have your size! 
Ralph Lauren boots
Don't Miss a Post, join my list!