I just can't get enough of black and white as you've probably noticed! You keep seeing it over and over on here, but it's true. I hardly ever meet a black and white print I don't love. I found this new top recently at TJ Maxx and picked it up. It's a great layering piece for summer since it's sleeveless.
I wore this to church recently with black pants from White House Black Market that I've had awhile. The top is by Chaus. Shoes are Ellen Tracy and I've had them for years. I like the tie front on the top, gives it a little bit of interest.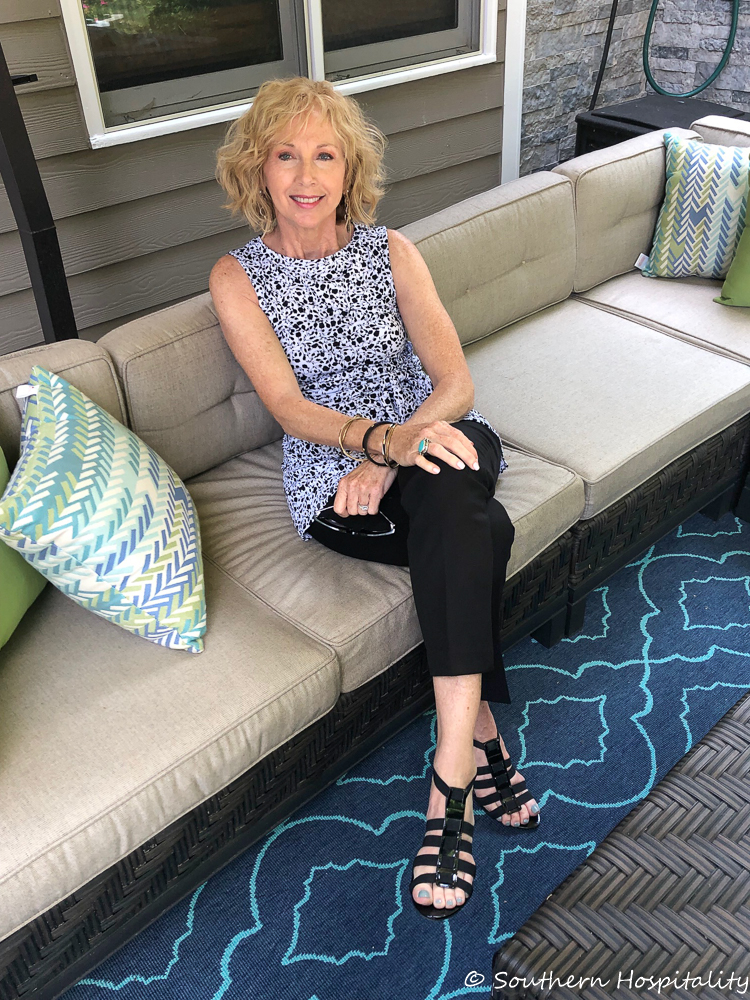 Very comfortable outfit for summer. Black and white is always right!
The top is slightly longer in the back than front and it's made of a knit fabric which I enjoy too. Easy to laundry and hang up.
And that's another black and white outfit from me! Thank you all for stopping by on Fashion over 50 posts. Sometimes it's an effort to get dressed and take pics, but I'm usually dressed half way decent at least once or twice a week. The other days, forget it! I'm very casual at home in whatever I can wear to stay cool. Especially on bike riding days!
Here are a few Chaus tops I found online, but not the exact one I found at TJ Maxx. I have always enjoyed this brand over the years. Also I have this pair of Andrew Marc black pants that I bought at Costco and they are a nice slim pant for the money. I found these on Amazon (affiliate links used):
Don't Miss a Post, join my list!