Hi there friends! It's time for another Fashion over 50. I love it when you all stop by my blog and I'm happy to come up with ideas on what I'm wearing to hopefully give you inspiration for your own closet. As I've mentioned often, I don't get new clothes all the time, but do add a few pieces here and there during spring and fall seasons.
Before I get started today, I want to introduce you to a new friend, Tania, with 50 is Not Old. She's doing a great job on her blog sharing fashion tips and styling clothes. She lives in Virginia with her husband, is a mom and grandmother to 5 grandchildren. Her style in her words is "classic meets trendy" and she loves mixing high-low fashion. She's also a Christmas nut and is known to leave her Christmas tree up all year long! Now that's a good way to save time! Tania has been blogging since 2015, so I hope you'll go over and check out her blog and Instagram. She's doing a great job sharing her fashion sense!
Today's outfit is an oldie and I've probably shared both pieces before, but this is a standard look for summer that I would wear for a casual day out. August is hot as you all know if you're in the South too. It's a month that we sometimes wish would go fast, but it's part of summer so we have to take it as it comes.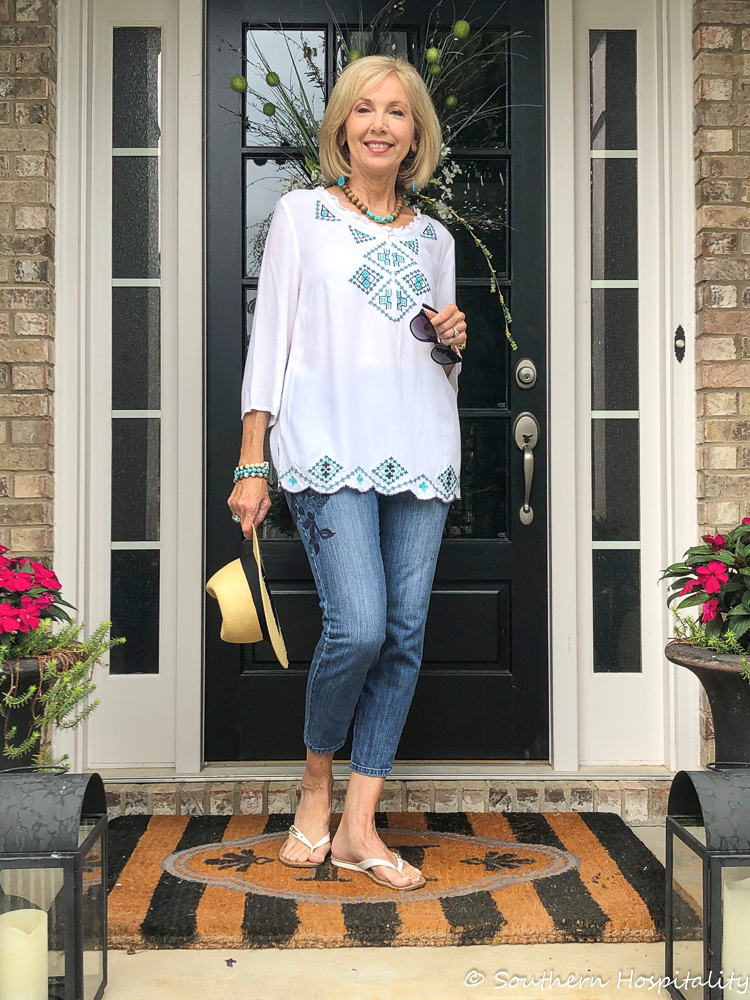 This boho top I've had for several years now and I think I picked this up from the mart a long time ago. It's still going strong and I love a good boho top.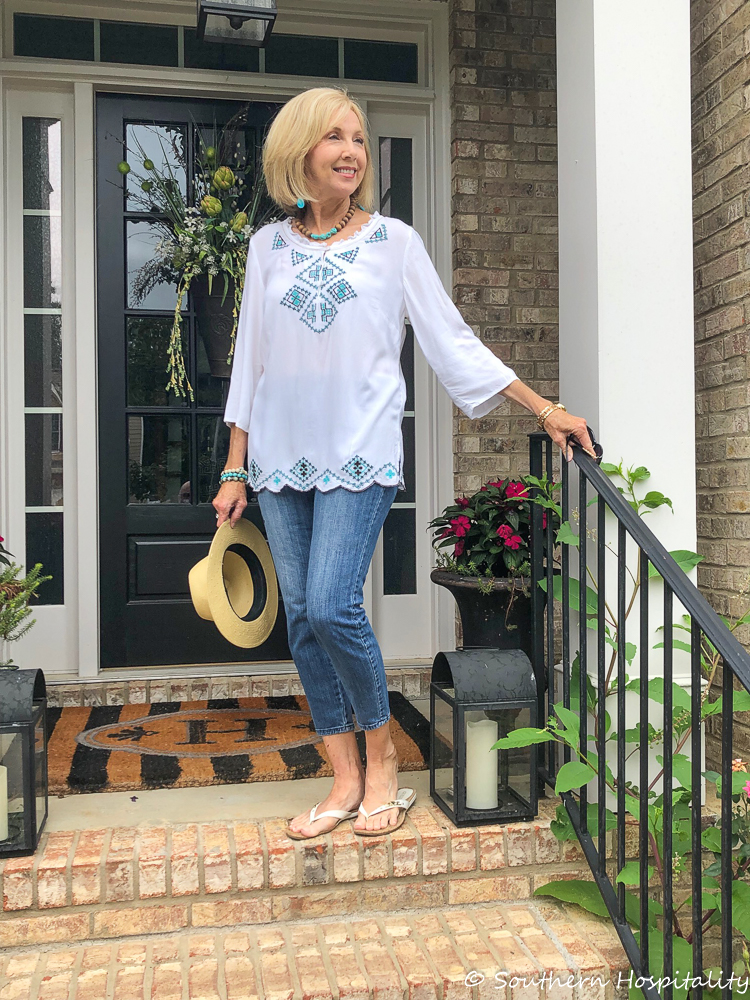 This one washes and wears nicely and has my fave color of turquoise woven through it as well as brown.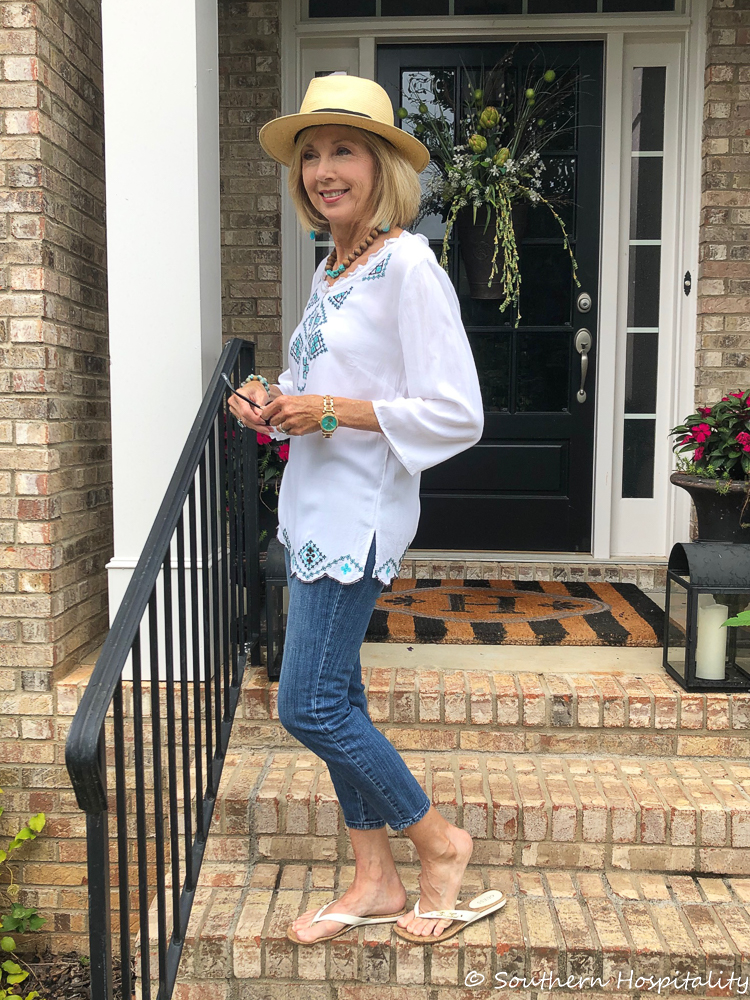 I added it to these cropped jeans that I bought from Kohls several years ago. They have an embroidered flower on the leg and the brand is Elle.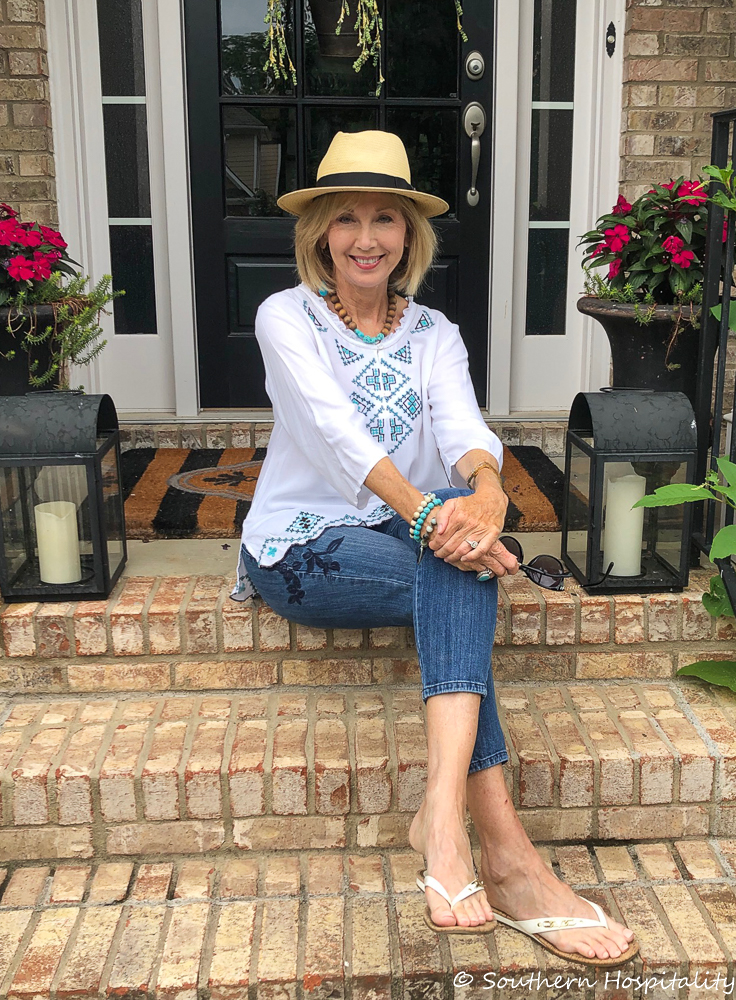 Sliding on simple flip flops is an easy summer look. These are from Guess and I bought them at least 2 years ago. They have a gold metal detail on them to sort of dress them up a bit with a cork foot pad.
Simple jewelry completes this look, pieces I have had for a few years as well. I'm all about wearing what I have and mixing and matching pieces in my closet for a new look. I often don't wear things the same way twice. Adding my straw hat gives a fun look as well!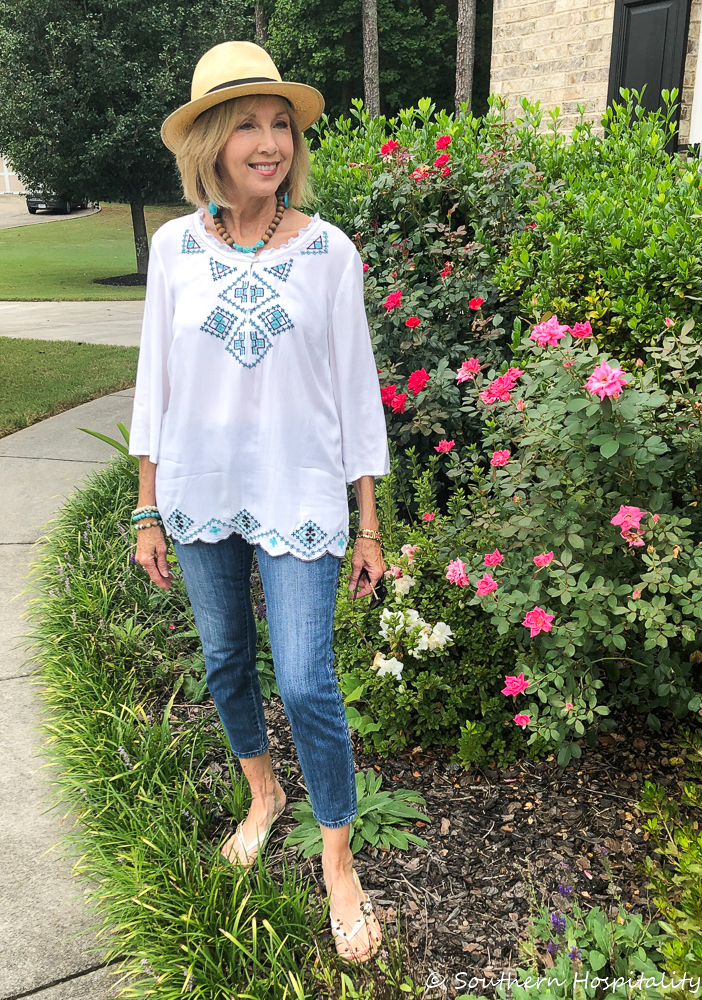 And that's a look at cropped jeans and a white boho top. Nothing over the top special, but just a nice casual summer look. Sometimes we want to wear sleeves if we are going to be inside in the air conditioning. Otherwise, you'll find me in sleeveless if I'm going to be outside for an extended time.
This month is especially hot so I'm always looking at ways to beat the heat in what I wear, how about you?
Don't forget to stop by Tania's blog at 50 is Not Old and check out her fashion ideas too! I think you'll enjoy her blog! 
There are some great end of summer sales going on, so I've rounded up a few things that are similar (affiliate links used):

Don't Miss a Post, join my list!