I'm really enjoying sharing these fashion posts with all of you and judging from the response I've gotten, you all are loving them too!  So, thanks for that.  I appreciate your enthusiastic comments.
One of my favorite things to wear in the winter is boots and dresses with tights/leggings.  It feels so comfortable and yet sweaters and tunics can be dressed up with jewelry and scarves for extra elegance.  I don't have a lot of really dressy clothes in my closet anymore, since I'm no longer working in the Corporate world,  but I still like to look stylish for every day looks.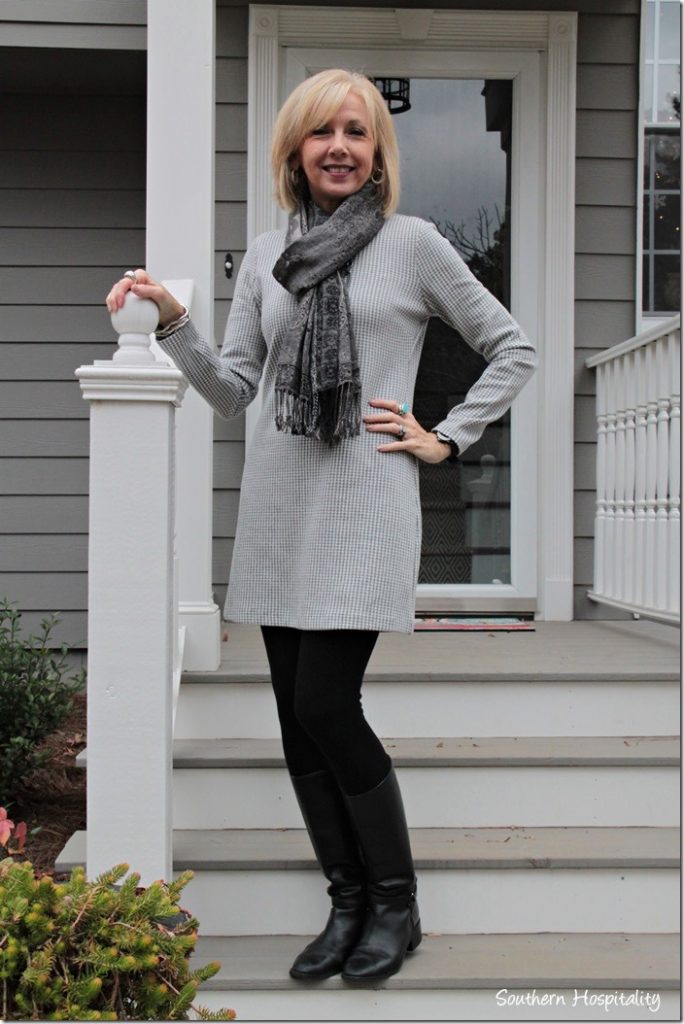 I would wear this out on a date (yes, I still date!) or for a weekend night out with the girls.  It's a versatile look that can work for many occasions.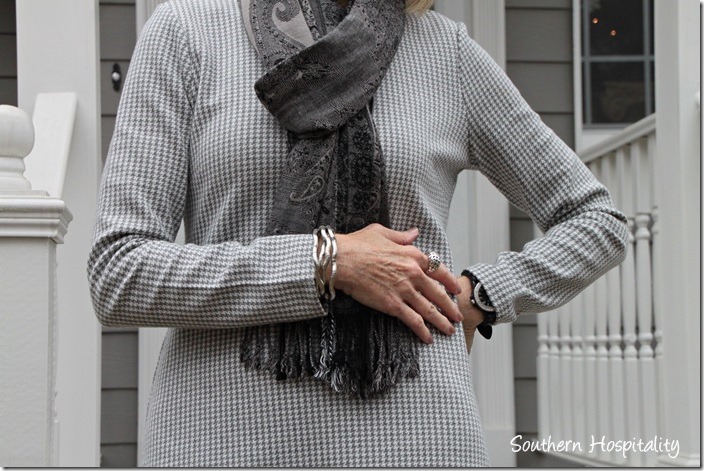 This tunic dress came from C Wonder, a shop I found right before Christmas. I found out that the ex  of Tori Burch started this store and the quality is really great.  They started in NYC and have stores all over the country now.
They have a store here in our Ridgewalk outlet mall and when my niece shopped there over the Holidays and found out they were closing, I went there and scored big time on some great pieces to add to my wardrobe.  This gray and white houndstooth dress is definitely not something I would wear as a dress by itself, but with leggings and boots, it works for me.  Lots of dresses out there that are meant as dresses on someone shorter can be a tunic on me.
My yardsale black riding boots get a lot of use.  I actually examined them recently and found that they are starting to come apart at the toe and sole, so I was on the lookout for a pair to replace them and found some before Christmas at DSW Shoes.
With a gray patterned scarf, this outfit is an easy look that can go lots of places.  I would only wear this tunic with thick leggings that cover up the legs well.  I bought a pair of thick, sweater-like leggings at TJ Maxx and those are great for winter months.  You can find lots of great things to mix in at TJ Maxx and it's one of my fave shopping spots.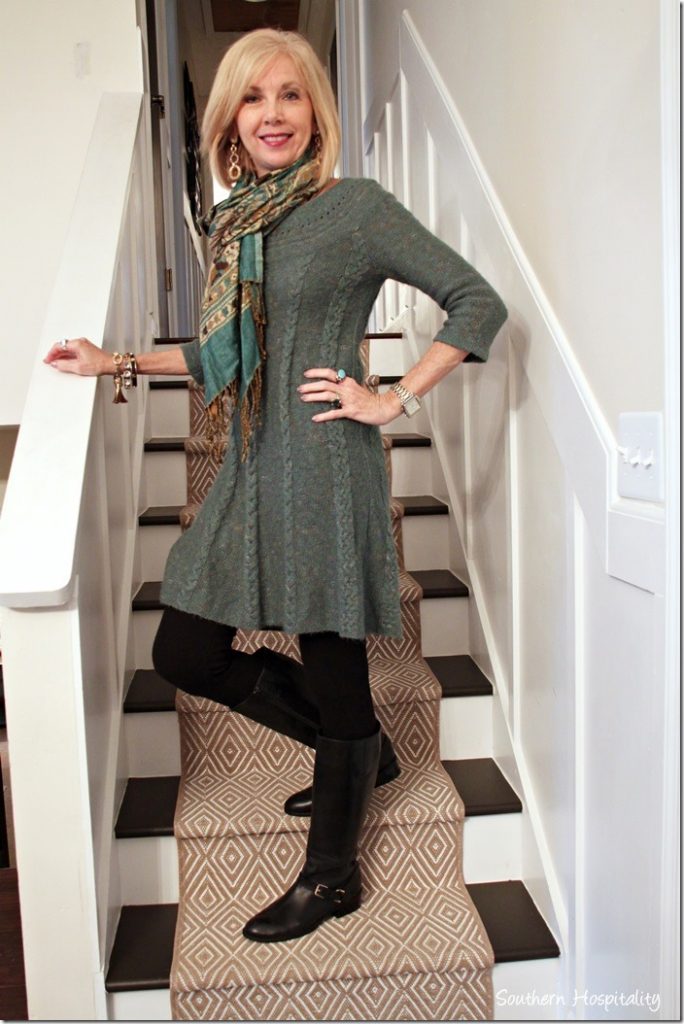 Here's another sweater dress look and this teal sweater dress came from TJ Maxx too.  These are my new boots that came from DSW Shoes.
They are by Ralph Lauren and were a lot more than $5 (like my previous yardsale boots), but I figure they will  last me many seasons. They are all leather and made well and they are very comfortable. I like the gold hardware they have too.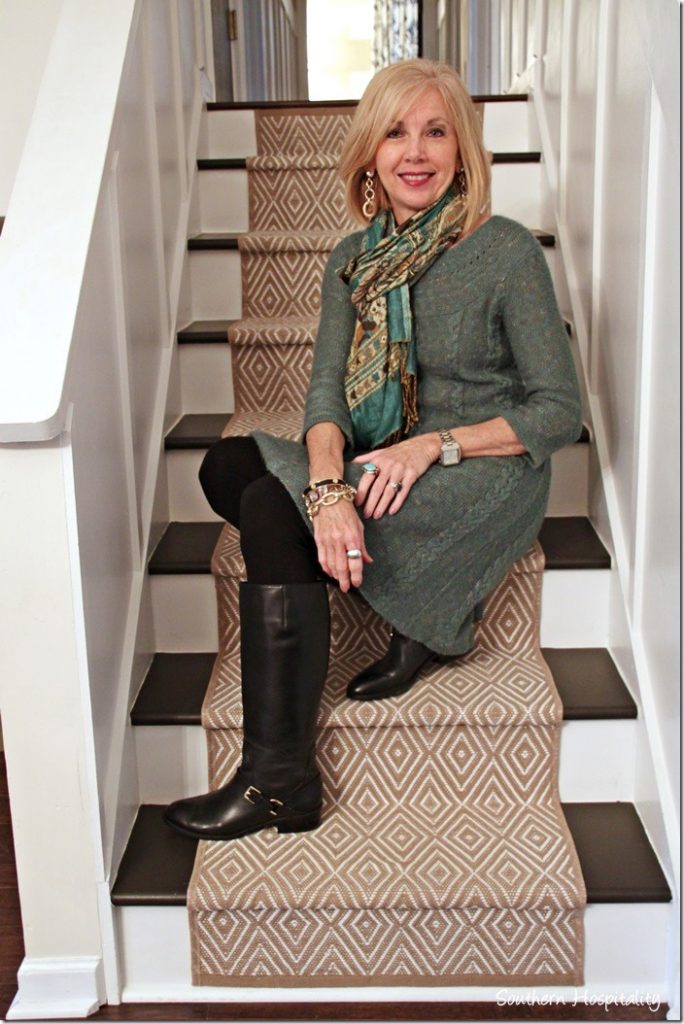 This look is casual, but a little dressy too for winter outings.  I wore this to church and a baby shower.  Add a patterned scarf and some blingy gold jewelry and that is all that's needed.
Here's a closer look at some of my favorite jewelry right now that I shared in the last fashion post too.   I mentioned that I'm all about gold again and these are 2 bracelets from Wrist Soiree that I dearly love, the clear jeweled one and the tassel link.  The black and gold bangle was from my C Wonder shopping spree and was $5.  Love the 3 of these layered together.
And here are 2 pair of my gold earrings that I love too and recently picked up.  I found the top round links at Saks 5th Ave. outlet and the bottom pair came from the Country Living fair.  The two-toned big watch is from Everyday Icing, my friend, Kimba's flash sale site on Facebook. If you sign up on the sidebar, you'll get notices of when they do their sales.  She has some nice things that are inexpensive and trendy.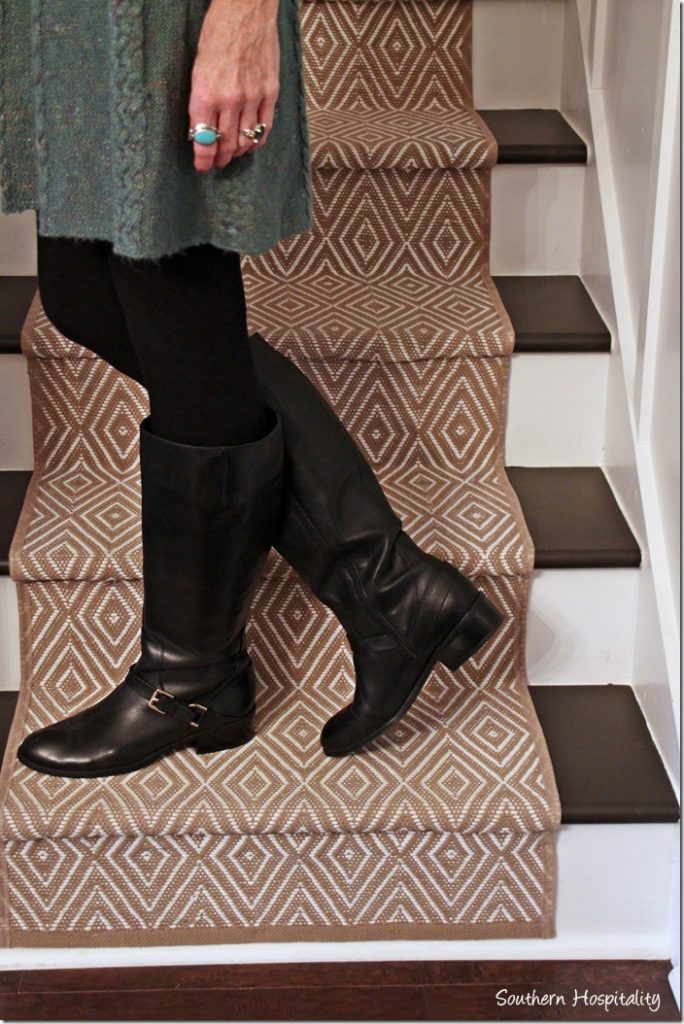 Another look at the boots on.
I definitely love big gold jewelry and these pieces are some of my faves at the moment.  I will be switching back and forth between gold and silver and have plenty of both.
My current favorite purse is also from TJ Maxx.  It's an all leather Calvin Klein in black, tan and white and is a very versatile bag.  TJ Maxx has lots of great buys on purses too, much less than the department stores.  I'm not a complete purse-aholic, but love collecting good leather purses that I can switch out from season to season.  I tend to carry purses for a few  months, then change them out for another one.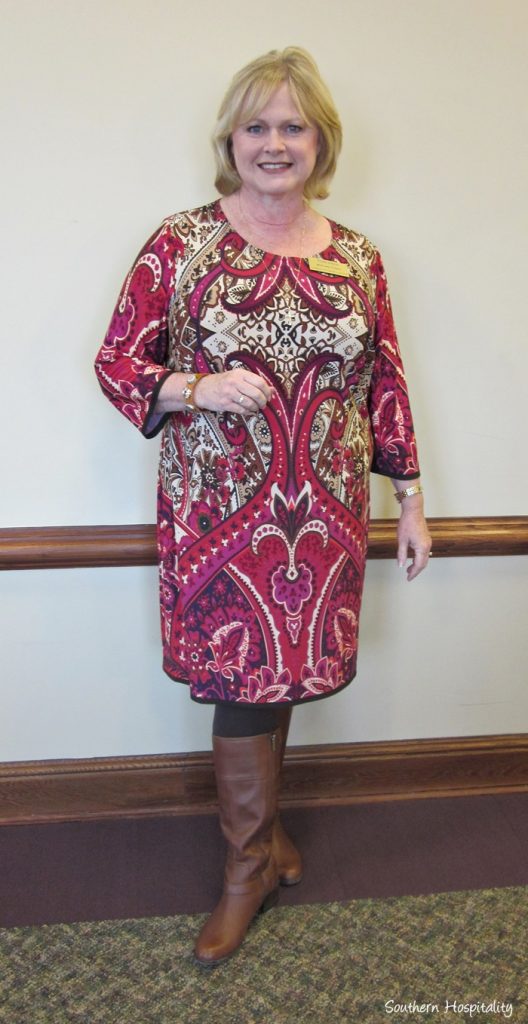 I wanted to share my friend, Vicki, with you too. Vicki and I went to high school together and have been friends since we were 15.  Our birthdays are a week apart and we are exactly the same age.  She recently tried out the dress and boots combo with great results and got rave reviews when she wore this to church recently.  Vicki has a few extra pounds and this is a slimming look for her, she looks great! She bought this dress at Belk.  By the way, Vicki is also 5'8″, just like me.  She is on a program to lose some pounds and I'm excited to watch her drop some weight.  I'll be cheering her on!
She wanted to share this jewelry cuff with you all too, called Ginger Snaps. This was a jewelry trend I had never seen before, but some shops around here are carrying them.  Have you seen them?  Those round discs snap off and you can put together so many different looks by snapping them on and off. I will have to check these out!
I hope you enjoyed this fashion post on wearing  dresses and boots, one of my favorite looks this time of year!  I'm really enjoying sharing these fashion posts and hope you all are enjoying them too.
Linking to Lindsay's What I Wore Wednesday.  
If you've missed any of my fashion and beauty posts and want to catch up, you can find them all under that link
Don't Miss a Post, join my list!