You all have probably figured out that I love boots and sweaters during the Winter months.  There's nothing more cozy and comfortable than boots, jeans, and sweaters when there's a chill in the air. Well, we haven't had much of a chill in the air lately, it's been downright balmy here in Atlanta.  It definitely didn't feel like Christmas weather, with rain and 70's, but we had a wonderful Christmas with family.  This week is a little slow going, so I'll be posting less this week, but should be back to normal next week.
I did get a new sweater recently, from Nordstrom, in this pretty rusty red and I really do like it.  I don't usually love cowl necks or turtlenecks if they are tight on the neck, but this one drapes nicely and doesn't bother me.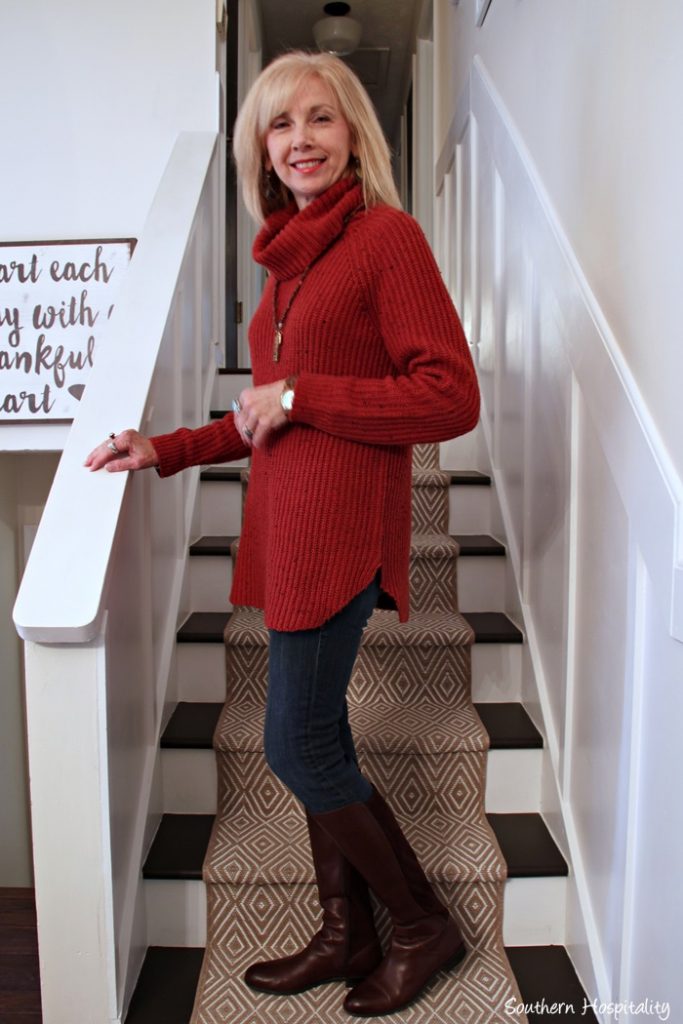 It's scalloped at the bottom with a pretty hemline and it's soft and cozy.  It's made of polyester, acrylic, nylon, and 5% wool, so if you have an aversion to wool, you might want to pass on this one.  It's not scratchy to me.  It also has little darker flecks in the weaving and that makes it more interesting than one solid color.
Sweater: Nordstrom, Sun and Shadow (affiliate link).  Unfortunately, it looks like this sweater is sold out, but you may check back later and see if they get more in. 
Jeans:  Rock and Republic from Kohls (affiliate link)
Brown Boots:  Franco Sarto at Nordstrom (affiliate link)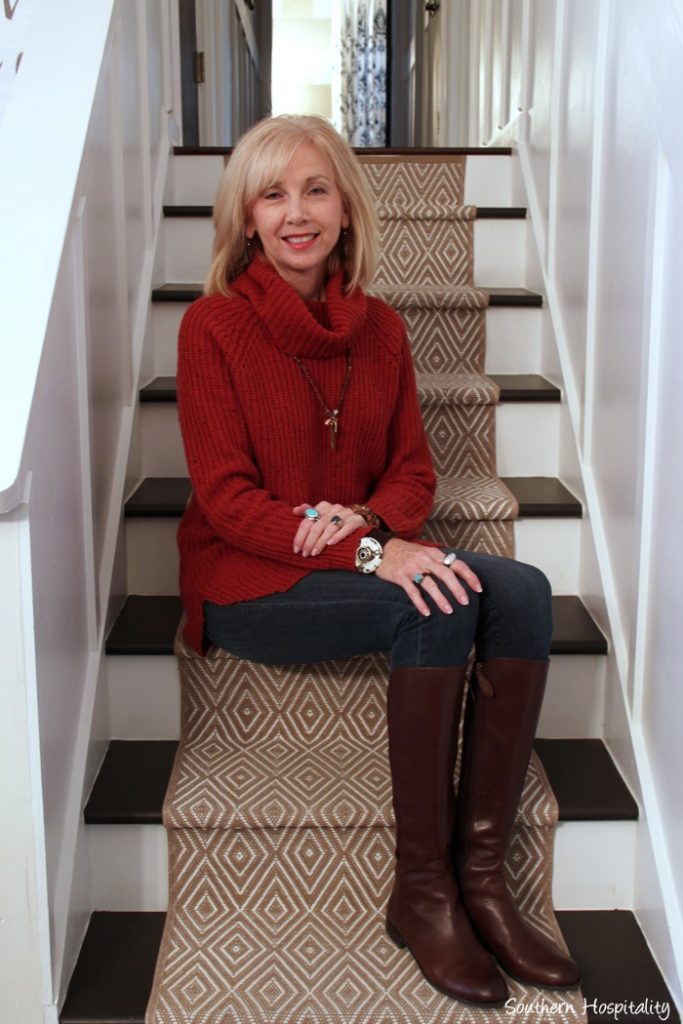 I wore it with casual brown jewelry.
And for a little extra color, I layered on a scarf, which I really liked too.  Scarves are so versatile.
That's it for this week's Fashion over 50.  I have a date on New Year's Eve and will be dressing up in one of my little black dresses for a night out ringing in the New Year in style, so I'll share that with you next week.  I don't get dressed up that often, so it will be fun to do it for NYE this year.  It's been literally years since I've been out for New Year's (much less dressed up for it!) so I'm really looking forward to going to the Marietta Square and enjoying the festive holiday spirit there!
Don't Miss a Post, join my list!