Most of you were very enthusiastic about me sharing dressing room try-ons last week, so thank you for that. It will give me more opportunities to share real life fashion with things that are currently in the stores now, so I think it will be more fun to mix that in along the way. I'll still be sharing whatever I'm wearing too, but my 3 to 5 year old pieces just aren't as fun to share.
Today I'm sharing a couple of pieces from Chico's. I've been fortunate to partner with them and get a few of their things in my closet and I do love these pieces.
I shared this outfit from Chico's on my Instagram page for them, but thought I'd share it here too. I love this cardigan set and it's part of their Holiday collection. It comes in many colors and is so soft and cozy. The pants are also from Chico's, are a little dressy and fit so well. I'll link to all of these below.
A tip for you if you're tall. I ordered these crop pants in Tall from Chico's and like the length better than true cropped pants. These hit my ankle but some of the crops are just a little too short for me.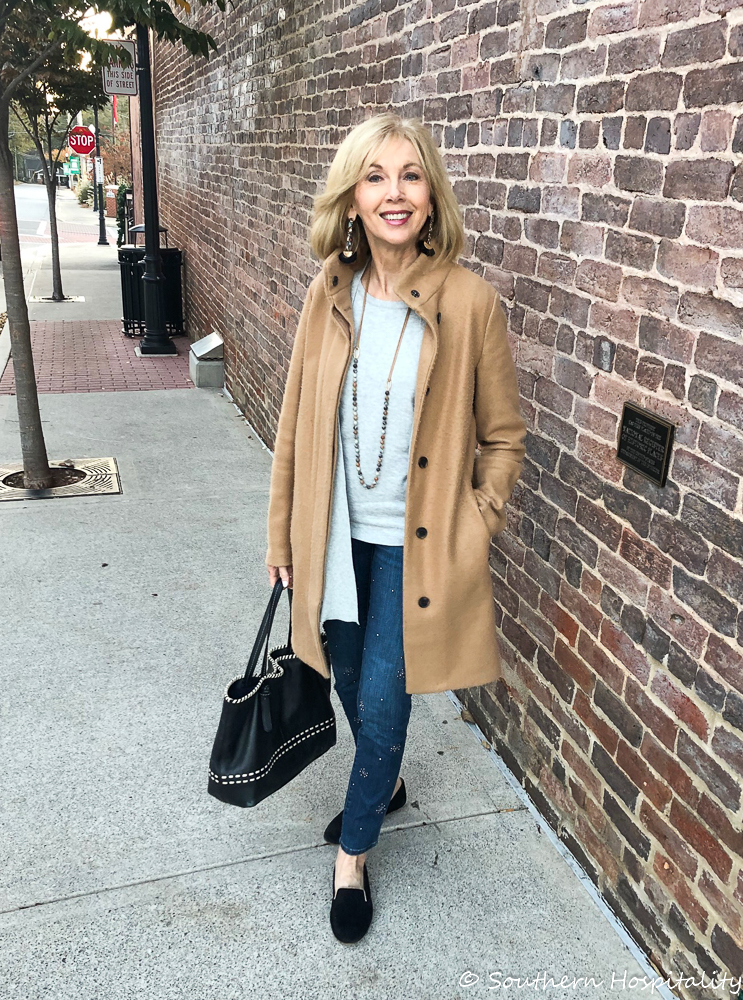 Wearing the same gray cardigan set, I paired it with those blingy jeggings also from Chico's and I have fallen in love with these pants. They are very comfy and have plenty of stretch too and those little metallic blings sewn on are so fun. I wore this to Nashville last week when I was out of town and it's a great casual outfit with  my black suede flats.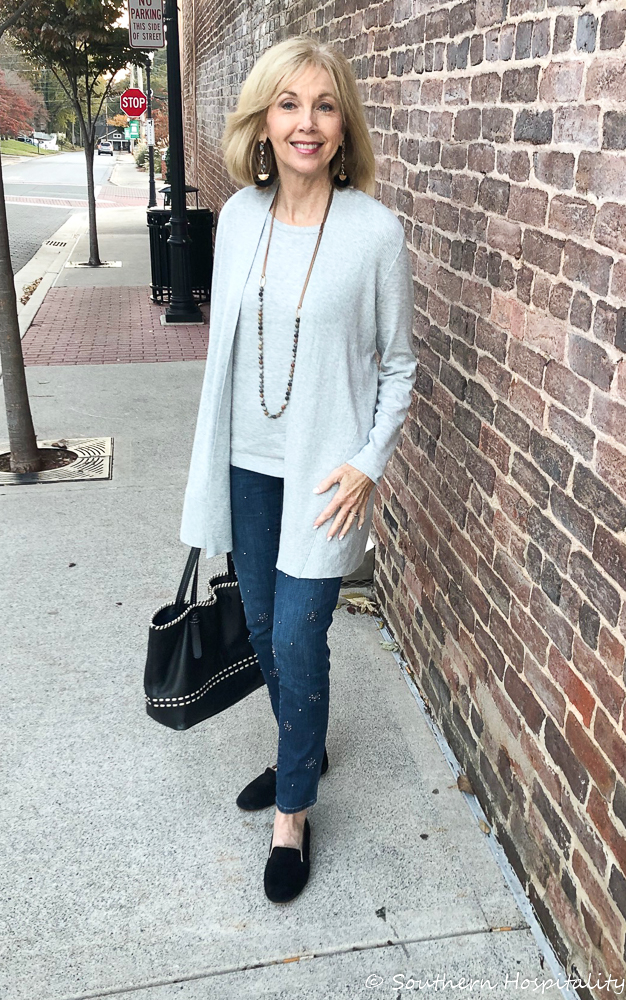 Mark and I went to dinner in downtown Acworth at Henry's before I went out of town and this sweater set is a good weight for Fall and Winter. The tank underneath is sleeveless.
It's a beautiful set so  if you like cardigan sets, check it out.
That's it for this week, but I will be back sharing more next week. I'll try to find some more Holiday clothes to try on for you if you're interested in that.
I did just buy a couple new things that I'll share too.
These leopard shoes are so cute and I love the block heel. I ordered a 1/2 size larger to have more room in the toe and I love them. I can't say they are super comfortable just trying them on, but I think they will be shoes that I can wear for 3 or 4 hours without a problem and the block heel makes them easier to walk in. I definitely have a shoe obsession!
Click the pictures to go to the store online.
I also ordered this cute little velvet purse for the big family wedding we have next month. Both of these are from Nordstrom rack, so prices are good if you're looking for either of these items. **All affiliate links used. I'm linking the Chico's items below. The picture for the cardigan sweater and tank didn't come up but if you click the link it will take you to the cardigan. They are sold separately, the cardigan and tank.
Here are a few purses I considered in case you need a dressy purse. Great prices and free shipping over $50! Click through the pics below for links directly to Nordstrom and Chico's.
Don't Miss a Post, join my list!