Hey there! It's not that exciting of a Fashion over 50 today, but this is what I actually wore out to dinner last weekend to our local fave restaurant, Henry's. I don't follow the rule to not wear white after Labor Day, so white it is. I mean, when the weather is in the 90's the entire month of September into October, I say what rules?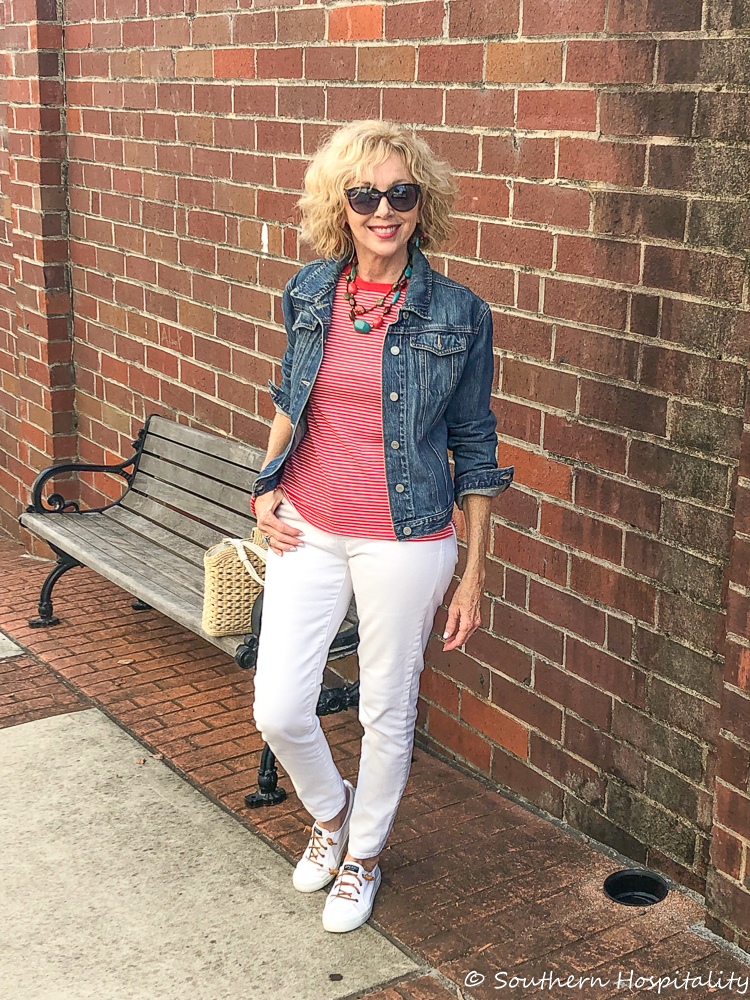 These white jeans I've had forever, Kut from the Cloth and they have served me well. That top is an Old Navy find that I got earlier this summer. They have some great tees and I love the color of this one.
The Gap jeans jacket I've had forever too and those white Sperry tennis shoes are a summer buy.
Our little town of Acworth is all decorated for Fall so it was fun to be out and about on a Friday night.
Plenty of good photo spots on Main Street.
Every October, the local businesses put up scarecrows on the fence down Main Street and it's so cute. This one is of Henry outside his namesake restaurant where we ate, Henry's. It was too funny so I had to pose with him. If you haven't seen Henry, he has to the shoulders salt and pepper hair and is quite the character.
So that's it for this week. I'll share the shoes I'm wearing below and I'm also going to add in some fashion finds that I like for the week. I'll start doing more of this too as I see sales and good deals along the way that I think you might be interested in too. If you see a blank picture, it's from TJ Maxx. For some reason their photos do not translate on the app, but you can click over to see the item.
There are always sales going on and I love a good deal, as I know you all do too (affiliate links used):
Don't Miss a Post, join my list!