If you know me much at all, you know that during the week I don't get dressed up that much. I don't have a regular job to get up and get dressed for, I work at home. I do not head out the door every day to an office. My office is at home, so comfort is key for me when getting dressed for the day. So 9 times out of 10 unless I'm getting dressed for an appointment, lunch out, or something special, I'm going to be in yoga pants and a comfy workout top most days.
During winter months I really like to have some cozy and warm tops to wear, so a couple of years ago I decided to look at Goodwill for some cozy in good condition tops that I could wear around the house and even out if I was running a quick errand. I wear yoga pants, workout tops and tennis shoes a good bit during the week, because I'm usually heading to the gym or trying to get in some exercise during most days of the week. Workout clothing is comfortable and definitely cozy, so they are my go-to for that reason. Working out is also a good reason and I wear most of these to the gym too. I love lycra blends for that stretch and they keep their shape. There's nothing better than a good yoga pant! Most of my workout clothing has been bought from TJ Maxx over the years and I wash and wash them and they last for years. When they start getting worn, I look for replacements.
These poly/lycra yoga pants by Adrienne Vitadinni were found at TJ Maxx. If I could find 2 more of them, I'd buy them. I can't even find them online at all. They are stretchy and comfortable. Here's a little tip for you. I wear a long bike short type lycra short under my yoga pants to avoid a panty line.
Something like this. I found 2 really nice pair of these type shorts at TJ Maxx and wear them every week. So I have on 2 layers of lycra/spandex. I've linked this pair below.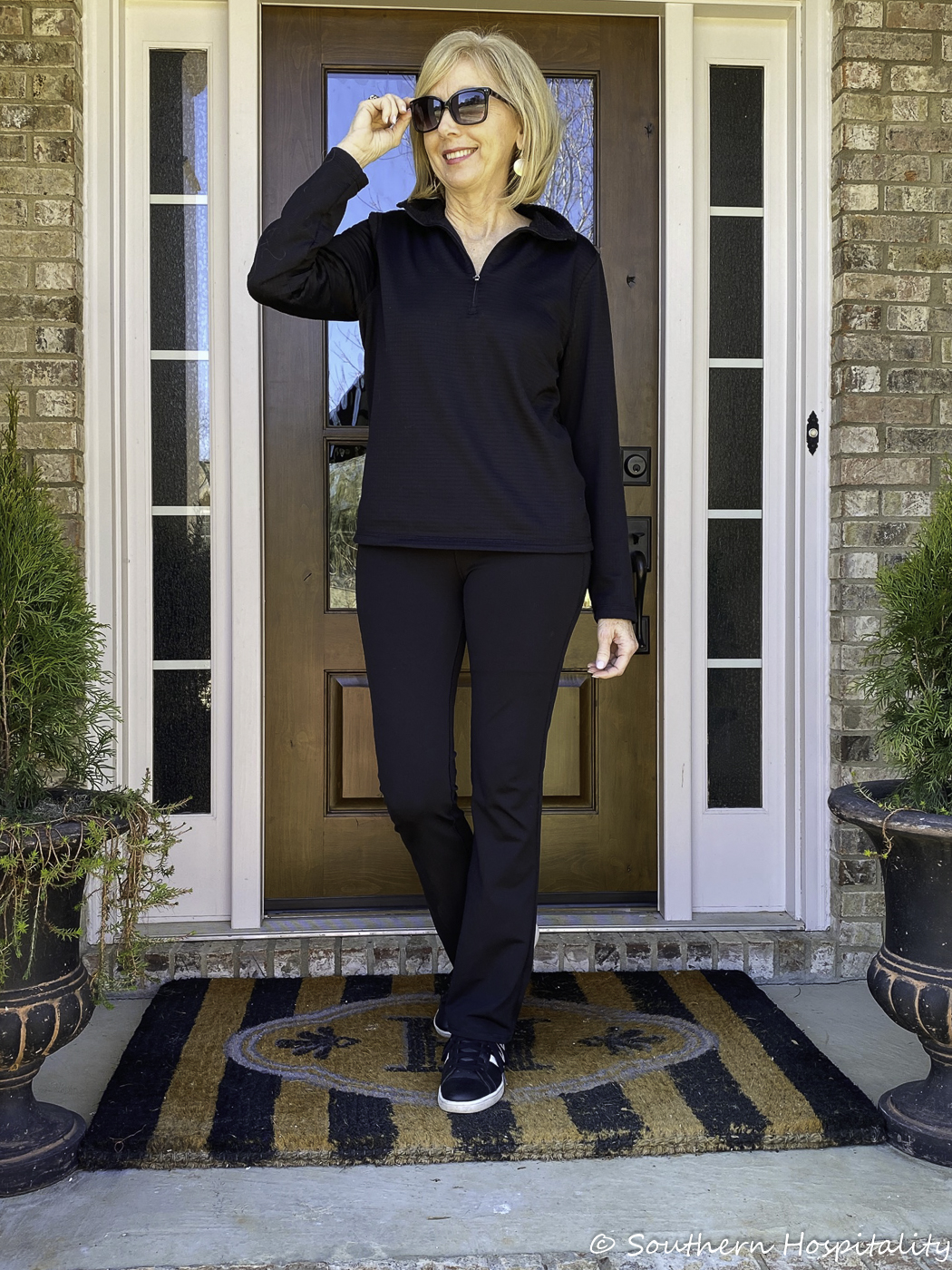 Black yoga pants are my go to along with these black and white Adidas Cloudfoam shoes I got a couple of years ago. I can't find the black ones online anymore, but I've linked white ones. I wear these to work out in. And I've just started playing pickleball here in my community of Acworth, so these yoga pants outfits are perfect for that too. I live in workout clothing most weeks!
By the way, if you haven't tried pickleball, let me tell you about it. It was new to me, but I found out my town of Acworth now offers pickleball in our new Community Center that was built a little over a year ago. It's a great addition to our town and so now I'm joining a large group of ladies and playing pickleball every week and I love it! It's similar to a tennis court, but shorter so there's not quite as much running around as tennis. You use a big paddle, bigger than a pingpong paddle but similar shape and a big plastic ball. It's so much fun and I'm hoping to get Mark out there playing too. Our community center is open 5 days a week, from 8 til 2 everyday with open play, so you can show up and play with women and men who are out there to play and have fun. So that's a bit about pickleball and how much fun I'm having with that! It's going to be a great addition to my workout routine. I have been going to the gym 3 times a week and doing weights for years, but this will be another way to workout, along with Mark and I riding bikes.
So all of these tops I'm sharing today came from Goodwill. I went a couple of times looking for some long sleeve tops for winter months and found plenty that were in really great shape and of course I paid less than $5 for all of them, which you know I love a bargain. I went on Senior day too, so that helps. Some of these I wear to the gym and some I just wear around the house when I want to be warm and cozy, but they all work with black yoga pants. This black one is very warm and made by Izod.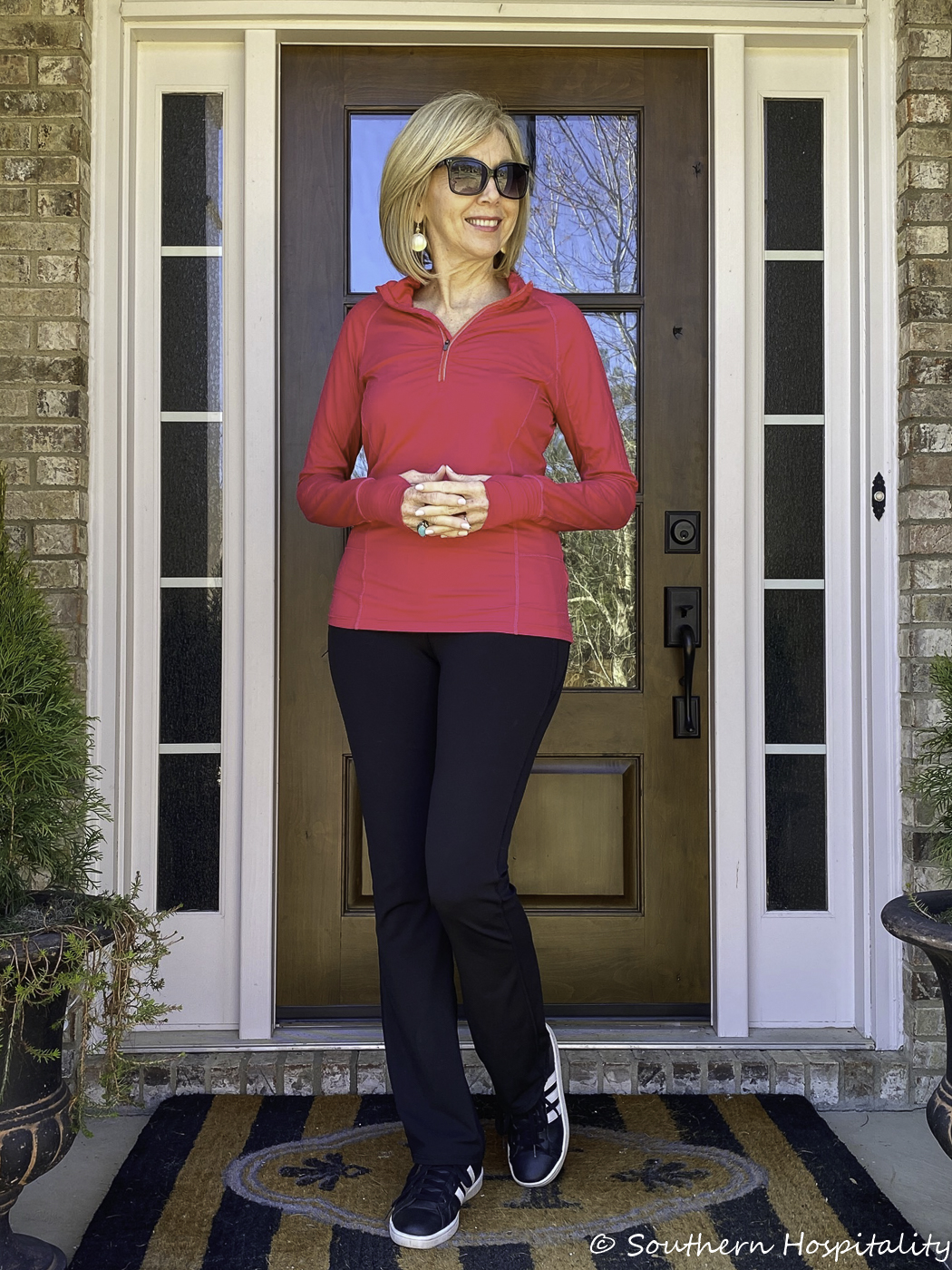 Of course I like color and this pink one was a fun find. It has those hand warmers built in.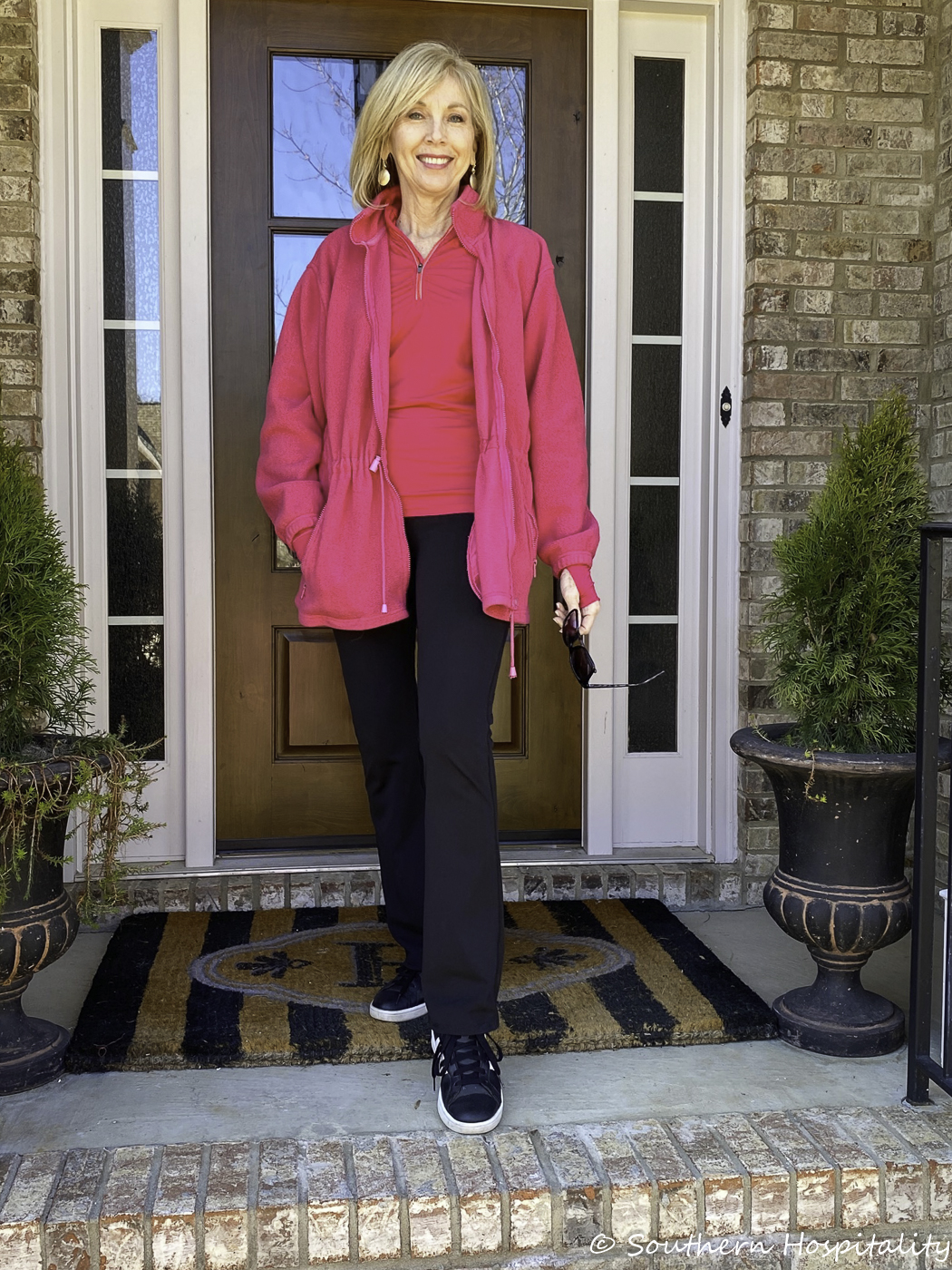 I also found this pink fleece jacket with pockets at Goodwill and it's great for running errands when it's chilly out.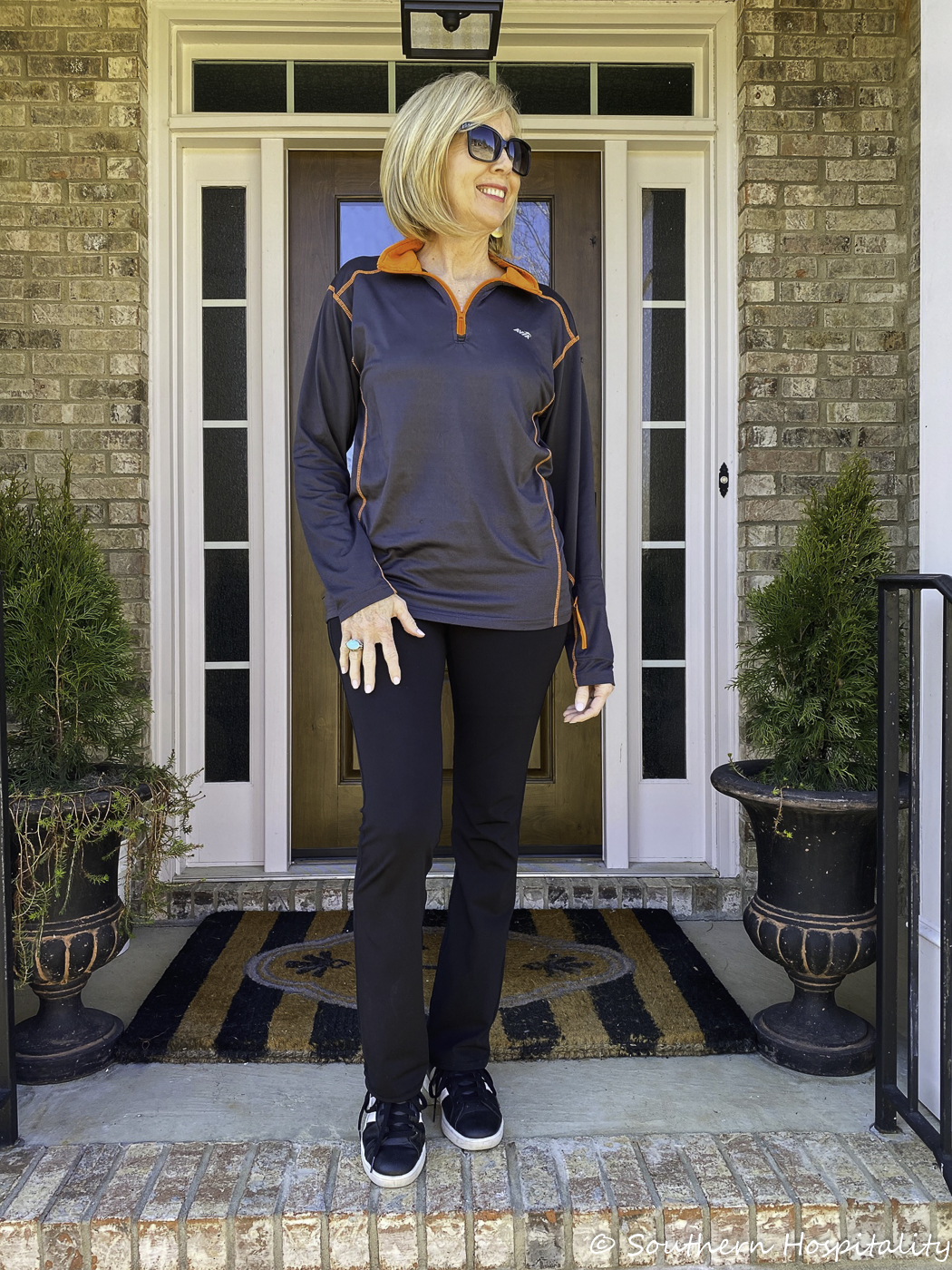 This gray/orange one is Avia, a brand I really like too.
This coral and black one is sporty and fun.
This soft aqua one has built in front pockets.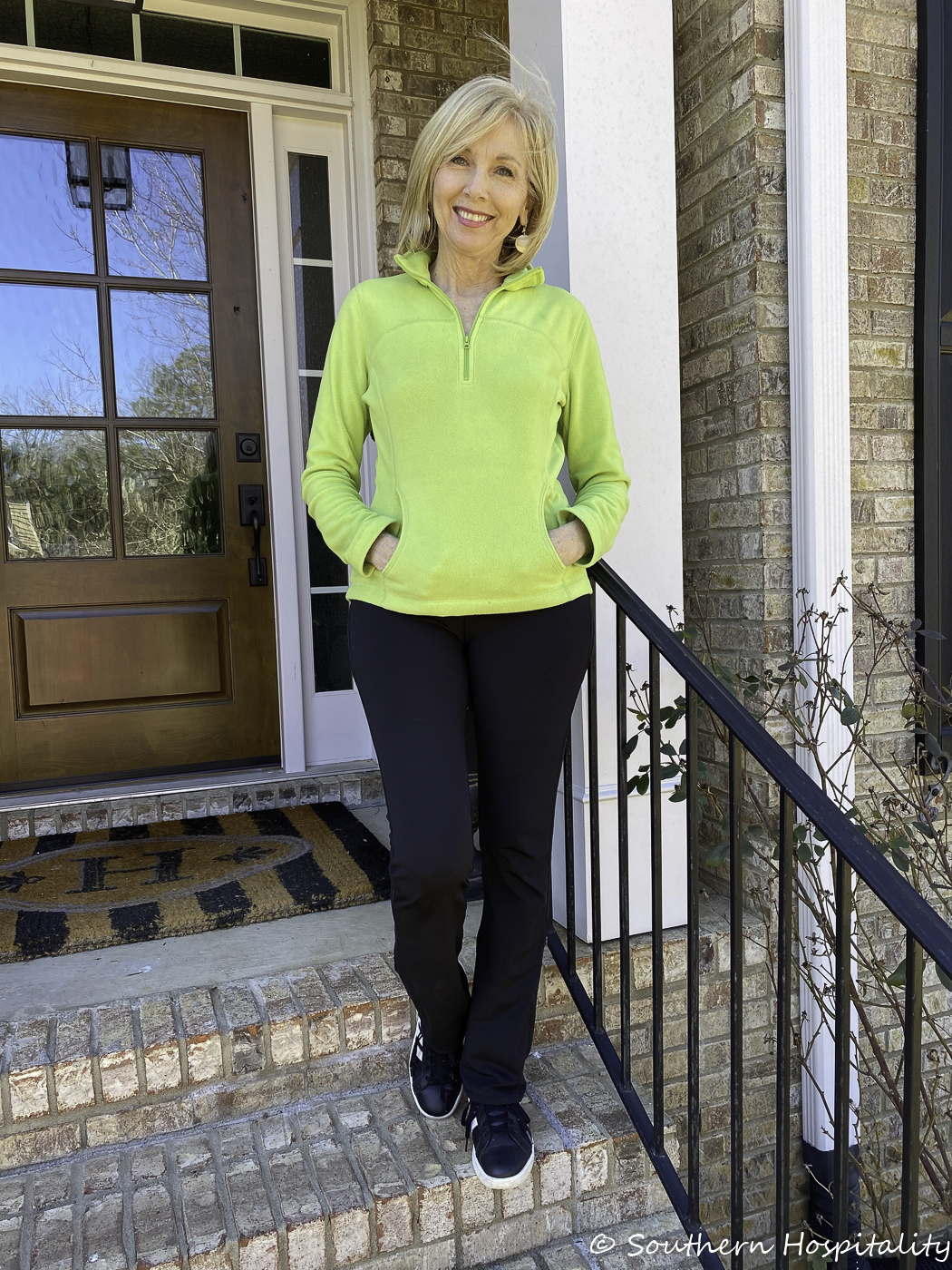 Lime green is a fun color to wear for working out and this one is cozy comfy too. I wear the fleecy ones around the house, but they are too hot to work out in.
And last, an Old Navy fleece top is another warm one for around the house.
So, that's how I dress at home and of course, during summer I wear sleeveless tops. There are so many fashion bloggers who dress up every day and while I admire that, it's just not something I want to do.They look great though! If you see me out and about on a normal day, you might see me dressed like this. I'm not ashamed of it, it's just where I am in my lifestyle at this time. I enjoy getting dressed up and love pretty clothes, but I sure don't have to get dressed up every day. I enjoy it when I do though and love feeling pretty and cute!
How about you? Do you get dressed up every single day? I'm sure I'm not alone. I spent years going to a Corporate environment and had to dress business casual 5 days a week, so I sure don't feel pressured to get all dressed up now.
I'm sharing some finds from TJ Maxx below, which is one of my go-to shopping spots for workout gear. Affiliate links used!

Don't Miss a Post, join my list!