I finally have a new outfit to share on Fashion over 50 today. I worked with Chico's over on Instagram with this outfit, so I wanted to share it with you here as well. I enjoy working with them and sharing their cute things and I enjoy all the pieces I've gotten from them. They always have new things coming out and these are from the early Spring line.
Side Note: This is not technically sponsored on the blog but the clothing was given to me.
I enjoy a casual look since that's my lifestyle these days, but I still want to look pulled together and this outfit does just that. These are girlfriend jeans, straight and rolled leg with a really cute detail on the hem, which I'll show below. The sweater is a leopard print in gray/blue shades and has a scalloped hem. So cute!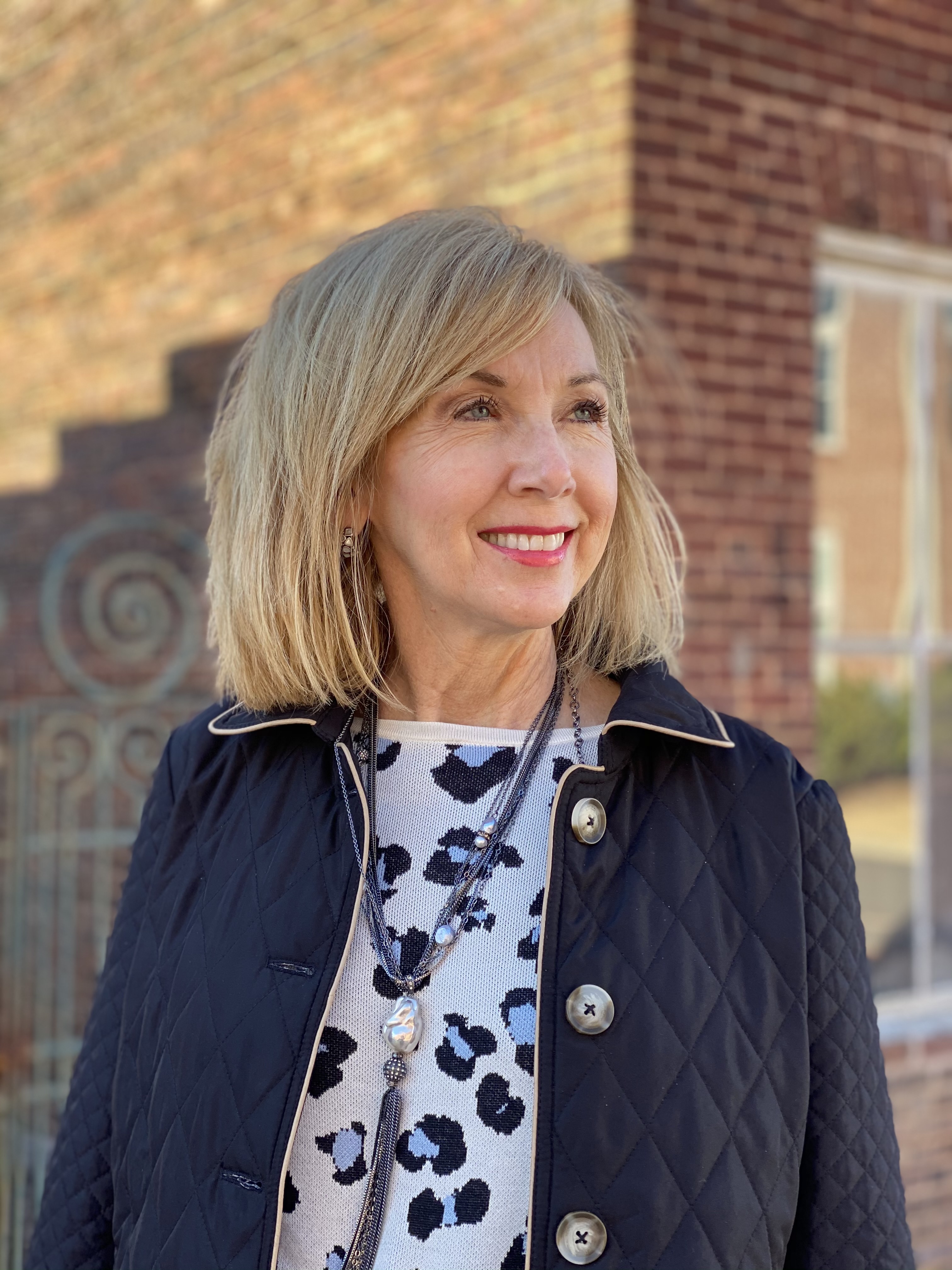 I also got this tassel necklace, which is darker charcoal metal mixed with pearl accents. And the quilted longer jacket is so cute and versatile to wear with so many things. It has pockets and those pretty buttons so I know I'll enjoy this piece. I also love the taupe piping
I wore these Dolce Vita booties that I've had for a couple of years and here's that pretty hem detail.
Mark and I went on a date night last weekend and I wore this cute Chico's leopard tan sweater that they sent me before Christmas (it's linked below and has cute leopards on it). It's so cute and soft.  That's a vintage houndstooth coat that I found in Savannah several years ago. It's been so cold this week so a coat was in order.
I'll share these items and more below and notice that Chico's has a lot of good sales going on right now, including this leopard sweater (affiliate links used below):
From now until 2/11, many items are 50% off at Chico's (affiliate links below).
If you enjoy shopping Soma, they have some fun things on sale this month too:
1/31 – 2/13 – $59 Soma PJ Sets
2/5 – 2/7 – 2 for $50 Embraceable Bras (that's a great deal)
Don't Miss a Post, join my list!